As the demand for GPS hardware steadily rises, it is essential for you to stay informed on the most innovative manufacturers in the field. To ensure you are selecting the best GPS trackers for your needs, we have compiled a comprehensive list of 2023's most reputable producers.
We have analyzed data from Navixy platform customers globally and compiled a list of GPS tracker vendors that are trusted by professionals in the telematics space. If you are a senior professional in technical or sales positions within the Telematics industry, this ranking will provide you with valuable information to make informed decisions about suppliers for 2023-2024.
The 10 most popular GPS tracker manufacturers in 2023
The table above lists the major device manufacturers whose products have been integrated with Navixy within the past year, and their five most popular models. Compared to the previous year, it has a few changes and one new competitor.
Suntech moved up two positions ahead of Queclink and Ruptela as our customers' preferred choice. Headquartered in Korea, Suntech operates mainly throughout the Western Hemisphere, with facilities located in America, Mexico, and Brazil. Navixy customers in the US, Mexico, and Colombia primarily chose Suntech due to its impressive price/functionality ratio as well as an abundant selection of available models; a grand total of 34 models were activated on Navixy's platform over the past few months.
We are also thrilled to have TopFlyTECH join the ranks of manufacturers that made it into the Top 10 most popular brands on the Navixy platform. Customers from Oceania, North America, and Latin America recently made TopFlyTECH's 18 vehicle trackers their choice for telematics projects.
The most promising contenders to be in the next Top 10 list include:
Tramigo, Aplicom, and Galileosky demonstrated the most impressive growth compared to their performance in the preceding year. While ATrack, Digital Matter and Cellocator had moderate growth that hindered them from reaching the Top 10, LKGPS, GoSafe and Micron (a new manufacturer from the US) have been steadily gaining ground lately with their recent advancements. With more attention in the coming months due to their upcoming devices, they may soon be added to this esteemed group.
The "Big Five"
The "Big Five" manufacturers — Teltonika, Suntech, Jimi IoT (Concox), Queclink, and Ruptela — together contribute 65% of all devices added to the Navixy platform in the most recent year. Each of these manufacturers boasts a wide range of devices to cover most vehicle telematics and asset tracking needs. They also provide multiple versions of devices that are compatible with cellular networks in all regions globally, from 2G and 3G/WCDMA, to 4G/LTE, and lower-power LTE-M/NBIoT technologies.
The remaining ⅓ of new devices on the platform are attributed to niche players that provide a better fit for specific solutions, or that outperform in terms of price, versatility, or innovation. Take Coban, Eelink and TopTen for example - are all competitively priced to serve developing markets and basic GPS tracking needs with excellence. Digital Matter stands out as an innovator in the area of low power asset tracking whereas ATrack's devices excel at heavy vehicle tracking while providing strong compliance requirements. One more niche player is GalileoSky, whose on-board logic can be easily programmed for highly customizable scenarios.
Professional customers are seeking to expand their selection of suppliers
Navixy statistics show that it is a rare situation for a single GPS manufacturer to fulfill all the needs of professional GPS solution providers, no matter whether they serve consumer, SMB, or enterprise markets.
At one end of the spectrum, Telematics service providers (TSPs) that cater to various mass-market segments look for easy-to-install, cost-effective, yet reliable products. Rarely is it the case that all of these products come from a single manufacturer - while one may be great with vehicle tracking devices, others can offer quality in other areas, such as cargo tracking. Moreover, in order to efficiently serve a large number of customers, it is essential that your supply chains are diversified. Delayed shipments due to shortages in electronic components and logistical issues are especially common lately.
On the flip side, System integrators (SIs) that cater to enterprise customers with complex telematics solutions have to deal with many specific requirements, both technical and legal. They often find out that what worked well for their previous project does not meet the requirements of the new customer. This variety results in the need for higher flexibility for both TSPs and System Integrators when it comes to choosing the right manufacturer; they tend to use multiple suppliers in order to diversify their product portfolio and de-risk logistics.
Percentage of providers and integrators by number of manufacturers used
As you can see from the histogram above, the majority of GPS Service providers and System integrators work with two to five manufacturers each (58%). The second-largest group of customers (24%) tends to work with more than five manufacturers, whereas only the smallest portion (17%) sticks to just one manufacturer. It's not about loyalty, but rather a practical need to reach out across varying market segments and broaden sources of supply.
Below is a chart of the preferences customers with multiple manufacturers presented for their first and second choice suppliers, in contrast to those who are committed to one manufacturer.
Customers who opted for multiple suppliers (83%)
1st choice brands
2nd choice brands
1. Teltonika (50%)
1. Teltonika (16%)
2. Jimi IoT / Concox (17%)
2. Jimi IoT / Concox (10%)
3. Queclink (13%)
3. Queclink (8%)
4. Suntech (13%)
4. Coban (9%)
5. Coban (12%)
5. Ruptela (7%)
Customers loyal to 1 brand (17%)
Only choice brands
1. Teltonika (34%)
2. Jimi IoT / Concox (13%)
3. Coban (9%)
4. Queclink (4%)
5. Suntech (3%)
Local demands and regional support play a pivotal role in the success of GPS brands
Across the globe, the popularity of GPS tracker manufacturers varies by region. This phenomenon is attributable to two primary elements: how their product line caters to the region's needs and if they prioritize establishing regional branches that are responsible for certification, sales, customer service, and delivery of orders.
To help you identify which brands are the most prominent in your area, we have included a helpful map below.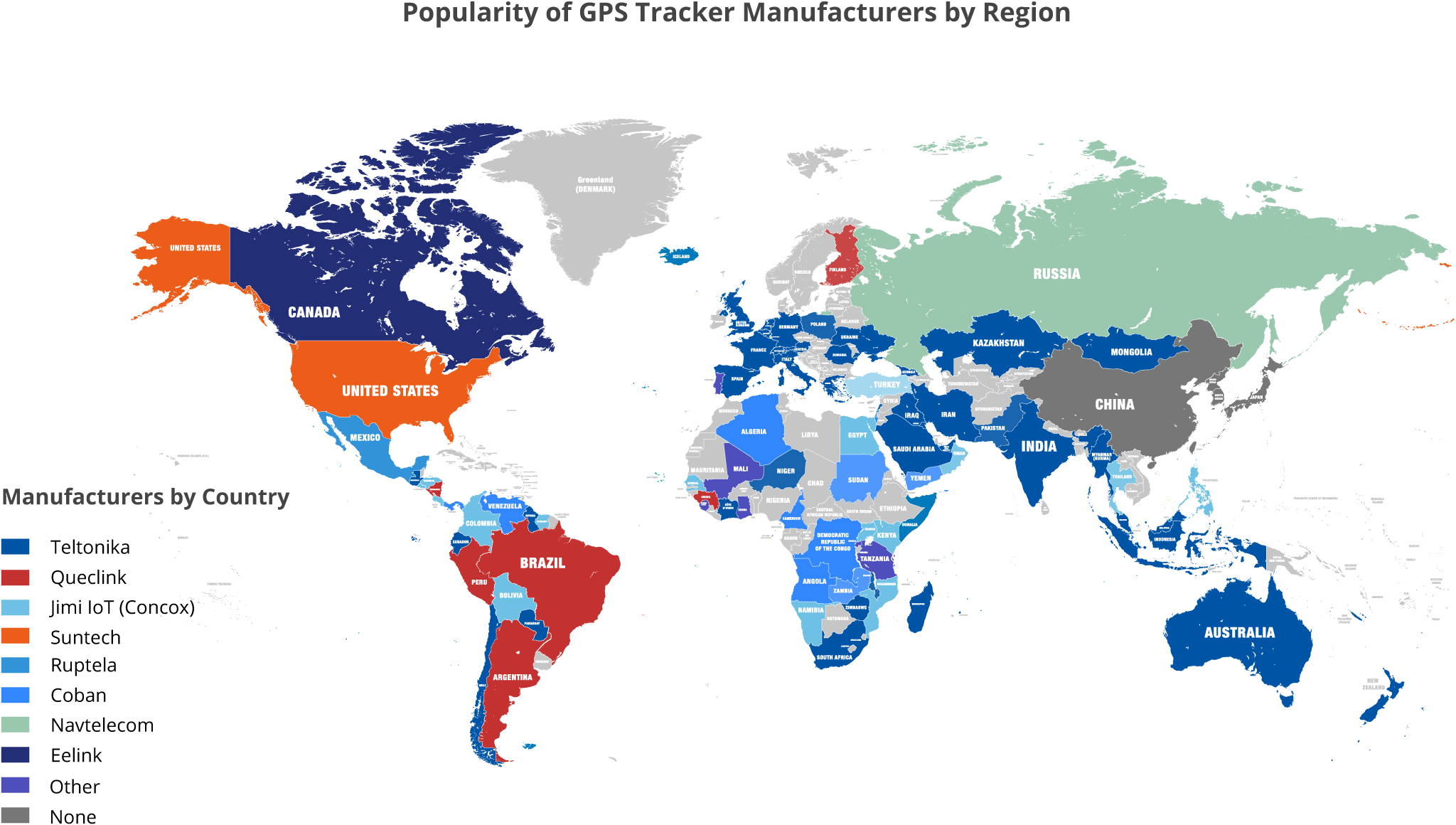 Most popular GPS trackers by category
Exploring the popularity of GPS trackers in particular categories can be advantageous, as it keeps you informed on technological trends. It also allows you to direct your attention to manufacturers who specialize in creating innovative and cost-effective solutions for specialty markets.
To assist you in gaining valuable insights, here is a list of the market leaders and their respective most popular devices that have been connected to Navixy in recent months.
Navixy expands your choice of GPS hardware for innovative and dependable solutions
GPS technology has a multitude of applications, ranging from automotive and logistics to security and heavy equipoment. In this diverse and competitive marketplace, both solution providers and GPS manufacturers seek mutually beneficial partnerships to prosper in their target niches.
There can be no one-size-fits-all solution, but statistics show important trends to help you build products and solutions that are both innovative and reliable. Whether you're serving mass-market or niche segments, you can be sure that Navixy provides you with the needed flexibility on GPS hardware, seamlessly integrated and efficiently used.
Keep making informed decisions backed by trends in the GPS technology industry. Subscribe to our newsletter or follow us on Linkedin for more inspiring and data-driven content.