GPS tracking is a fast-growing industry with a lot of big companies and promising startups. Regardless of the company size and resources, you may carve out a niche on the market.
Сarve out your market niche!
Surely you are not a device or software developer, accordingly you may start your own chase in the following fields.


Service Providing (SaaS)
However, the most popular field for beginning businesspeople is GPS service providing. About 100 new companies enter the market every month The reason for such popularity is quite simple: you may start earning money very fast even without office opening and hiring. You need just "rent" an out-of-the-box software solution and embody it to your GPS tracking business.
Equipment installation
This kind of business is best for a company that already works with any kind of technical installation, for example, car services or equipment mounting companies. The only thing you need is qualified staff and comfortable, friendly services. No big investment, no logistic headache.
Device retail
If you have your own supply and logistics you may start reselling devices choosing one or several popular (or not so) brands of GPS manufacturers. GPS trackers differ with their appliance and installed hardware. Basically, these devices may be divided into 4 groups used for people, animal, vehicle, and cargo tracking.
SaaS: How to start your own GPS tracking business
Put simply, a service providing is the option to connect your client devices to a third-party platform. You will get your own admin panel to run your workflow there and get your money as a partner.
Generally, there are a few steps you need to do:
1. Analyze a market request
The simple truth is that any business must solve the specific problem. You can make money only when you make someone's life easier and better. You need to be aware of the people problems in your city, country or region. You need to find a hot-button issue.
In one region, it may be a livestock tracking. In other it is about bike and bicycle tracking or using mobile apps. Look at some business reports trying to find a real trend. Ask your friends and neighbors about their demands in tracking. If you can't pick their interest your GPS tracking business is on the bubble.
Definitely, you need to realize is the problem big enough to motivate people to spend money. Set a market request as a priority and be realistic.
2. Make a solution
After an understanding of the challenge, you need to realize how to make a complex solution to beat it. If the device sales is a part of the business try to investigate which models serve for you. There are a million small things you need to know about GPS units. Another way is to use someone's best practices.
Choosing of GPS platform is an even more difficult process. Every GPS tracking platform has their own benefits and implications, thus, not many of them are really usable.
You need to compare different GPS services and find out are they have the required features for you. The must-have options are online and history tracking, event reports, harsh-driving, comprehensive analytics and mobile apps. Let's not forget about fancy design that may be an argument for your future clients.
3. Set a billing plan
After you realize a full set of your products and services a good time to plan the tariffs comes. First of all, your possible income certainly must cover all the business expenses.
The main factor here is platform price that can be easily counted as the quotient of your monthly payment and number of GPS units. You may add 50% or 500% of the extra charge to the price if you are able to sell it.
Obviously, you need to start out from the purchasing power in your operational area. Vancouver, San-Francisco or Milan are quite different with New Dehli, Rabat or Jakarta. Think over different billing plans for different kind of customers. More flexible prices may attract more clients to you.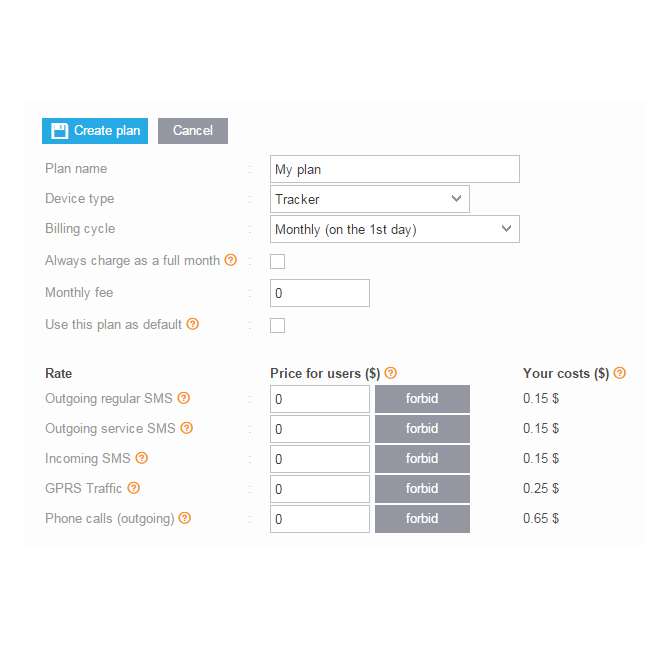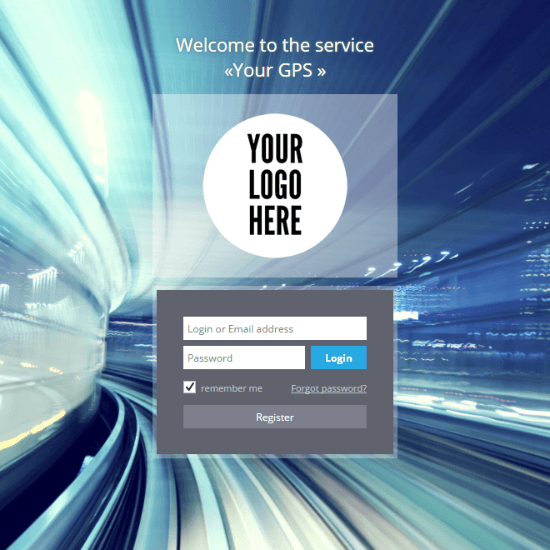 4. Develop a brand and partnership
When you have finished planning your internal economy don't forget about people who can help you to develop the business. Your contacts with manufacturers, dealers, installers and platform support may help you to improve the service and solve the customer problem.
Learning more about hardware and software feature may help you to build a proper positioning among the rivals. Often your advertising campaign and even pricing may become an effect of the new information.
As a rule, GPS manufacturer and software developer may consult you about good and bad ways of business operations in the market. It may help you to dodge indecisions and wrong conclusions.
Communication and content sharing with partners is also a good way to promote your own brand. Other companies may advise your brand to their customers if they know you well and believe in your strong reputation. GPS tracking business is always a synergy of different minds and talents.
CONTACT US TO RUN YOUR OWN GPS BUSINESS IN A FEW CLICKS. USE THE 30-DAY TRIAL PERIOD TO CHOOSE THE BEST TOOLS FOR YOUR COMPANY
GPS tracking business tips
At last, when you know what to do, it is good to be aware of false steps in the process of building your GPS tracking service. A short list of tips is here:
Don't spread yourself too thin. Actually, you can't be good in all aspects of GPS tracking. Focus on the things that are clear for you, for example, on vehicle tracking. Don't work with kid tracking if you don't have time and resources to realize the specificity, otherwise, you may be in a trouble. Working with a simple scheme results in a predictable profit.
Your tariffs need to be flexible, but not confusing. A consumer service should be simple across the board. It also relates to your billing plans. Make 3-5 plans that can cover the demands of all your possible clients and subscribe the advantages.
Use high-quality tested hardware and software as well as installation service. All negative feedback may slop over you if a client is not satisfied with the final result. It is very bitter to get whacked in the things you can't control. That's why you need to test every GPS unit and every offered feature by yourself or use respected brands and proven products.
Don't leave a customer alone after all. Even if the final service is ideal, you need to support your clients to improve their business processes and share special information about devices and platform. Long-playing clients are the most valuable and your customer service may expand their lifetime with your company.