Why join the Navixy white-label partner program?
Own your customer's experience
Be in charge of customer experience, grow brand loyalty, and expand your business with your own reseller programs
Maximize profits and drive operational efficiency with the latest GPS and Video telematics technology.
Advanced capabilities to help you make better decisions, increase efficiency, reduce costs, and provide a competitive edge in today's market.
Device and connectivity independent technology
2200+ solidly-integrated devices
Simple device activation
User-friendly Over-the-Air configuration
Seamless operation with global mobile networks
Your team is equipped with a comprehensive suite of tools to simplify your backend operations, from managing user accounts and providing technical assistance, to managing customer subscriptions.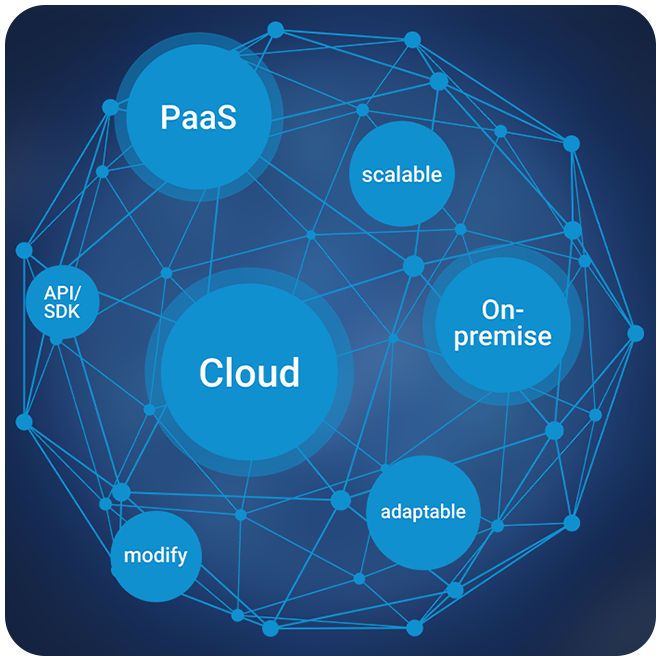 Achieve 99.99% uptime with Cloud, On-premise, or PaaS.
We designed our platform to be rapidly scalable and adaptable, allowing users to modify and improve it using APIs or third-party integrations.
Benefits of white-label telematics & asset tracking
Entrepreneurs can trust our 12+ years of industry experience developing and delivering white-label telematics and asset-tracking solutions.
Navixy's white-label allows entrepreneurs to increase their profitability by offering services under their own brand name. With the ability to customize pricing and keep a larger portion of the income, entrepreneurs have greater control over their capital than when partnering with a vendor or franchise. In addition, Navixy provides an array of tools that can help businesses stay ahead of the competition. These include access to low operational costs for technical support, customer service, and subscription management, resulting in increased success for any business.
White-labeling ensures that your business is safeguarded from any potential customer losses due to franchise vendors negating existing agreements. You provide services under your own brand name, giving you complete control over who you partner with and how those relationships are managed. You are protected from changes in the vendor's policies or direction while still benefiting from products and services offered by the white-label platform.
Crafting a recognizable and unified brand identity is one of the main benefits of using a white-label GPS tracking platform like Navixy. With its powerful capabilities, you can easily customize the identity of your products and services to perfectly match your brand values and reach all of your desired goals. Navixy offers best-in-class tools to ensure the consistency of your brand, giving you the assurance of quality that you need. With these tools, you can rest assured that your brand is represented accurately and effectively.
Navixy is the perfect solution for businesses looking to expand their customer base and tap into multiple industries. Its adaptability allows you to access a wide range of customer segments and achieve higher profitability. With Navixy, you have access to the latest GPS hardware and connectivity services, allowing you to create tailored solutions for your customers. Furthermore, you can choose from an array of third-party applications on the Navixy Marketplace or integrate via APIs for even more customized solutions.
Entrepreneurs know the rule: maximize your business's worth, even if you're not selling. By working with experienced entrepreneurs and a supportive community, Navixy's goal is to not only maximize your business's profitability but also increase its market value. We provide guidance and assistance to entrepreneurs in growing their businesses with recurring revenue streams that are accurately monitored with SaaS metrics and minimized operational costs. This comprehensive strategy will enable you to achieve maximum success and valuation.
Customized look and experience
Fully control your company's service and communication brandings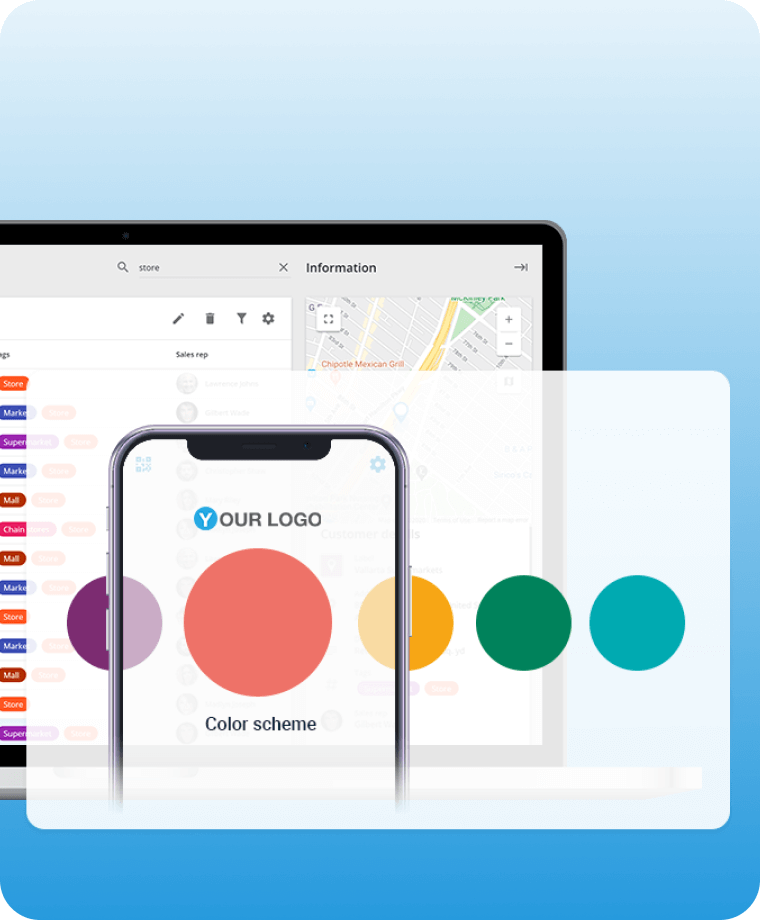 Domain name
any domain with an SSL certificate, configured with A or CNAME records
Your logo
as a favicon, on the login screen, in the main application, and in printable reports
Color scheme
based on a variety of themes or a fully customizable palette
Email
templates directly from the company's email address and SMTP for high deliverability rates
SMS
send text messages with your SenderID through either SMSC or SMPP protocols
Adjust the branding and graphic design of mobile applications to meet the purpose, needs, or brand requirements of your business.
Enable or disable specific features that you choose
Explore more of Navixy's white-label capabilities
Entrepreneurs can trust our 12+ years of industry experience developing and delivering white-label telematics and asset-tracking solutions.
30+ languages
Currency
Date formatting
Measurement units
Customizable layered maps
Fast configuration
Integrate your web and mobile apps with resources such as your website, terms of use, and contact details
Utilize helpdesk systems and knowledge base to ensure a smooth user experience and outstanding customer service
Provide users with the information they need quickly and easily
Greatly improve customer service experience with helpful support tools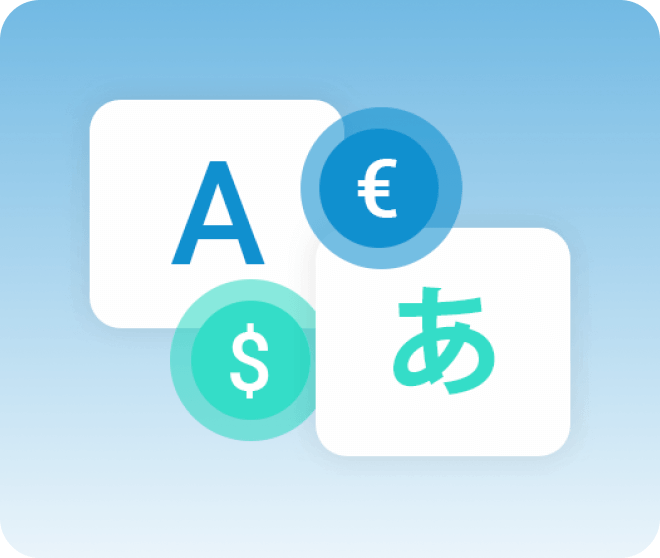 Navixy offers robust subscription management capabilities, providing multi-currency plan options and support for the most widely used payment methods. It also allows integration with custom billing solutions to further optimize your process flows.
Gelu I.
IT Manager. Telecommunications, 51-200 employees
"The most intuitive and user friendly GPS tracking solutions"
It is for sure the platform with the most modern interface - intuitive and easy to use - Easy to implement and add trackers - A lot of features, advanced telematics reports and alerts - Fast response time from support department.
1 star
2 star
3 star
4 star
5 star


Riaan T.
Telemetry Concepts - Mobile Digital Video Recorders - Fleet Management Software - Consulting. Information Technology and Services, 1-10 employees
"Consultants point of view"
I am doing vehicle tracking and fleet management for 20 years of which the last 4 years was as a consultant. Moving thousands of devices to new software platforms is never an easy task, but Navixy stability, support and functionality makes the most daunting tasks manageable.
1 star
2 star
3 star
4 star
5 star


Warren M.
Director. Information Technology and Services, 11-50 employees
"Amazing Platform"
The Navixy team are professional, courteous and always willing to listen. Great company and great people. This is the most comprehensive platform i have ever used. Its never been easier to integrate new devices.
1 star
2 star
3 star
4 star
5 star


Control over which devices you want to support
You tailor the devices available for activation on your platform. By offering white-label/OEM/ODM products and custom config profiles, users can enjoy a "plug-and-play" experience with no effort, delighting them with its ease of use.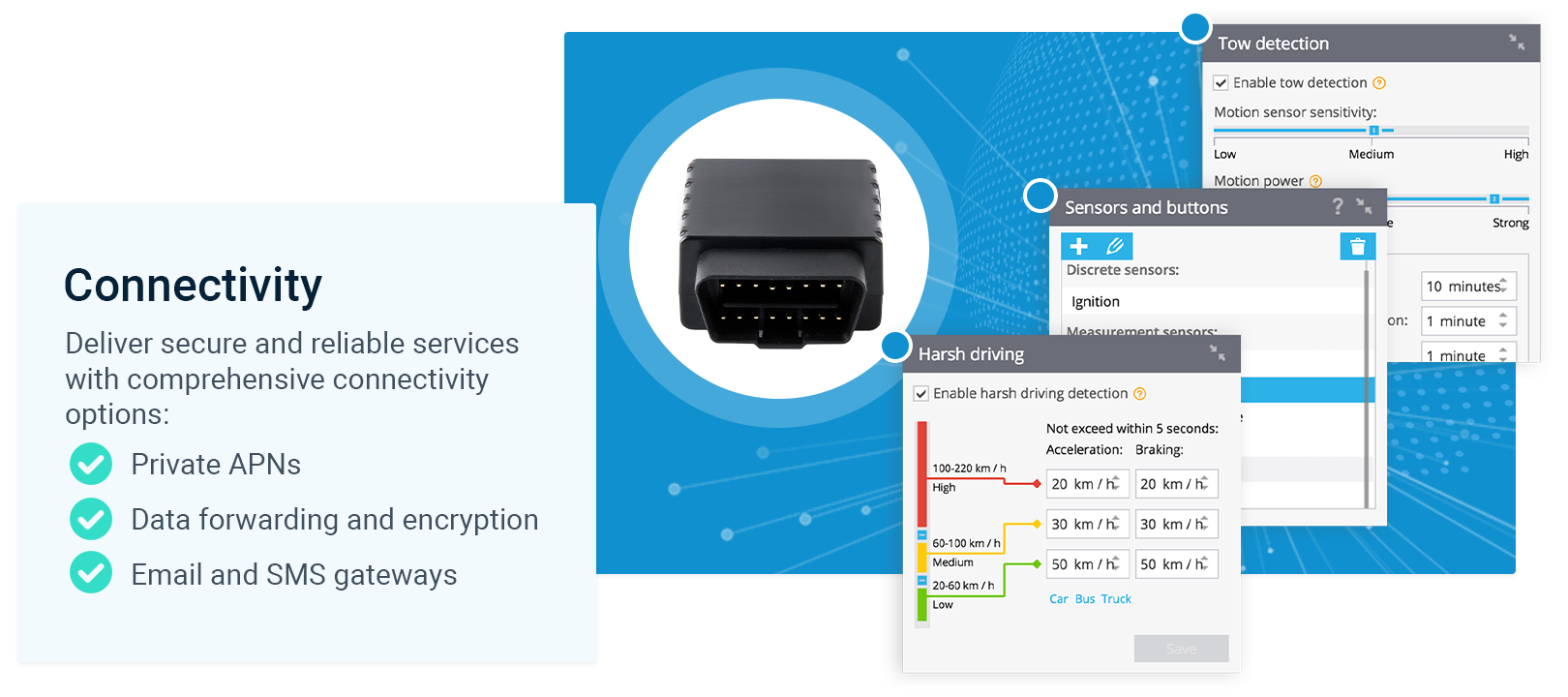 Ready to expand your business through a reseller network?
If you're looking beyond just serving end customers, Navixy's Subaccounts allow you to create your own channel network. Your regional partners can white-label and tailor their services just like yours, but you remain in control and can manage them in our Admin Panel feature
Start growing and optimizing business today
Reap the benefits of productive and compliant fleet. Cut
maintenance and fuel costs. Make your vehicles safer,
greener and more reliable.
Provide smart and intuitive fleet management. Win and
impress your customers with the most user-friendly
telematics platform.