In response to illegal mining in Colombia—one of the main sources of financing for criminal groups—GPS tracking is required for all yellow machinery, or heavy construction equipment, in the country. Illegally obtained gold represents 85% of the country's exports of this mineral, demonstrating a dire need for control over its extraction. Illicit mining also has a huge impact on the ecosystem by polluting rivers with mercury, causing soil wear, and felling trees in protected reserves. Not to mention, such activities go hand in hand with smuggling yellow machinery into Colombia without permits or records.
What does Decree 723 of 2014 say about the use of GPS?
Decree 723 of 2014 establishes the necessary measures to regulate, register, and control the importation and mobilization of yellow machinery in Colombia. The National Police, the entity in charge of this process, requires all heavy and light machinery to be permanently and functionally equipped with GPS or another electronic security and monitoring device.
The National Unique Transit Registry (RUNT) is responsible for the registration and control of yellow machinery either manufactured in or imported into the country, which can only be done when GPS is already installed. In addition to monitoring yellow machinery mobilization, RUNT also establishes the conditions that the tracking equipment must meet. Furthermore, it registers and documents the authorized providers that supply monitoring services for yellow machinery.
Registration of GPS tracking providers for yellow machinery in Colombia
Providers that wish to supply GPS location and monitoring services to yellow machinery companies must register with the Telematics Office of the National Police. The National Police may verify at any time that companies are in compliance with the technical conditions requested. Those found to be noncompliant may have their authorization and registration suspended.
The technical conditions to be met are as follows:
Technology
Permanently and continuously install a dedicated channel to National Police servers for on-demand consultation of information reported by device in real time when requested by the National Police.

Cellular and/or Dual Band satellite communication, which guarantees the transmission of the requested location in an alternating and uninterrupted manner, to enable georeferencing of the registered machinery.

All monitoring and tracking must be carried out throughout the national territory.

Required Information
Transmit the required data and maintain records in platform's information system.
Data:

Geographic coordinate in WGS 84 format
Unique ID of the National Police identification system
Date
Time
GPS serial number
Equipment signaling for batteries / fleets

Backup electrical system
The electrical system must guarantee permanent and uninterrupted transmission of the device regardless of operating schedule, displacement, storage, transport, or other condition.
Protection degree
Suppliers must guarantee that the equipment supports environmental conditions as well as operation.
Synchronization
The equipment must acquire at least 12 GPS signals.
National coverage
The GPS must guarantee the permanent geolocation of the machine through satellite or cellular transmission throughout the country.
Security
The owner of the machinery will be responsible for the correct use of the system according to the manufacturer's recommendations in order to avoid manipulation and/or damages that can be caused deliberately or accidentally to the system.
Location accuracy
Maximum 15 meter (~50 ft) margin of error in the geographic position in urban areas and 30 meters (~100 ft) in rural areas in satellite coverage.
Internal positioning marking
Every 60 minutes.
Sending the location information to the control center and/or monitoring platform.
Every 60 minutes.
Compatibility
Compatibility with existing mobile communication service providers in terms of technology, coverage, and availability required.
Availability
System availability must be 98.5%. That is, only 5.47 days of unavailability per year are tolerated, and the unavailability must not be continuous.
Connecting your GPS tracking platform to the Colombian National Police
In order for the Colombian National Police to receive the requested data from the GPS tracking platform, vehicle monitoring companies in Colombia must implement the retransmission of their frames (information containing the values that are sent, processed, and received from GPS) to the National Police servers.
Navixy has already developed a tool for connecting our platform with third-party servers for data retransmission. Partners only need to register as a provider and obtain their username and password from the National Police. With just a couple of clicks, and no additional fees, you can assign yellow machinery data retransmission for each device you want to report.
We also have more than 1,400 devices from numerous manufacturers integrated into our platform. These devices are ready to connect in a process that can be completed in less than one minute.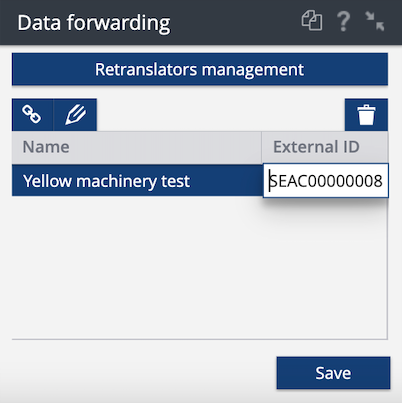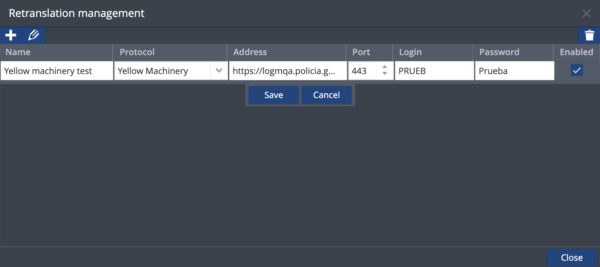 This is a great opportunity for our partners in Colombia to expand their service portfolios to businesses that use this type of machinery, or for new partners who already provide these services to offer a fully compliant solution.
Navixy: beyond compliance
In addition to providing GPS tracking for yellow machinery in Colombia as required by Decree 723 of 2014, Navixy also offers multiple benefits for the mining, construction, and heavy machinery industries.
Reports
In addition to sending the location every hour as required by the decree, you can also generate your own reports for location, trip, on/off, activity hours, engine hours, events, and more.
Geofences
Ensure that all machinery enters and remains within the designated work area and is safeguarded in the warehouse by receiving alerts whenever an asset crosses a virtual boundary.
Driver identification
Ensure that the operation of the machinery is carried out by authorized personnel and protect the fleet against theft or misuse.
Security
Encourage drivers to operate units correctly and safely and detect distractions such as cell phone use, fatigue, and more with our video telematics and ADAS module. You can also receive unauthorized mobilization alerts, tow detection, engine start outside schedule, and more.
Without a doubt, this new data transmission protocol for yellow machinery will be of great use to our Colombian partners. We can't wait to see the many projects that will be added thanks to this new Navixy development. If you have any questions, please contact our team at [email protected].