Every manufacturer of GPS units has its own bestseller. It is true for Queclink GV500 GPS tracker, multipurpose OBDII device, with a high-quality hardware inside. We continue our reviews of plug-and-play devices with this OBDII tracker, and, leaping ahead, set a standard of reliability for such type of GPS units.
Appearance
This 42-grams (1.48 oz.) device looks really small not to meddle under your steering tube. This feature makes it suitable to use in compact-size cars, particularly, in trending electrical vehicles.
However, we have some feedback that using OBDII may be not so comfortable in some trucks, that have OBDII connector nearby a transmission gear lever. Driver just can accidentally hit the tracker during a trip. For this case, however, there is an optional OBDII extension cable, that is full 21/21 pin and 1.6 meter length.
The well-built device doesn't have any kind of buttons, however, it is equipped with small LED lights to check status of GPS and LBS connection and OBDII reading also. They are placed in a top housing edge and can be easily observed by a driver. However, they might seem to shine too much during night driving. Unfortunately there is no option in the firmware to switch them off, like some other manufacturers offer.
You need to open the device to eject or change SIM card and should be careful not to break plastic ears of a cover's holder. Hopefully, you don't need to do it too often.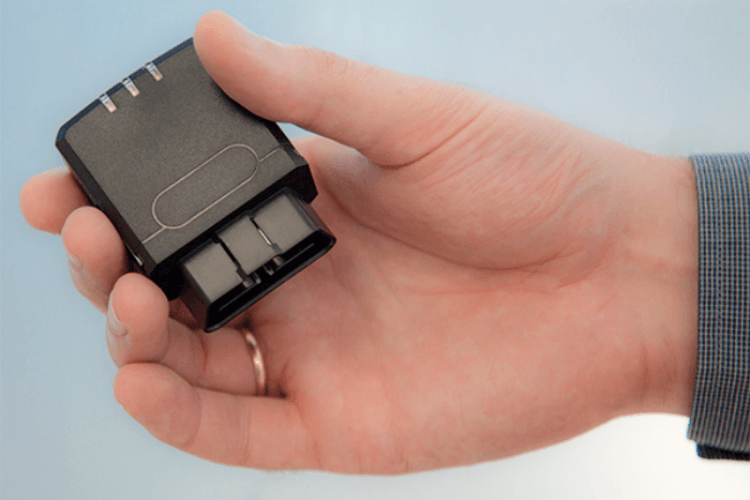 Inside a housing, you may find a small motherboard with green GNSS antennas. The built-in battery is glued to a tracker's cover. A SIM card holder is easy-to-use thanks to a thought-out small cover.
This tracker has only a built-in memory chip and there is now flash-card holder. This feature may be uncomfortable, but can't be considered as a disadvantage. It's not often required to log the data on the separate flash card, but if it's your case, your won't be able to do that with Queclink GV500.
Queclink GV500 appearance leaves good impression with a hook at the end by reason of weak cover's ears that can be broken after some months in a case of frequently SIM card changing.
GPS tracking quality
We used upgraded Queclink GV500W for our field testing operations. It differs from an original GV500 model by its support of GSM/GPRS/EDGE and UMTS/HSDPA subsystems, that makes a device workable in the countries already shifted to 3G-only era.
We have put our car in difficult conditions of a built-up urban area, and the tracker has shown good and smooth tracking line around the blocks, that is very close to a real car route. That is quite remarkable and important for OBDII trackers because they are often placed under the wheel column where GPS reception conditions are worse and many GV500 competitors in our previous tests shown poorer results. Queclink GV500 is based on the newest chip from ublox M8 which has high sensitivity (up to -162 dBm), multi-system GNSS navigation support and Assisted-GPS feature. Hybrid tracking mode with the use of GNSS and LBS location is also supported.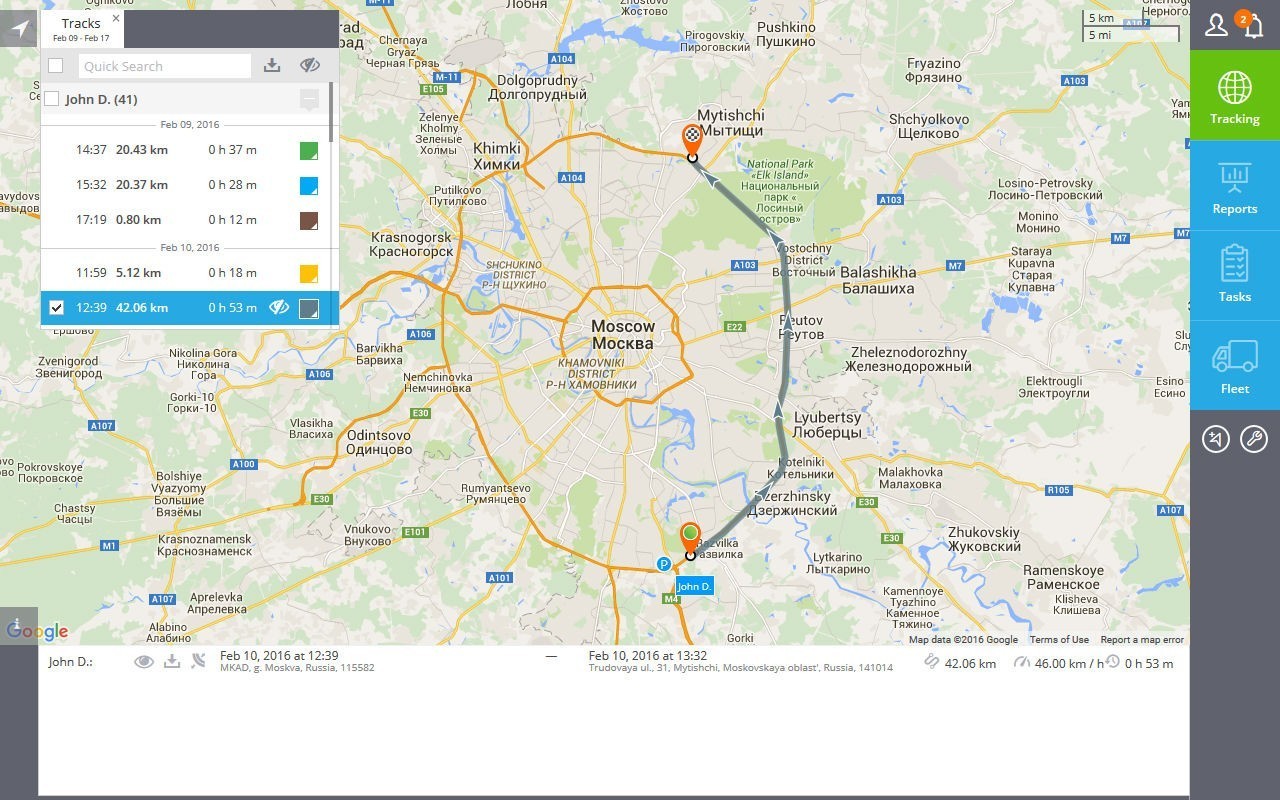 While we were already testing the device, we got the information from Queclink that it began to ship the next revision of GV500. The newer version of the device has not one, but two built-in GPS antennas. Additional antenna is oriented perpendicularly to the main and aims even better GPS sensitivity. However, because of this modification the manufacturer had to replace internal battery with another, which has less capacity.
We set our tracking mode to positioning every 100 meters (with turning on 10 degrees or more) and got absolutely amazing smooth tracking lines during our countryside trip. Cycling GV500W works extremely well, even without Cell-ID location using GNSS positioning only.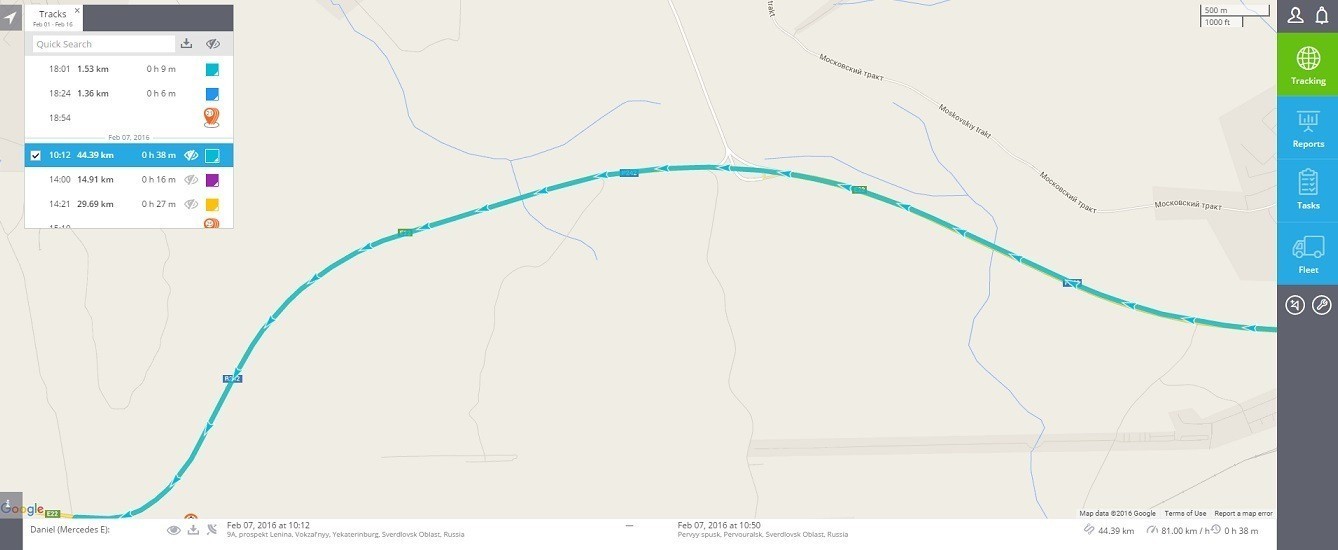 Сonsequently, Queclink GV500W tracking quality deserves only complimentary comments. The tracker can be successfully used for vehicle driving in and outside a city. What is lacking is to imagine how unthinkable perfect this OBDII device could be for international transit with a dual SIM card holder.
We should mark, that some car owners doesn't like OBDII tracker, because their poor signal detection, when the device is placed in hard-to-get parts of car. We didn't face these problems using GV500, but can advise you to use an extension cable and leave your OBDII unit under the open sky or as close to it as possible.
Reading of OBDII data
We should not forget about the Queclink GV500 pre-eminence: a car owner can get rich information about vehicle's health using OBDII data and good GPS service (we used Loccate which runs on Navixy's GPS tracking platform).

You may get a full history report and current status on the following parameters:
Fuel level
Fuel сonsumption
Dashboard speed
Coolant temperature
Throttle position
Engine load
VIN – Vehicle Identification Number
Malfunction indicator lamp (MIL)
DTC error
The most common problem with readings of vehicle diagnostic data with OBDII trackers is uncertainty about what information is accessible depending on the car manufacturer, model, engine modification and year of production. It is often unpredictable to say what data you can get unless you plug the tracker and try.
Queclink GV500 is great with its support of different car models. Its shows the best results in on-board PC reading among other OBDII tracker that have ever been tested by Navixy. According to technical documents, it supports the diagnostic protocols for all major vehicle manufacturers, including:
J1850 PWM
J1850 VPW
ISO 9141-2
ISO 14230
ISO 15765 (CAN)
J1939
CAN_USER1
CAN_USER2
VW TP2.0
We asked Loccate staff to share with us information about the available parameters for dozens of cars and get this table:
Harsh driving monitoring
Harsh driving, as a one of most demanded functions, has a good embodiment in this GPS tracker. Fleet managers can see how accurate their drivers are during missions.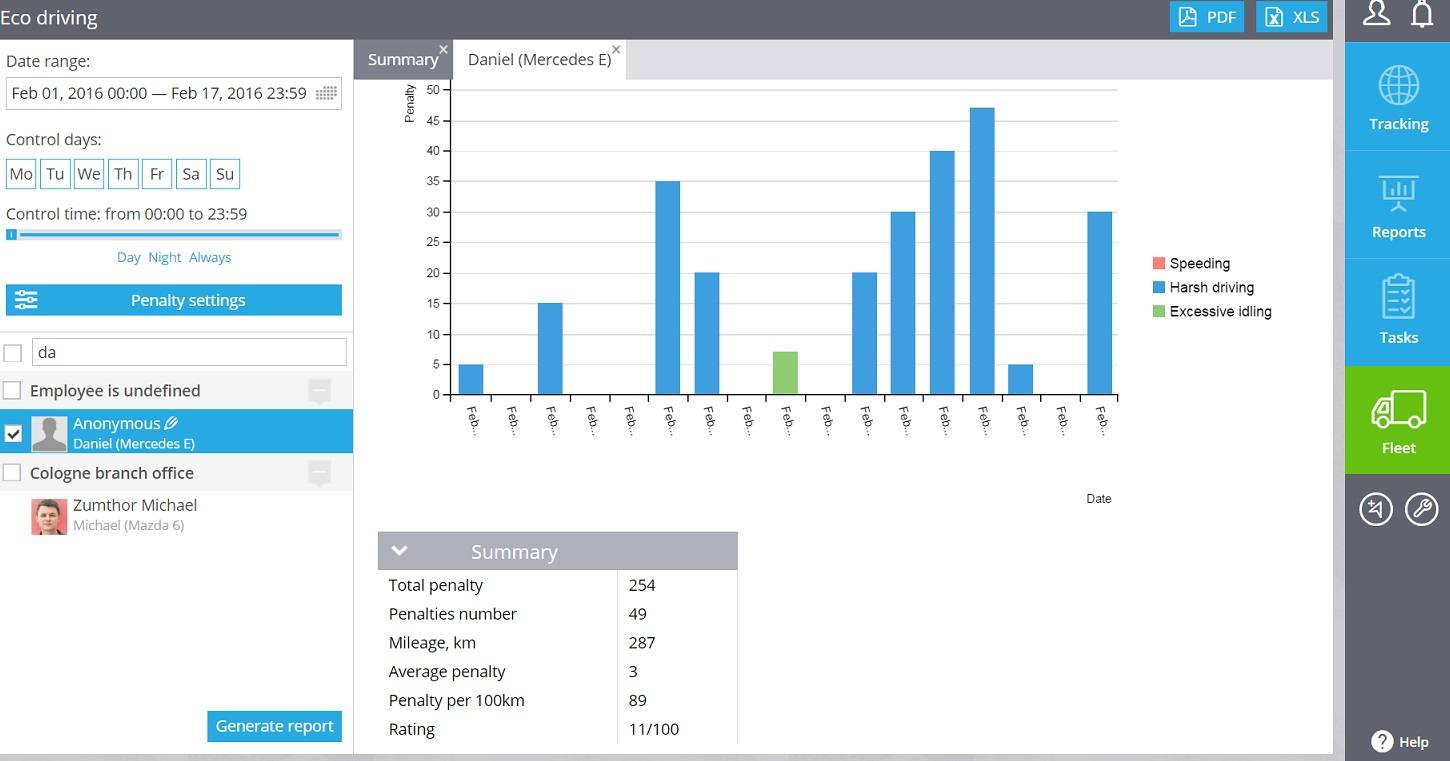 Queclink GV500 can detect all speeding, turnings and braking that are potentially dangerous for a vehicle, passengers or cargo and convert this data to penalty points and fines after all. This feature is based on using the data from internal G-sensor and GPS. Depending on the application and vehicle type user can adjust a lot of parameters that have relation to the sensitivity and speed, to avoid fake detection of harsh driving events. Device also helps to control excessive idling.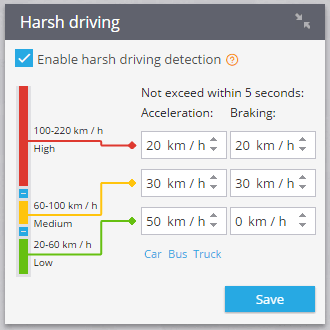 Other useful features
Smart ignition monitoring. Queclink GV500 handles this surprisingly well. While some other manufacturers of OBDII trackers have issues with that, depending on the car manufacturer, the tracker in review is absolutely hassle-free.
Events detection: plug/unplug, tow alert, vehicle battery low (also shows current voltage level), internal battery low, GSM jamming and others.
OTA configuration and Firmware update. All device parameters can be adjusted remotely from server with the use of detailed GPRS/IP protocol or by SMS. The same applies for remote firmware upgrade. Of course, for those who prefer local configuration, Queclink GV500 can be set up with a special cable (not included into standard package).
Verdict
For certain, Queclink GV500 is a flagman of OBDII trackers line and may be a star to steer by for all manufacturers.
This device is easy-to-use and very reliable. It works well in different conditions and may be used for many purposes. That's why it had conquered a mass-market, despite a pricе (100-120$) that is higher among some other Chinese GPS trackers.
Queclink GV500 is ideal for businesses and people who want to equip their cars with high-quality devices and ready to pay cash for it.
The goods
Excellent tracking with GNSS and LBS positioning
High OBDII scanning compatibility
Lots of additional features
Highly adjustable, full remote configuration
Well-built housing
The bads
Too bright LED indicators
No SOS button, that may be useful during car accidents
No slot for the flash card for data logging
Special cable for local setup required
Relatively high price