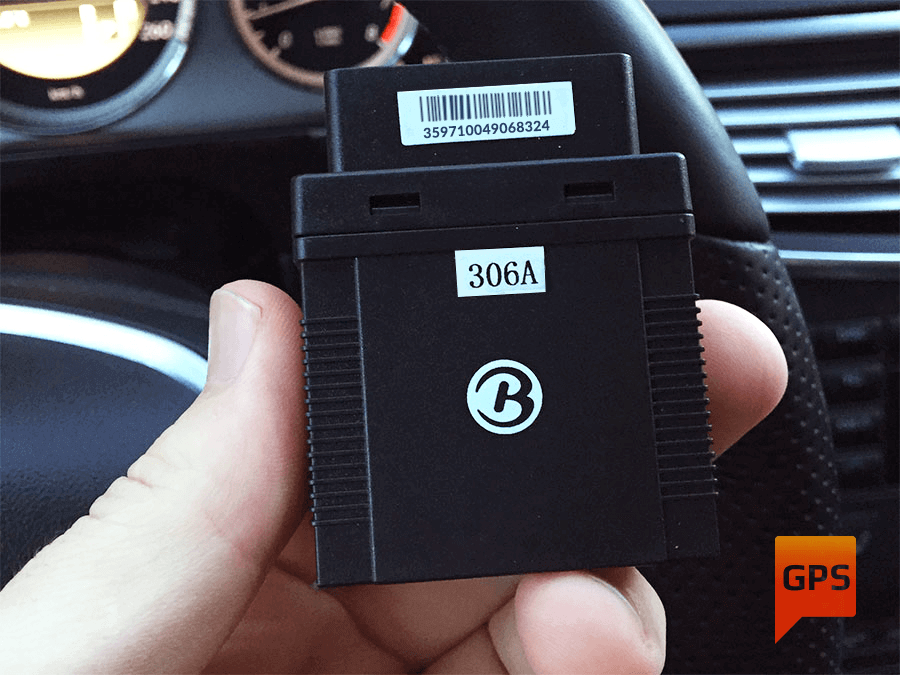 It is truth that Coban is one of the biggest names among Chinese manufacturers of mass-market GPS tracking devices. It's not surprisingly it entered the growing market of OBDII trackers – plug-and-play devices which can be installed within seconds on any modern car.
To achieve this marketing goal Coban presented its GPS306 OBDII tracker. What can you really expect from it? Check it out before you order.
Appearance
Coban GPS306 is quite compact and corresponds to the average size of modern OBDII trackers. It doesn't feel like expensive device (and it is not): the design and plastic quality are not excellent, but rather fair. The overall design can be said to be more industrial in appearance.
On the back end it has a micro-USB port, also slots for microSD and SIM cards. Near to them you'll find the power switch and the SOS button. The placement of the emergency button is slightly odd, if not uncomfortable. Apparently, it would be difficult to push such a small button in case of emergency situation.
Two flashing LEDs indicate GPS and GSM status. They are not bright and won't distract when you are driving at night. However, since both indicators are green it's difficult to distinct them in practice.
There is absolutely no need for user to open the casing, but if you're so curious as we are, you'll find a backup 200 mAh battery.
In the OBDII connector there are only 9 of 16 pins used. It is similar to many other OBDII trackers, however it occurred GPS306 doesn't hold firmly. The reason is the uncommonly big distance between the tips of the pins and the front shear of the socket. It often causes loose connection. Furthermore, in our tests on some cars the device did not work at all. We had to use an extension cord for a snug fit. Obviously users who don't see blinking LEDs after plugging device into OBDII port, might think they have got a faulty device. In our opinion it's the major problem in the device's design.
GPS tracking quality of GPS306
The GPS sensitivity is good, which is so important for devices often installed under the steering wheel column. The tracker is embedded with same NewStar NS-1315 GPS chip used in all Coban products. In practice it showed good performance and tracking quality. The negative experience refers only to the absence of A-GPS: after the signal is lost in underroof parking it takes about a minute or two to fix it again.
The device works quite well in GPRS tracking mode. In our tests the tracker updated position automatically to web server by given time or distance intervals. Besides it adds a tracking point once vehicle changing driving direction over the preset angle value (30 degrees, not changeable) to form a smoother trajectory, more consistent with the actual road.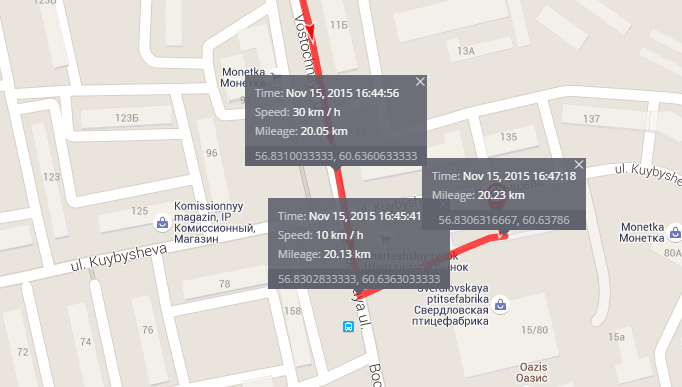 There is one important thing to remember, however, especially if car often moves in suburban areas or GSM signal is not always strong. Like in all other models from Coban there is no built-in non-volatile memory to keep tracking data in offline mode. You must buy and install a microSD card to be able to collect data when GPRS connection to server is lost.
Reading of OBDII data
In a case of getting vehicle parameters from an onboarder Coban GPS306 is also very workable. It supports major OBD protocols and reads RPM, gas pedal position, engine load, coolant temperature from onboard vehicle diagnostic system. In many cars we tested it also showed actual fuel level (in percentage of tank volume), but we could not manage to read fuel consumption rate – none of our cars showed that (though it was achieved with other OBDII trackers). However, the manufacturer swears it is supported. Well, maybe we were unlucky this time.


As for DTC error codes and MIL, this data is also available for car owners. We did not test this feature and just say it is claimed by the manufacturer.
Verdict
Certainly, the device is worth the money. With the comparably low price Coban GPS306 guarantees a fairly good tracking and reads a lot of parameters from onboard diagnostic system. However, you'd not expect from it features that are more usual for pricey devices: harsh driving behaviour, towing alert, retrieving VIN, etc.
And one more parting word: poorly designed OBDII connector leaves daunting impressions and might fit not all cars – better try before you buy.
The goods:
Attractive price. Might be the first thing users notice
Reliable tracking. Impressive sensitivity, even without GLONASS and A-GPS
OBDII reading. Probably not the best, still performs rather well on average
The bads:
Loose OBDII connector. In some cars it just doesn't connect to power
No built-in memory. Good thing there's a microSD card slot
Useless SOS button. But who cares? At least GPS306 has got it
Want to see more details? Check out our section about Coban devices and their supported features in Navixy software platform.