Besides monthly updates, Navixy team permanently works on devices integration. This time our developers have prepared an impressive list of integrated devices from leading manufacturers like GoSafe, Defenstar, Teltonika, Escort etc. So we will be glad to share with you our integration experience in a more detailed way.
GoSafe Systems
GoSafe is one of the well-known manufacturers of products for GPS Fleet Management. It works with more than 100 countries. Their GPS tracking devices are focused on business needs and enterprise customers. Navixy regularly integrates their products to connect our software experience and GoSafe hardware design. Our latest GoSafe integrations:
Integrated GoSafe G717 is a smart and easy-to-use device. The 60-grams cigarette-lighter GPS tracker becomes your cars' supervisor. It has a SOS-button only but the number of its monitoring functions is really impressive. Moreover the device usage is quite wider than OBD II ones', and that is another reason we glad to have such little "gps-diamond" on board.
The remarkable thing is, the device captures two separate actions: a disconnection and an ignition off (the data about the voltage level is used). Moreover, it supports Harsh Behaviour Monitoring which can be managed in the Fleet / EcoDriving application of Navixy GPS tracking platform. Two sensors Ignition status & Voltage level are added automatically.
By the way, guys from @telematics-talks have a pretty detailed and informative device review.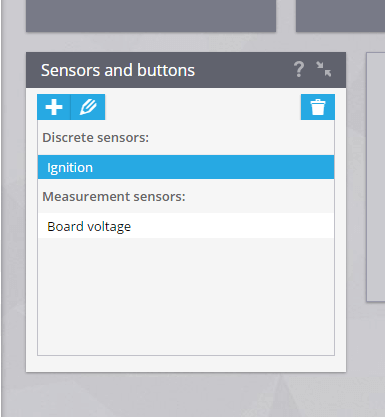 GoSafe G797 is the next one. Portable vehicle GPS tracker that can be installed in OBDII port. Plug'and'play installation – always appreciated. You can use it for a fleet management or personal cars. 2G and 3G networks are supported.
GoSafe G797 as a OBD II tracker, obtains a vehicles' speed data, engine temperature, fuel consumption, DTC error codes etc. All these parameters you can see in the widget on the main screen or customize them in the Devices and Settings section:

We have also integrated GoSafe G777. It's a simple version of GoSafe G797. The tracking device can't read telemetry data from vehicle diagnostic system and provide you with DTC error codes, but it controls ignition status in various ways and detects a harsh driving.
GoSafe G1S
GoSafe G1S is a solid GPS tracking device which can be used with movable and immovable assets. Three strong magnets make it difficult to remove it or lose during the trip. Long-term battery life and cover protection can assure you that nothing will happen with the "off-the-road fellow traveler".
GoSafe G3A is one of the smallest GPS tracking devices which were designed for its use in harshest climate conditions. The reliable protection against dust is an undeniable advantage of GoSafe G3A, but we think that its inadequate protection against water is what you need to pay attention to. So, do not rush to drown the device.
GoSafe G3S is for business needs for sure. It designed for service providers, integrators and enterprise customers. As stated by the manufacturer, GoSafe G3S is not an expensive tracking device. Its characteristics are not quite rich but you have a necessary set for the vehicle tracking and telemetry data collection.
GoSafe G6S a bit looks like GoSafe G3S but it has better characteristics and features. It supports 2G and 3G networks, 2-axis accelerometer, two-way communication etc. It is also used for fleet management, insurance telematics, dispatch, vehicle location recovery, and more.
Defenstar
We have recently begun to integrate Defenstar devices. Chinese manufactures have a great range of tracking devices for every need from pet tracking to business solutions. So far we have their three nice looking GPS trackers, each has its own field of application.
We think Defenstar DS007 is a stylish looking pet-tracking solution. Simple-to-use, just fasten the device to a collar and Navixy shows where your dog is.
Defenstar DS811 is a vehicle GPS tracker with a wide range of options to prevent the car stealing. It is suitable for personal use and fleet management when remote control of the vehicle is the most important.
Defenstar GPS668 is a tiny little personal GPS tracker for monitoring and protecting people and property. SOS button only, if any emergency happens.
Teltonika
Teltonika is a very popular brand of GPS tracking devices in Europe, Middle East and Asia. Over time, the quality of their products has significantly increased and the prices remain favourable. Navixy has integrated their tracking devices for a long time, testing the system functions on the products. Satisfied with the results we continue further integrations.
As telecom operators are shutting down their 2G networks, GPS trackers with 3G support become more demanded. In fact there are not so many 3G devices available on the market and Teltonika FM3300 is the one of the first.
The device supports "Green Driving" function. So, you can have daily reports for all vehicles, how they have been driven – harsh braking, idling, speeding etc. After that, you can see the best and worst are ranked in a list. Navixy provides all this data in the Eco Driving application.
If you have already tested TELTONIKA FM3300 or have some comments on the integration, please share your feedback.
Escort
Escort TD manufactures fuel consumption sensors, tilt sensors, proximity sensors etc. Navixy has been integrated Escort TD-online model and drawn attention to the innovative feature of the device.
Unique and quite interesting model. In fact, there are two devices in one: GPS tracker and fuel level sensor (first of all, the manufacturer is known for its fuel sensors). However, Escort TD-online has its disadvantages such as a lack of settings and unstable tracking process, for example, sometimes it can lose the GPS signal.
And more new GPS trackers
We've also integrated several other models by Satellite Solutions, Auto Leaders and Eelink.
On our website in the Devices section you can find the full and up-to-date list of supported devices, their features and other related information. If you would like us to support specific models, please suggest it for the integration.