Navixy admin panel is a convenient tool for GPS monitoring service management and user support. It is very handy both for a service owner and managers who work with the customers.
According to our release we added active device report, ability to set up and manage trackers, customer individual discount. We also made the interaction with user and tracker list more convenient.
Configure and save user list
User list allows a technical support team to find needed user faster in order to check his account info. Now it is possible to manage user list elements to get rid of unnecessary data. Just a couple of tools you need to make it happen:
First tick columns that should be in the list. Hide unused columns to make it easier for a support manager to sort out the user's data.
Second hide inactive accounts. Use a special filter to solve the issue. Then you can get back to the complete list fast.
If you do not need the account anymore — delete it.
At the same time, user list is a ready-to-use database for marketing goals. There are names and contacts of all the users in the system. That is why an admin can save it in XLSX or CSV format and use it like a database for emailing and phone calls.
Remote setup and configuration
Tracker automatic over-the-air setup and configuration is a convenient feature to a user. But sometimes there are such cases when a customer needs help with the last step of registration or can not make proper settings. Before the update a technical manager had to log into user account. Let us save some time and efforts.
Now it is possible to set up and configure a tracker just from the admin panel. Check a user card and find the items we added. Add a tracker and manage its settings in the admin panel just like in user account. The point is a technical manager does all the operations without logging into the user account.
Individual discount
Admin panel allows to create multiple tariff plans with necessary terms. You can also make your billing even more flexible with an ability to assign an individual discount to a user.
The discount percentage is indicated in the user card and is valid for all the objects registered in the account. In addition, you can specify the terms of individual discount: the minimum number of objects per user or the validity period. If the terms are specified, but not met, the discount is automatically turned off.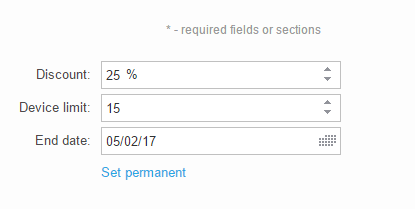 Totals
View all the credits and write-offs on the user personal account. Check the detailed info in the user card on Transactions tab. We have also added totals there: browse all the credits and write-offs due to each personal account for a selected period of time.

Reports
Statistics information is very important to a monitoring service owner. Every day, Navixy provides basic data that defines the operation of your service. Now there is an ability to see the number of active GPS trackers per month.
Choose Reports tab in the main menu to browse the number of devices. The service owner can estimate the business growth dynamics if he knows the number of active trackers per month. Moreover, based on this data, ServerMate providers can plan the amount of monthly fee.