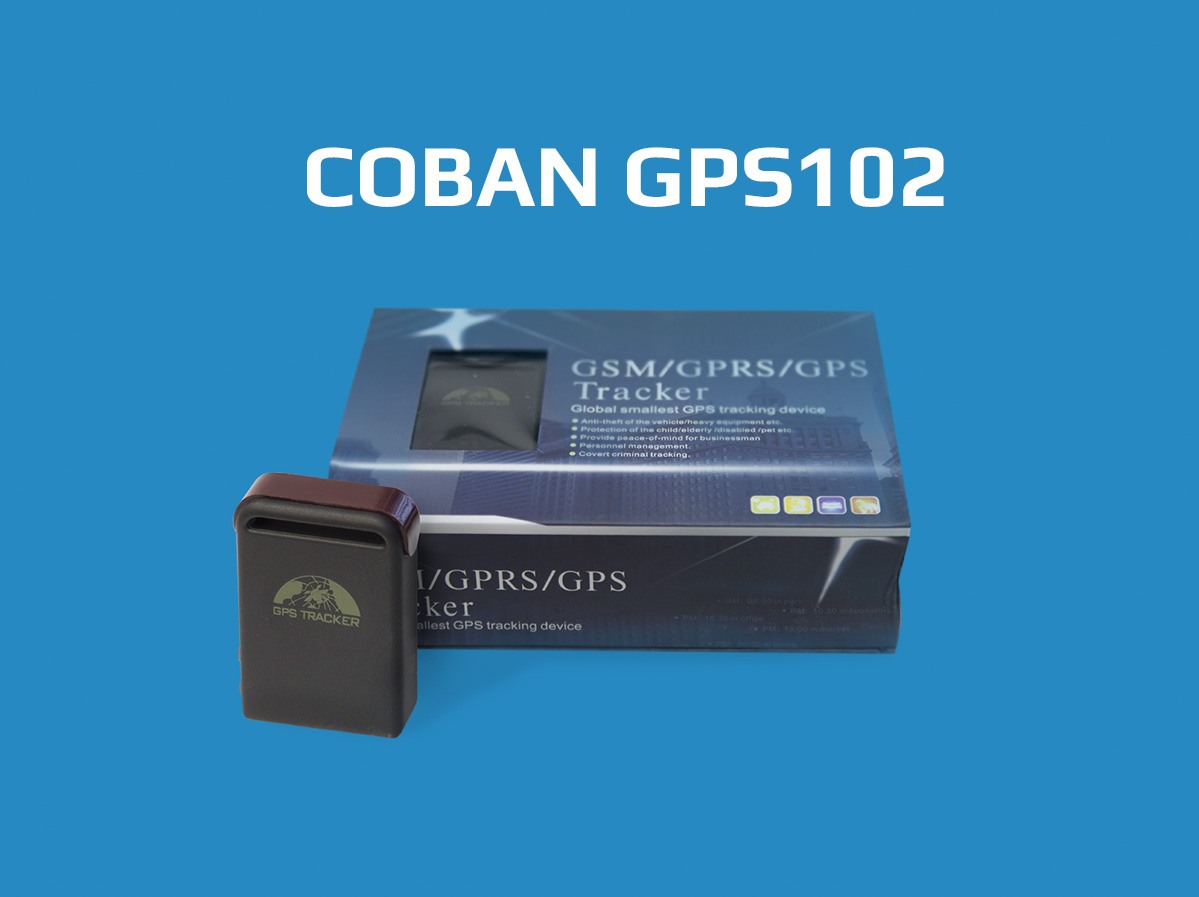 Trying to wade through innumerable details of Coban product line, SquareGPS share our firsthand experience of using these GPS trackers. On this week a popular personal tracker Coban GPS102 rivets our keen interest.
Appearance
Coban GPS102 has arrived from the manufacturer in a small attractive box. However the device was lightly covered with a powdered substance as if its wrapper had been damaged during the shipment. This tracker is really handheld and comfortable to put in a pocket of clothes or in a backpack. It also has the loop on it for a belt or other bracings. Its plastic housing is agreeable to the touch.
There are only two buttons: SOS and On/Off pins. Its SIM card and battery are easy to put in. It took a few seconds to set up the GPS tracker. There is the set consisted of a charger, USB cable, extra battery and duplicate back cover in the box. Also, there is the small plastic packet. Looks like, it should be used for carrying the tracker and protecting it from dust and water. But it looks not so decent.
The device has fair build quality. The mismatching of a housing hole and connector catches the eye. Nonetheless, this GPS tracker looks good enough thanks to a small size.
Charging
Coban states, that the charger of the GPS102 model can't be directly switched in the tracker. They suggest to put a battery outside and use a special charging pad. It is rather impractical to do some extra actions every time your battery is gone. You also must be extremely lucky not to lose charger after a few weeks of use. A little compensation is an extra battery in a set that can be used while your main battery is on a pad. However, the paradox is that it can be normally charged directly through the connector. SquareGPS don't know why the manufacturer belittles its product in this case.
Looking ahead, the device can work autonomously up to 5 hours in active mode and normal conditions. There are also several power saving modes (based on activity and time) that can extend battery life.
Operating
Coban GPS102 offers two basic communication modes: SMS (device-to-phone) and GPRS (device-to-server). We choose GPRS mode for it provides a real tracking experience with detailed information about the trips.
After powering on the device, it took almost 5 minutes from it to "catch" the GPS signal. To make TTFF (Time-To-First-Fix) period shorter, we put it to a windowsill. This device becomes alive really faster in open space. Make sure that your Coban GPS102 blink one time at 3 seconds. It means that it got GPS connection. In other cases, a tracker lamp can flash frequently.
According to the specs the GPS sensitivity is up to -159 dBm, which is mediocre for today. The unfortunate aspect is also that GPS102 doesn't support Assisted GPS technology, which could shorten the TTTF significantly.
Before the start of our 40 minute trip, we tried to test SOS button. Our GPS tracker connected to Loccate tracking service immediately reported about a possible emergency situation, though the device itself doesn't vibrate or beeps to confirm that SOS button was pressed.

We set our Coban GPS102 in time-based continuous tracking mode. It started to send location reports every 45 seconds. On our way to the metro station, the device showed reliable work and almost "clear" tracking waypoints. It also showed off a good tracking during our underground trip. The covered way was for all the world like on a metro map. However, we went straight almost all the time of the trip.
Our GPS tracker locates precisely our exit from the metro station and continues its complementary work during remaining trip to home. The second test of SOS button was also successful.
The main problem appeared when we left our Coban GPS102 in the pocket of a coat inside the room. There weren't any sleep mode presets and tracker started to show fake tracking points. The scatter of "waypoints" was really huge: from 20 meters to almost 1000 meters (sic!). In this state the tracker showed the worst performance.

In our latest experiment this weakness of Coban GPS102 was approved. Preset sleep mode (5 minutes without any movements) could solve the problem. Our GPS tracker didn't show fake waypoints and after that it normally came back to active mode. However, the device goes to sleep only in distance tracking mode.
When no GPS signals are available (e.g. in parking garages) the tracker sends information about the only GSM base station, allowing to locate it by Cell ID.
There is one more thing which was worse than we expected – the lack of built-in memory for buffering data. When you leave the GSM coverage area, the tracker doesn't collect the location information, unless you buy and install a micro-SD card into it. In other words, to be able to keep your objects being tracked where no GSM signal, you have to spend some more money.
Verdict
The device required some presets to be more accurate to tracking process. It is the main lesson we learned after using Coban GPS102. For example, distance tracking mode works worse than time tracking mode.
Also, you need to check your tracker's LED lights to control GPS connection. Sometimes the device can hide a part of a way just because it lost satellite signals and didn't catch it in time.
GPS102 reports about low battery level and have acoustic surveillance feature. However, GPS102 is an entry-level model, and you should not expect features that a peculiar to more expensive GPS trackers, such as power ON/OFF report, driving behaviour monitoring or unauthorised movement.
Anyway, use of Coban GPS102 leaves good impressions. It is a fairly personal budget-class device that can work with simple navigation tasks, such as kids care or pet tracking. For more exacting applications, e.g. employee tracking or cargo delivery monitoring you'd probably consider of buying a more sensitive, functional and reliable device.
The goods:
Compact size
Low price
Decent design
The bads:
Location accuracy
Mediocre reliability
Lack of functionality
Want to see more details? Check our section about Coban devices and their features supported by Navixy software platform.