Time to take a fresh look at a well-established tool in our Navixy suite—the dynamic "Users and Roles" function. Can you believe it first rolled out in 2016? Its evolution since then has been a powerful asset, especially for our partners working with mid-sized and larger organizations. In this post, we'll explain why.
The Users and Roles feature provides a robust solution for your clients to effectively manage team access to the Navixy platform. It lets you tailor each individual's access based on their role within the organization. However, it's more than just managing access—it's about delivering a personalized Navixy experience to every team member in your client's organization. Over the years, we've continuously updated and improved Users and Roles based on the insightful feedback from you, our partners, and the changing needs of your clients. So, let's explore how this updated functionality can boost your offering and help your clients achieve even greater business efficiency.
Understanding the Users and Roles functionality
In essence, the Users and Roles feature is your client's passport to team efficiency and streamlined operations. At its core, it's all about setting access levels and distributing responsibilities among the team, enabling each member to play to their strengths.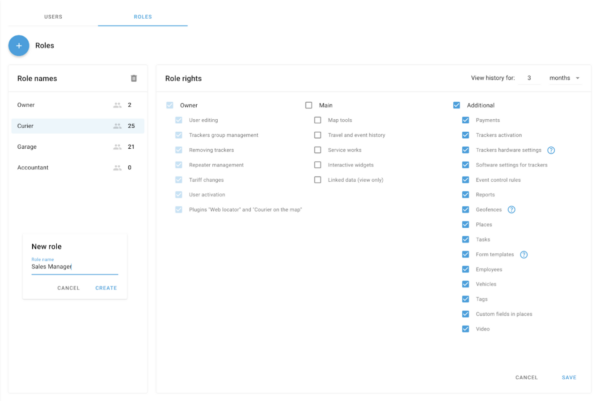 Below, we break down the main elements of this functionality:
Access rights: With the Users and Roles function, your clients have total control over who gets access to what, or the ability to set individual permissions that fit each team member's responsibilities. For example, an accountant might have the rights to manage payments, while a dispatcher controls fleet monitoring and task assignments.
Subusers: Our system lets you create multiple subusers under the main account. Each subuser can be assigned specific monitored assets and functions, providing a tailored user experience. It ensures that everyone on your client's team gets to focus on their area of expertise without distraction.
Roles: Roles are predefined sets of access rights that your clients can apply to different subusers. By defining roles such as "accountant", "logistician", and "dispatcher", they can quickly set up new users with appropriate access rights. This feature becomes incredibly handy as the team grows and roles diversify.
Auditing: For enhanced security and control, your clients can keep an eye on all user actions through the Access Log. If an anomaly is detected, it's easy to trace back to the responsible user.

The Users and Roles function is more than a management tool. It's a key to unlocking growth and efficiency opportunities, particularly for your mid-sized and larger clients.

With this feature, access rights and roles can be swiftly set up, providing each new member of the team with a clear remit from day one. Now, let's say one of your clients decides to extend the Navixy system to additional departments. Since the Users and Roles function allows for seamless integration, it ensures consistency across all sections of the organization. Or, a client who operates across multiple branch offices is guaranteed a uniform user experience and security protocol, regardless of geographical dispersion. As a reseller, it's crucial to understand these practical scenarios to successfully deploy the system within your client's organization.
Use cases in transportation and logistics
It's one thing to understand the benefits of the Users and Roles feature, but it's another to see them in action. Let's consider a few real-world scenarios in transportation and logistics to illustrate how this feature can be leveraged.
Streamlined operations for companies with own fleet of vehicles
Picture a company that operates its own fleet of vehicles, complete with dispatchers, fleet managers, and drivers. The Users and Roles feature facilitates creating individual profiles for each group with respective access rights to the necessary tools. For instance, dispatchers might only require access to vehicle location data and driver communication, while fleet managers could need more comprehensive access to advanced reporting and analytics. Such targeted segmentation can greatly enhance operational efficiency.
Efficient resource management in a logistics firm
In a logistics firm, the finance team, operations team, and on-ground staff may all need access to different aspects of the Navixy system. By leveraging the Users and Roles feature, resellers can help their customers create custom roles, ensuring that the right information reaches the right people at the right time.
Strengthened security for a large transportation corporation
A large transportation corporation with multiple departments and offices needs tight control over who can access what. The Users and Roles feature can be used to create role-specific access, limiting potential security risks and ensuring sensitive information is only accessible by authorized personnel.
Consider these use cases as a blueprint to help you convey the practical benefits of the Users and Roles feature to your clients. In the next section, we'll show you how easy it is to implement.
How to use Navixy's Users and Roles feature
For all its complexity, using the Users and Roles feature is surprisingly simple. Here's a basic walkthrough for you to understand, and later explain to your clients.
Step 1. Creating roles
The first step is to create a new role. This can be done directly in the Access rights menu under the "Roles" tab. When creating a role, you'll define a set of permissions that users under this role will have. These permissions range from basic tasks like viewing the device list to more advanced ones like creating geofences or managing driver behavior.
Step 2. Assigning users to roles
Once the role is created, the next step is to assign users to that role. Go to the "Users" tab in the dashboard, select a user, and assign the desired role to them. Users can be assigned to one or multiple roles depending on their tasks.
As the needs of your clients evolve, they might need to adjust the roles and permissions accordingly. Navixy makes this easy, too. Just go back to the "Roles" tab, select the role to be edited, and modify the permissions as needed.
By guiding your clients through these steps, you enable them to take full control of their users and their access rights, enhancing their productivity and operational efficiency. And, of course, the Navixy team is always there to assist you if any help is needed.
Managing user account with API
Expanding on this, the Navixy API methods for subuser management let you integrate the feature with your clients' existing systems, allowing seamless user and role management. Your clients will be impressed with how effortlessly they can manage team permissions on a single, unified platform.
Example: Integrating Navixy with a company's CRM simplifies the access management process by swiftly transferring the established role and user structure. This facilitates immediate access to Navixy for all employees of the company. Similarly, with the use of API you can create an alert system. For instance, a notification could be automatically sent to a designated person when a new entry appears in the Access Log. Here's an example of how that might work: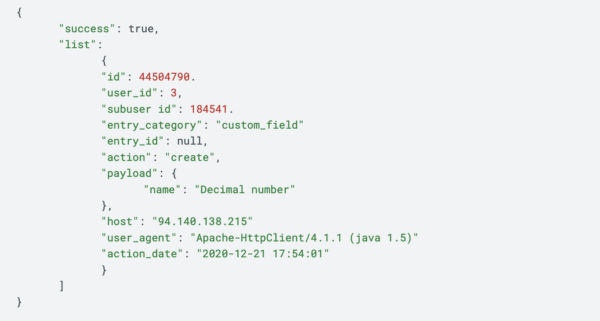 Recent and upcoming enhancements
At Navixy, our driving force is the evolving needs of users and the imperative to arm our partners with the tools they need to meet their clients' requirements. Here's a glimpse into the latest enhancements of the Users and Roles feature and what's in the pipeline for the near future:
More granular access controls. Based on the feedback from our partners, we've made our access controls even more granular. This allows you to define user roles with precise permissions down to specific details, further enhancing the security and control within the platform.
Enhanced UI and consistent mobile experience. We've improved the Users and Roles user interface for intuitive navigation and modern look. Moreover, we've expanded this feature's functionality to our X-GPS Monitor apps, ensuring uniform user experience and access rights across devices.
The enhancements slated for release this summer include the capability for adjusting the visibility of Places and Geofences for invited team members. Additionally, provisions for access to software add-ons (plugins) from the Navixy Marketplace or custom map layers augmented with supplementary information will also be part of the new updates.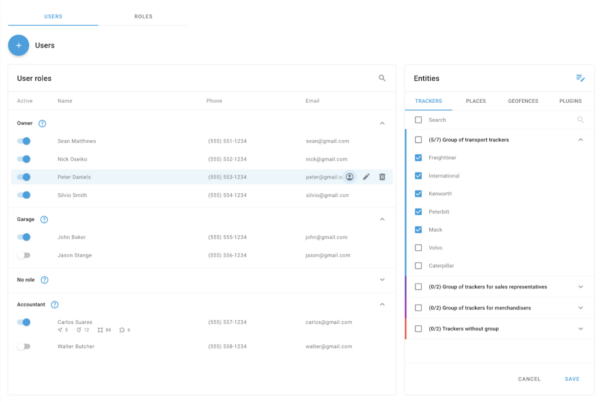 Future plans include integration with external identity providers. We recently implemented this feature in the Customer portal for managing Navixy instances. However, we also recognize that many of our clients use external identity providers to manage their user accounts. Therefore, we're in the process of developing an integration that will enable these external accounts to link with Navixy, streamlining the user management process and enhancing security.
Stay tuned for more updates on these upcoming enhancements, and as always, we're eager to hear your feedback to make the Users and Roles feature even better. The continuous evolution of Navixy's features is what makes our partnership valuable—we grow and adapt together to best serve the dynamic needs of your clients.
Have questions? Please refer to the Users and Roles feature guide for further details or reach out to our highly responsive support team at [email protected].