It's not unusual for Navixy customers to utilize multiple instances of our telematics platform. We work closely with telematics service providers, system integrators, and IoT product companies who often require several instances to cater to various enterprises. These instances can be deployed in different ways, including Cloud PaaS or On-Premise, and may be geographically distributed across different regions.
We understand how efficient instance management is crucial for organizations of all sizes. That's why we're thrilled to introduce the Customer Portal, a centralized solution designed to streamline instance management and cater to our valued customers' needs.
What is the Navixy Customer Portal?
The Customer Portal is a centralized platform designed to simplify how organizations manage multiple Navixy instances. It allows users to create and manage their Navixy instances from a single location, providing a unified interface for account creation, instance deployment, access to admin panels, and usage and billing information.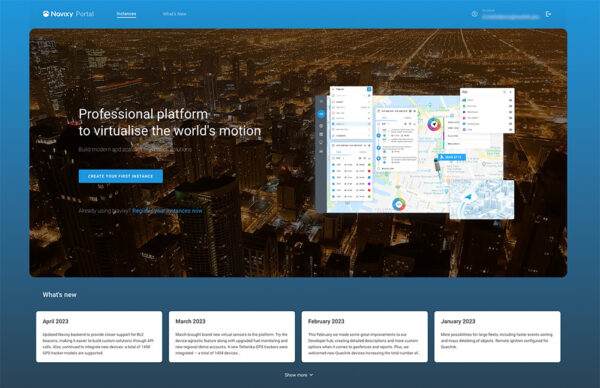 Whether you are a new customer seeking a convenient onboarding experience or an existing customer looking to streamline instance management, the Navixy Customer Portal offers a user-friendly and efficient solution for overseeing your Navixy ecosystem.
Simplified onboarding for new customers
New customers can quickly create an account for their organization within the Customer Portal using their Google or Microsoft credentials, or by setting up a simple login/password combination. Once the account is established, customers are invited to create their Navixy instances.
The most common and straightforward way to deploy the first Navixy instance is by choosing the Platform-as-a-Service (PaaS) option in Navixy's global cloud. With just a few clicks, you can create an instance and follow a step-by-step process, including selecting the platform's location (such as the US, Europe, or Asia) to ensure optimal performance and compliance with data residence requirements.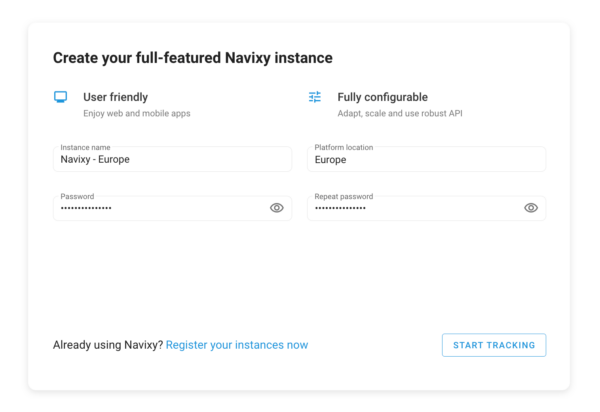 Alternatively, if you prefer more control, you can opt for Navixy's On-Premise version and deploy it on your own IaaS cloud infrastructure or local data center. Navixy offers a 14-day, full-featured trial to allow customers to explore the capabilities of their new instance.
Efficient management for existing customers
Existing Navixy customers can also leverage the power of the Customer Portal to centralize their instance management. Whether you previously had instances with Navixy or have recently acquired them, the Customer Portal enables you to conveniently control and monitor all your instances from one place.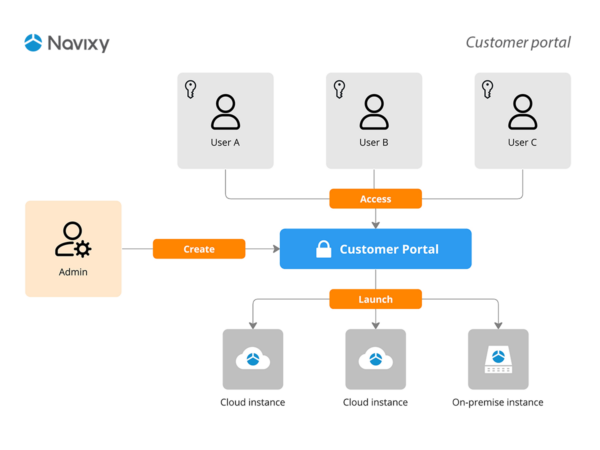 Existing customers need to start with the same link for creating a Customer Portal account—ideally, you should use the same email address that you used previously for purchasing your Navixy products. By doing so, the system will automatically search for these prior purchases and securely link them to your Customer Portal account. If some of your products are not found due to being linked to different emails, our dedicated customer success team will gladly assist you in resolving any issues.
Once your Customer Portal account is set up and linked to your previous purchases, you can easily navigate your instances, log in to their admin panels, and access detailed information about each instance, including its features and billing data.
Navixy's flexible usage-based pricing
Navixy maintains a usage-based pricing model to ensure you pay only for the resources you utilize. With concurrent pricing, you are charged solely for the assets that are actively connected to the server. Additionally, you have the flexibility to adjust the functionality according to your specific needs to allow for further cost optimization. As your fleet or device count grows, Navixy offers even greater savings, with the price per unit consistently decreasing. This enables you to scale your operations while enjoying cost-efficiency.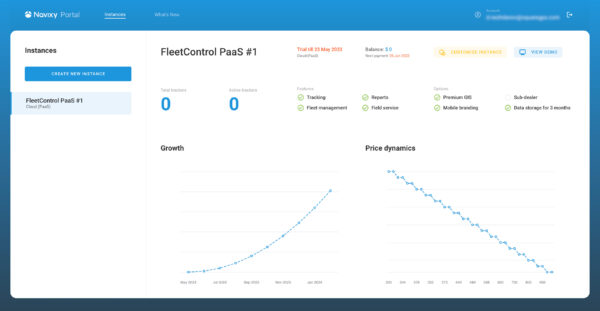 If you are a new customer and would like more information about Navixy's pricing or require assistance during the onboarding process and trial exploration, please contact our sales team.
Start today and tell us about your experience
The bottom line is that the Customer Portal is specifically designed to cater to the needs of experienced telematics and IT professionals. It offers a user-friendly interface and robust functionality, making it easier than ever to simplify your workflow. With the Navixy Customer Portal, managing your Navixy instances will become significantly easier.
Experience the convenience and efficiency firsthand, and let us know what you think. We value your input and are committed to continuously enhancing your telematics operations through the power of the Navixy Customer Portal. Create your account today to see our capabilities firsthand.