Thanks to the increasing popularity of video telematics, more fleets than ever before have access to live video from various vehicles. Although this gives businesses additional oversight and peace of mind, streaming live video from the road consumes a lot of data. In fact, research suggests that companies can expect to use up to one gigabyte per month when streaming video—putting both fleets and tracking providers in a difficult spot.
Fortunately, there's no need to choose between video telematics and your bottom line. In this article, we'll explain how much data different video functions consume, as well as how to minimize data usage to avoid burdensome expenses so fleets don't miss out on this cutting-edge technology.
Call or email us today to learn more about Navixy's video module and mobile resource management platform.
Data costs: a challenge for video telematics
Companies seeking to implement video telematics solutions have to contend with a major hurdle—the cost of data. Live video is more sensitive to network bandwidth than downloaded video, which is why this functionality typically consumes the most data. Additionally, video files are much larger than photos and other files, and need significantly more data when being sent, received, and stored. This also prevents video from using a low-overhead protocol like MQTT for transmission.
Given that most common fleet dash cams support live, playback, and event video, companies that regularly use all three functionalities could soon face mounting data charges and slower network speeds. This is because these cameras have to work with public networks that allocate data amongst thousands of devices. Not to mention, businesses that operate in areas with limited connectivity could have an even more difficult time keeping their devices online and viewing live video.
Though the continuing global rollout of 4G, and especially 5G, networks is expected to alleviate some of the concerns related to connectivity, the fact remains that TSPs still have to address how quickly rising per-unit data costs will impact their profitability. The best hope for the future are new breakthroughs like H.265 compression, which reduces file sizes by up to 40% compared to the current H.264 protocol.
Video & data consumption statistics
Video telematics is a relatively new concept, so it's important to understand how much data is consumed by functions like the livestream, event video, and playback. That way, you can later decide which of these features to focus on and which can be disabled. To illustrate, we'll use the specs for the Jimi IoT JC400 and Howen Hero-ME41-04.
A camera like the JC400, for example, consumes 8MB/minute when the livestream is open and two channels are active. Meanwhile, 15-second event video clips require 27 MB for storage. And for playback, the Jimi camera uses 9MB for a 1-minute video from two cameras.
Since Navixy just supports live video for the Howen device, users will only need to manage this metric if they choose the Hero-ME41-04 for their fleets. With four connected channels, the device consumes 2.5MB per minute.
Tips for strategic data usage
Just like with any other tool, companies need to decide which functions are most important when it comes to video streaming. This can help with avoiding mounting costs, latency, and poor image quality when integrating fleets with this technology.
When using Navixy, partners can choose to adjust or change certain attributes to reduce the amount of data that's consumed. We'll explain each suggestion from the list below in greater detail.
Change event video resolution
Turn off event video for certain alerts
Close livestream window after each use
Change event video resolution
One way to reduce data usage is by changing the resolution that event video is saved at for different file lengths. Since higher-resolution files take up more space, it can be costly to only stick with the default settings.
For instance, instead of automatically saving files at 1080p, companies can choose 720p if they don't need the highest-quality recording possible. To do so, access the user settings though Air Console and change the A value from OUT to IN. The sequence below further explains what's changed when this adjustment is made.
When OUT, 0 is 1080P 8M; 1 is 720P 4M; 2 is 720*480 2M; 3 is 640*360 0.5M
When IN, 0 is 720P 6M; 1 is 720P 3M; 2 is 720*480 2M; 3 is 640*360 0.5M
Turn off video for certain alerts
Not all organizations need event footage for every situation, so Navixy allows users to deactivate video for specific alerts. Moreover, our platform gives users the choice to either upload files automatically or on-demand. Since the latter ensures that only crucial event video is saved, companies won't have to worry about unnecessary files consuming excess data.
An example of this would be disabling event video for speeding alerts. Instead, managers could use the Eco Driving fleet management tool to determine which employees are committing the most speed violations.
A=Event type (input the event code of an event type)
B=OFF is not upload auto
ON is upload both front / inner camera video
1 is upload front camera video
2 is upload inner camera video
Close livestream window
Naturally, the livestream will use a lot of data if viewed for longer than necessary. So, be sure to close the window when finished. Selecting another module in the platform will also stop the livestream.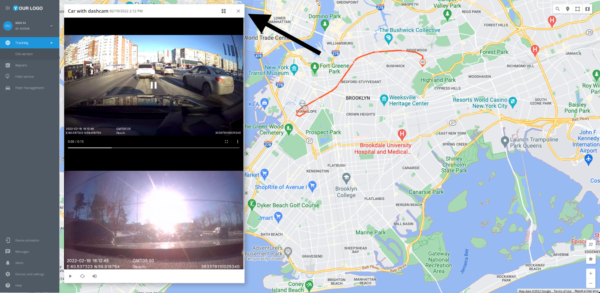 If data costs from video streaming are a concern, follow the suggestions above to reduce your overall usage. To learn more about adapting video telematics solutions for your business, contact Navixy by phone or email. You can also start a free trial of our platform to see how it works.