When reliable, intelligent monitoring is a must, look to Mobile Digital Video Recording to meet your needs. With MDVR, businesses can take advantage of high-resolution video recordings to improve oversight, safety, and efficiency, resulting in lower logistics costs in the long run. Additionally, this technology provides advanced telematics, alerts, and reports for fleet managers to review and analyze.
With support for video streaming available with Navixy, companies have the chance to monitor their employees for safety and compliance, receive alerts caused by harsh driving, and leverage data to better understand their fleets.
Navixy is proud to offer this integration, so be sure to learn more about MDVR and video telematics below, and contact us with any questions.
Navixy video streaming
All businesses have different needs, which is why Navixy supports video playback to review past events. Additionally, businesses have the opportunity to access live video streaming.
Why do companies require high-quality video? Though many reasons exist, some of the most common include: having evidence in the event of an accident to properly assign liability, ensuring that drivers are following rules and being safe, coaching employees to reduce vehicle maintenance expenses, and deterring criminal activities such as cargo and vehicle theft. All of these can lead to lower fleet costs and improved efficiency.
Streaming live video within the Navixy platform enables businesses to see how their drivers and fleets are faring on the roads. One of the key functions of this technology is having the ability to playback recently seen video, as this makes it possible to see what just happened, as well as where it took place.
Below, we depict what video streaming in the Navixy platform looks like. The number of available camera views depends on the type of MDVR being used, with a total of up to twelve views accessible. In addition to searching by device, it's also possible to access a video stream by filtering for a specific vehicle, VIN, or another parameter—essential for large fleets with hundreds of trucks, vans, and other assets.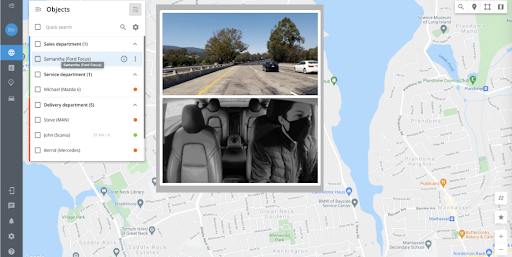 "As a useful tool, MDVR can broaden regular monitoring functions. Apart from the tracking, real time video surveillance allows fleet managers to more flexibly control the objects and monitor the vehicle's surrounding environment as well as minimize human factor related risks and improve business efficiency."

- Alex Devyatkov of Howen Technologies
Streaming, storage, and support
Once inside the Navixy platform, fleet managers will be able to queue the video livestream from the Objects list. Each vehicle that's equipped with a dash cam will have a video icon that connects to the stream.
In addition to seeing what's happening in the current moment, it's possible to access playback on a five-minute interval. Thanks to this function, companies have the ability to review recent events to determine what transpired. This is particularly advantageous after receiving an ADAS or DMS alert since these relate to employee safety and could require immediate action.
Managers will also have control over how the device is configured to save crucial video clips, such as what happened before, during, and after a collision. After the event, the file will be stored by Navixy in the cloud for up to 30 days. As a result, it's easy to request video from the past month in case it's necessary to determine fault, exonerate an employee, or examine what led up to an accident.
Finally, video resolution is configurable, meaning that businesses can choose to prioritize either lower data costs or higher video quality. Depending on the device, 720p and 1080p are available.
MDVR device manufacturers
There are several manufacturers that produce some of the most cutting-edge MDVR systems and dash cams on the market today, and we're certain you'll find an ideal solution from one of these trustworthy providers. In fact, companies like Howen and Jimi IoT offer convenient integration with third-party systems to create a cohesive, connected platform.
Jimi IoT manufactures a number of different MDVR units and dash cams to provide partners with a wide assortment of options. Along with offering ample storage space, high-resolution recordings, and driver data for coaching opportunities, many of these devices also transmit event video to the cloud after an accident or improper operator behavior. Plus, Jimi dash cams provide multiple camera views to accommodate monitoring both the road and the operator, making them ideal for smaller companies that prioritize employee safety and oversight.
Howen Technologies is a leader in the video streaming market thanks in part to its generous selection of dash cams and MDVR devices. These include SD card, hard drive, and intelligent AI systems—all of which allow businesses to benefit from detailed telematics, alerts, reports, and more. Offering multiple channels for sensors and other inputs, this tech is ideal for sophisticated use cases and larger fleets, which may require numerous data sets. Furthermore, Howen proudly offers customized and cost-effective solutions, so all sorts of companies can take advantage of its technology.
MDVR and dash cam setup
Despite the modern, intelligent features of MDVR, setting up a device is straightforward. After following the installation instructions for your specific device, log in to the Navixy platform. Then, it's possible to add the unit under the corresponding menu. To add a new device, follow the steps below:
Click on "Device Activation" in the bottom left of the Navixy interface, enter the device name, and select it.
Enter the device ID.
Wait for the device to connect to the GPS server or manually connect to the server port and IP address.
Once connected, check the stream to ensure that all cameras are operational.
Set the correct time zone for the device in the platform.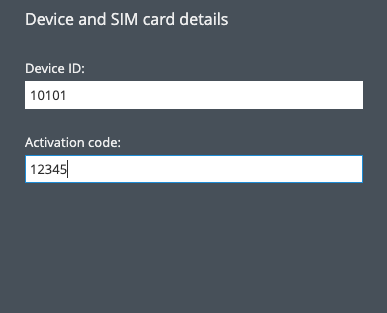 To learn more about video streaming, be sure to read some of our recent blog posts on the subject. You can also check out our article regarding ADAS and DMS support or reach out to a Navixy specialist with any questions.