Switching to a new GPS tracking and telematics platform can look difficult especially when you already have hundreds and thousands of devices. How to transfer them all with zero data loss? No worries, you're in the right place. At Navixy we understand the importance of an easy and smooth migration, so that each day we help our partners to transfer a vast amount data: users, devices, POIs, geofences, fleet and employees profiles. All in a few hours!
To become more familiar with the process we recommend to read answers to the most frequently asked user questions offered by Roman Dubrovsky who is the leading technical support specialist at Navixy. Read on to learn why to switch to Navixy and how to transfer all your clients' data with no sweat.
Why move to Navixy?
Navixy telematics platform stands out for its user-friendly and intuitive interface. Automatic device activation and remote configuration make the GPS tracking system unique and super easy to migrate to.
We're proud to receive positive comments from users as well as reputable independent review platforms. Last year FinanceOnline recognized Navixy as the Great User Experience winner in the category Best SaaS software for being intuitive and feature-rich. Tasks dispatching, Reports, Fuel monitoring, Eco driving, Fleet maintenance, and many other features are available to help your users achieve the best scalability and efficient workflows.
How to transfer users?
We understand that a great number of current users could be a reason you're holding back, and that's why we're ready to help with the migration. Just prepare the data in some electronically readable format (we recommend to use a csv or xls file) and we'll do the rest. You can focus on customer support and sales, we'll handle the technical part of your business.
Can I activate all my devices automatically?
Yes, the platform offers automatic device activation, which makes it super-easy to register your device on it. Simply enter device details (IMEI and phone number), and press "Activation" button. Your device will receive the necessary configuration in a few seconds and will immediately become online on the platform.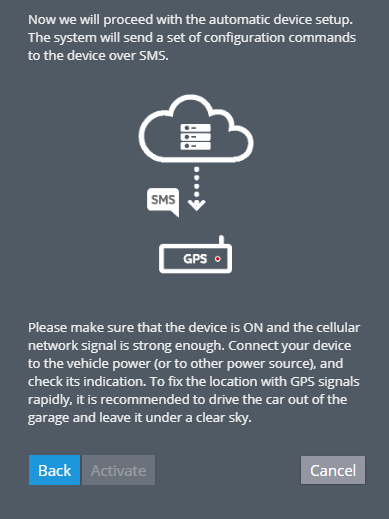 What if I have more than 1000 current devices?
If you need to migrate hundreds or thousands of devices to Navixy platform, our support team will be happy to assist you to upload them all at once. In this case, you even won't have to register device's IMEIs on the platform. Just send us the file, containing such fields as the device name, model, IMEI, Phone number, and APN details. That's it. Our technical support team will do all the rest, and your devices will be added to the platform.
What if some devices cannot be automatically activated?
That's true, some device models cannot be activated automatically because users don't want to change individual settings or because a manufacturer hasn't included such an option. No problem, here are some tips which might help you:
Create a configuration file. Enter the new IP address and a port specified for your model into a configuration file. Upload this file to the device you have. To save time, you can apply the same configuration file to all the devices of the same model. As a result, all devices are ready to communicate with Navixy platform.
Send activation commands via SMS gateway. If you need to register a large number of devices of the same model we recommend to use an SMS gateway to send configuration commands to all your devices at once. For example, if you have 100 devices of the same model just send 1-2 configuration SMS messages to their phone numbers. It would be much easier than configuring all devices one by one.
How to transfer Geofences, POIs, Vehicles, Employees and other data?
We understand that moving to a new platform seems to be stressful to many users, especially if there are enormous lists of data to be transferred. For example, one of our partners offers the monitoring service to delivery and distribution companies. Working with one platform for many years, their clients have created a total of 1 000 geofences to control deviations from routes and 15 000 POIs used for tasks locations. An impressive number, isn't it?
Still, there's no need to worry. To migrate all of your clients' current geofences and POIs as well as other data you simply need to provide us with the corresponding files containing basic information. It works the same way — you send us the file, we do the rest.
P.S. You don't even need to prepare a file by yourself: we provide file examples.
Do you offer any staff training?
Sure, Navixy places special attention to your business support. Each day we are happy to provide any information to make the user onboarding process as quick and easy as possible. We will carry out a welcome consultation for you and your clients. Staff training, individual webinars, and certification are also available for all of the team members: sales, technical support, accounting, and system administrators.
That's it! Now you know how to migrate to Navixy with ease. So, catch your chance and transfer all your clients' data directly to Navixy in a few hours! If you have any questions, we'll be happy to provide you with any information you need.