A company's sales force consists of its staff of sales representatives. These field employees are responsible for visiting retailers and receiving orders from them, arranging goods timely delivery, ensuring the correct shelf layout and product placement — well, for everything that is directly related to a company's revenue. Traditionally, sales teams have a lot of freedom when they are out of the office. This makes it a real challenge for supervisors to verify what sales reps are doing in the field, say, if clients get the needed attention, how much time is spent on acquisition vs. retention, and so on.
Telematics comes in handy here. Using a variety of simple and intuitive tools that can be easily combined with each other, supervisors can effectively monitor and support sales force without micromanaging them — Tasks, POIs, Geofences, Check-ins, Reports, etc. By using this tool kit, product companies and businesses can control remote team performance, visits to clients, plan effective sales strategies, and most importantly, save time and money.
We've already looked at how to delegate jobs using Tasks. In today's article, we'll share how product companies can benefit from telematics in order to gain an effective control over sales representatives and boost the total revenue.
1. Keep Tabs On Each Client Visit
The main duty of a sales representative is to visit all the prospects and customers within the assigned territory. The purpose of the visit is to receive regular orders from retail stores in order to sell the product. This, of course, is how the ideal sales rep's quota should look like.
However, it's no secret that in real life employees may be cheating: instead of visiting each customer, they take an order from home, for example, by calling or via an e-mail/messenger.
Or may not take an order at all. Actually, this is the most common problem faced by companies with sales representatives. In order to control whether the work is being done faithfully, we recommend implementing telematics.
There're two ways you can implement telematics for sales teams:
The first way is to use a mobile GPS Tracker application which every sales team member will download for free and install on a personal smartphone/tablet. This will allow supervisors, heads of the department or managers to monitor the location of the sales reps during the day.
The second option is to add a customer database to the telematics service in order to find out which customers have been visited. You can do this either manually or by uploading data from a corporate CRM or ERP-system.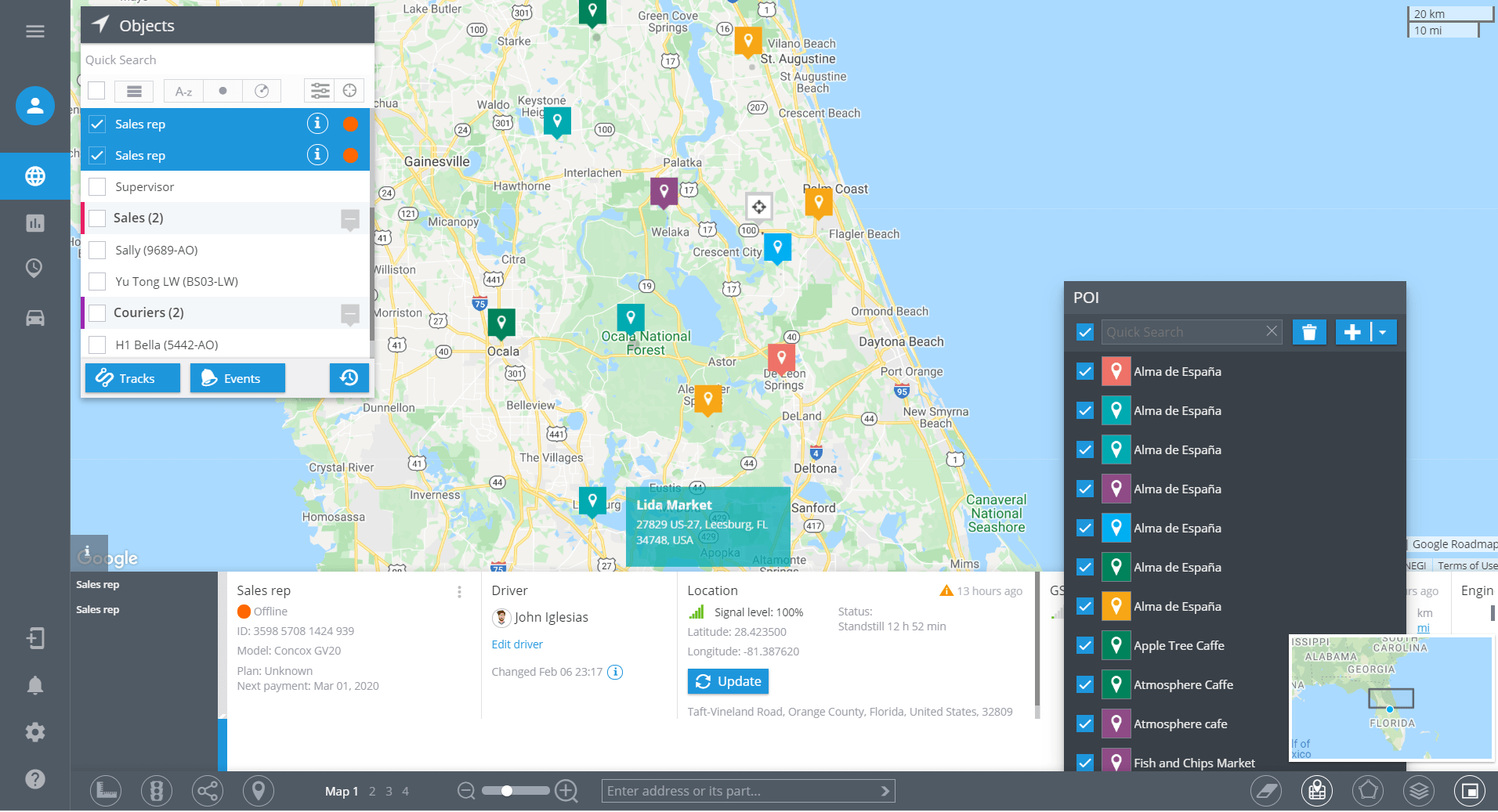 Once all the necessary contacts have been added, supervisors will be able to control which customers have been visited by sales reps through the day, week or month by heading to the "POI Visits" Report.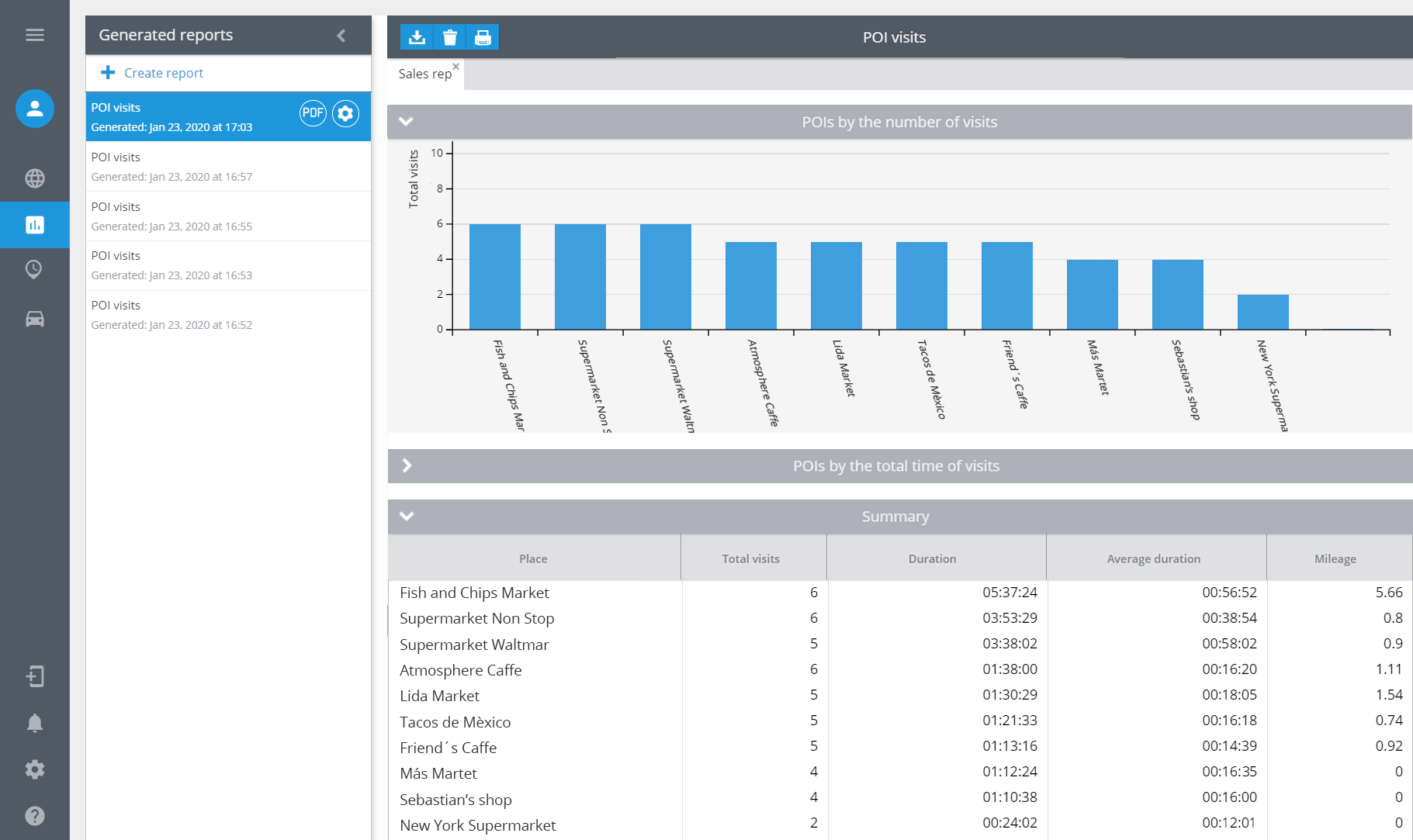 What's more, supervisors can opt to receive the report automatically in an inbox, as PDF or Excel.
2. Improve Meeting Efficiency with Existing Customers
Every visit has a financial outcome attached to it. Therefore, apart from taking orders sales representatives should build long-lasting relationship with the retailer, verify the correct placement of goods on store shelves, the presence of relevant advertising, for example, information on the current offers.
Let's look at a real-life situation.
Anthony, a dairy product company representative, visits 4-6 supermarkets per day. In each supermarket, he checks the remaining stock and storage conditions.

Then Anthony conducts an analysis of the competitors, negotiates with the retailer to obtain other useful information and puts the answers in a mobile form. If the dairy company decided to promote an offer or a deal, Anthony hangs up posters and other POS-materials.
As we can see, customer visits take a lot of time. In each site a sales representative stays for at least 15-20 minutes, or even half an hour. Still, a well-executed and effective sales visit can result in stronger retailer relationships and an increase of shelf space for the product.
With the aid of the same "POI Visits" report, you can check how long meetings with customers usually take. Through this, problems can be caught as they arise. For example, if meetings with certain customers last less/more than is required, the sales rep might need to find better ways to communicate with the customer to get an order done.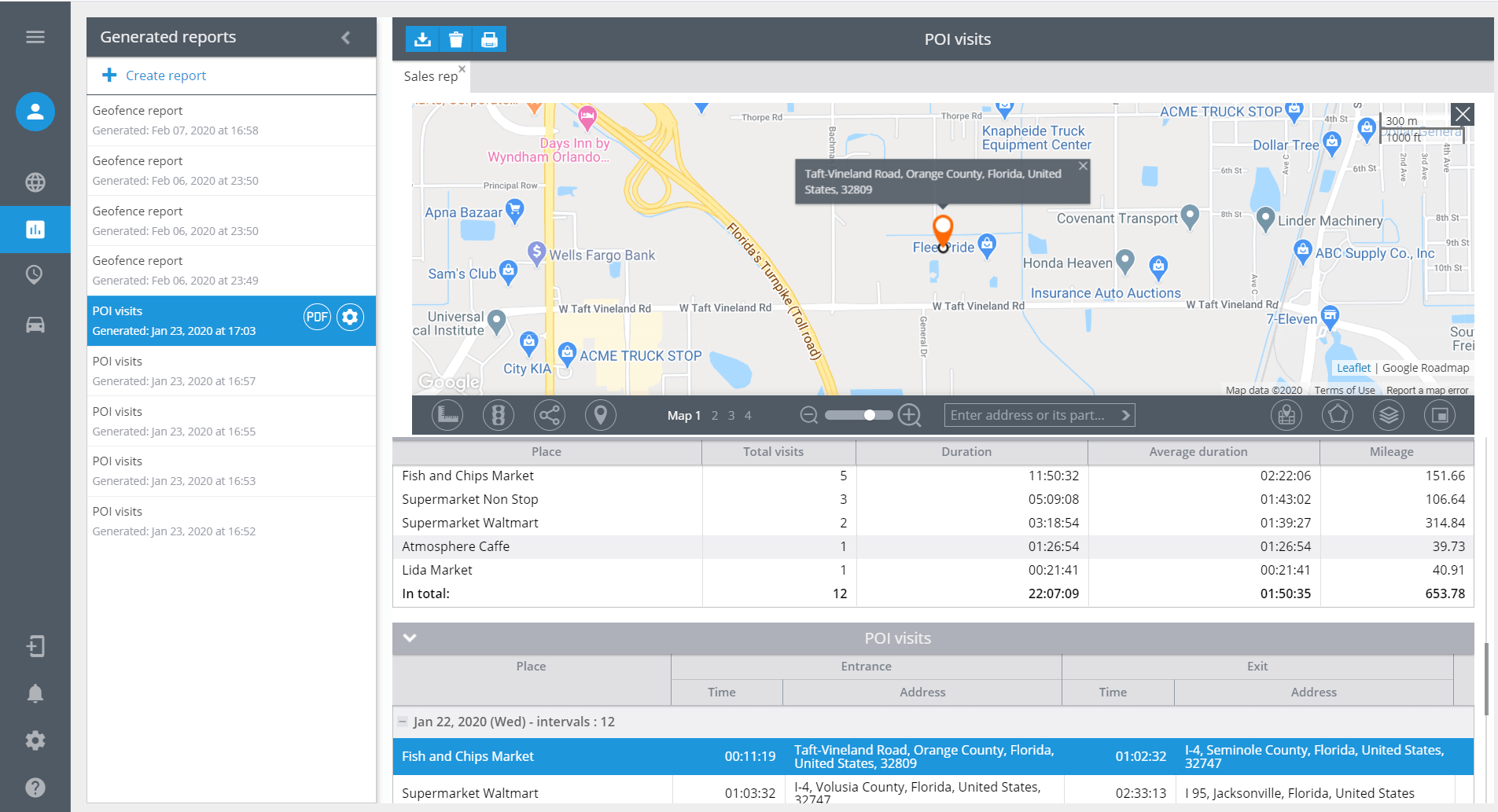 To make sure that a sales representative has performed the work correctly and fully, we recommend to additionally include a photo-confirmation "Check-in" tool.
3. Grow Market Share by Visiting New Prospects
Using the telematics service allows supervisors to check how actively sales representatives are visiting new prospects in the allotted territory. To do this, it's enough to add non-visited prospects and monitor their visits by sales representatives using the "POI Visits" Report.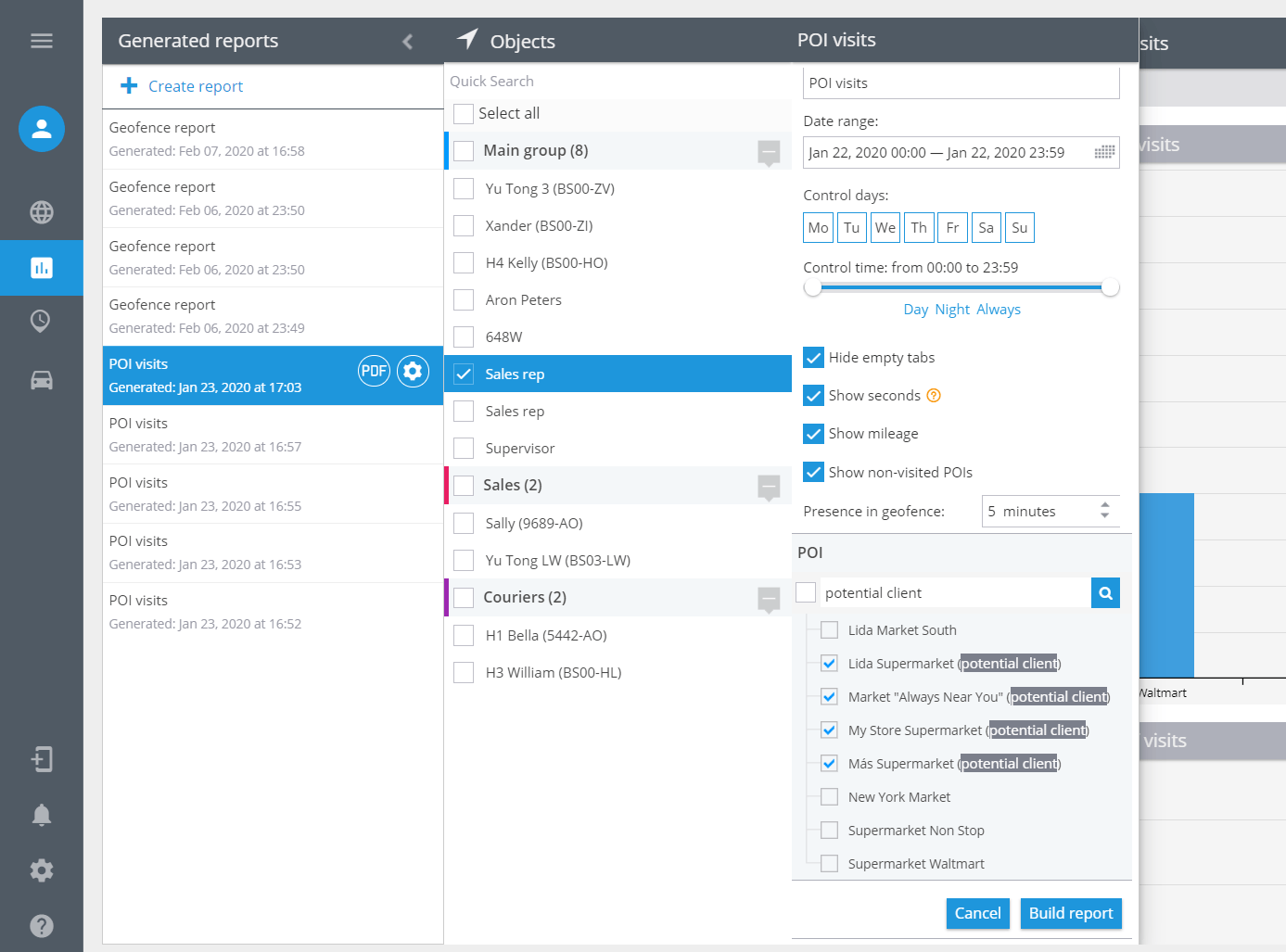 4. Establish More Reliable Reimbursements
Traditionally, small and medium-sized companies have salespeople use their personal cars for customer visits. This means, that reimbursement for gas and depreciation is calculated based on the distance traveled. With traditional reporting, human error has the potential to creep in, or personal trips may be claimed as part of work travel with no way to check it.
Implementing telematics allows managers to automate and streamline reimbursements by quickly obtaining accurate data on the distance traveled. One can then deduce from that information how much gas was used and how much to reimburse the sales rep. As a result, heads of the company no longer have to worry about overpaying salespeople.
To control mileage in each territory, we recommend setting up zones for sales people using a geo-fence tool.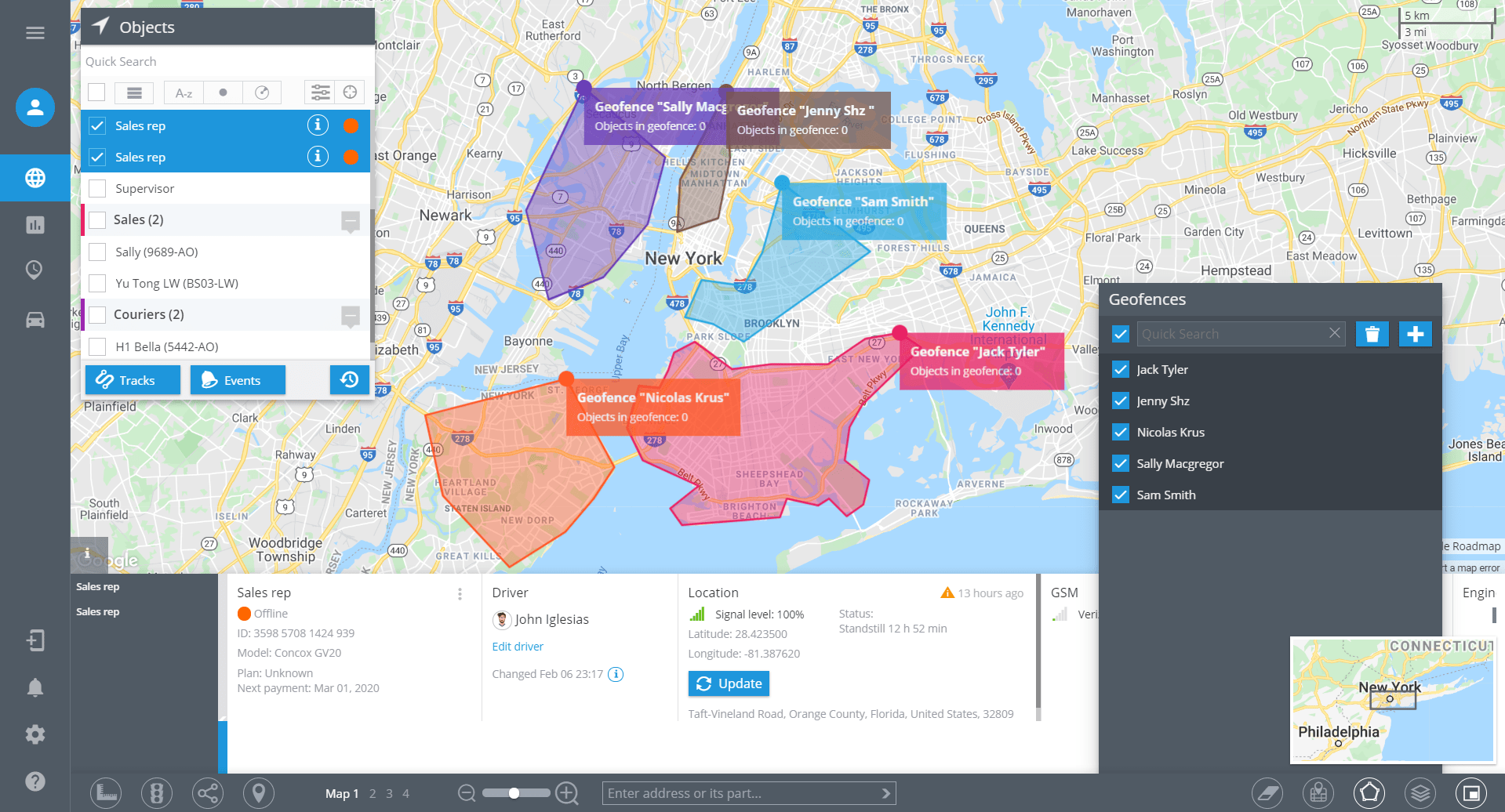 By heading to a "Geofence Visits" Report, a manager or a supervisor will be able to see the mileage traveled in a particular area or territory.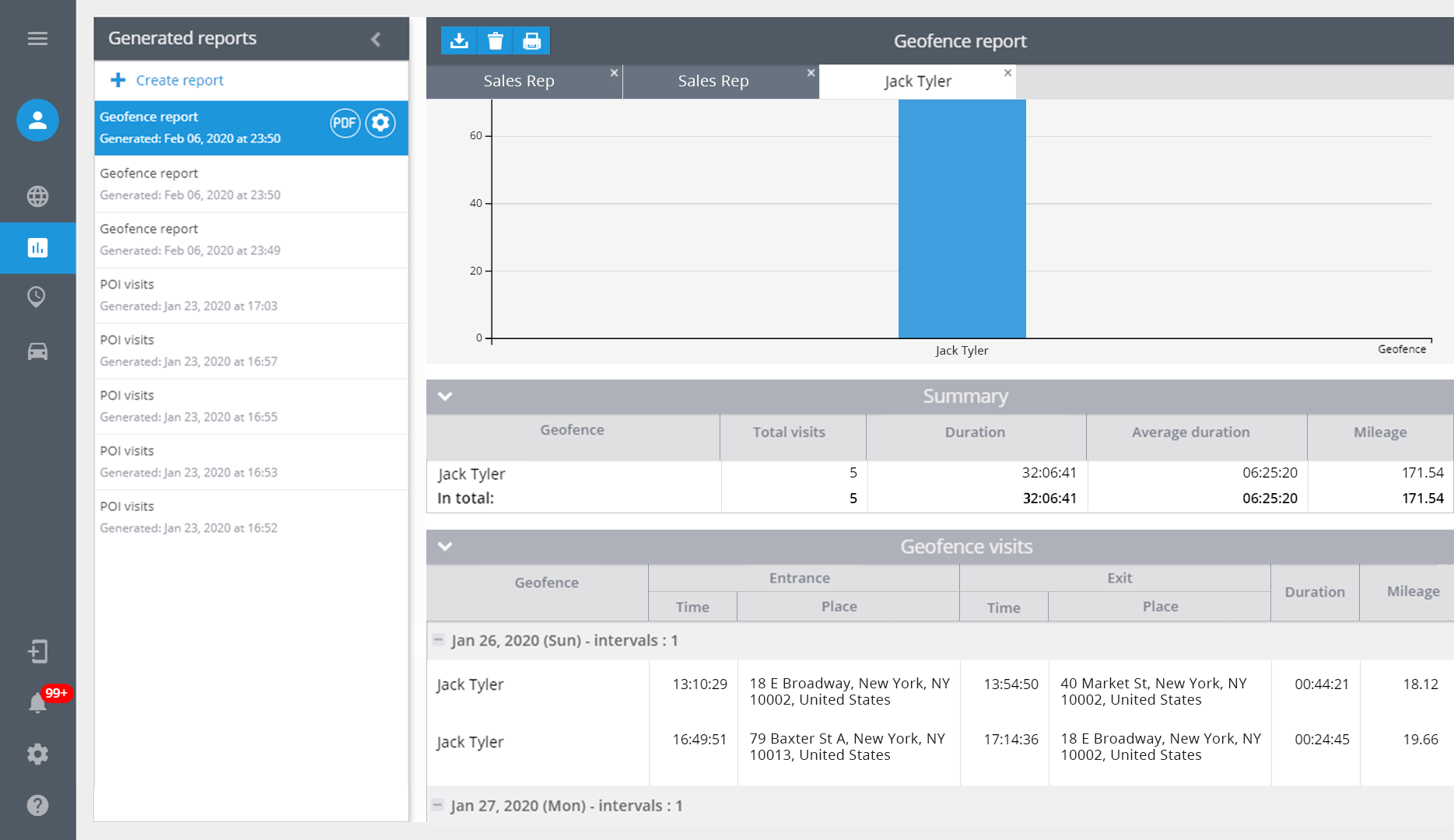 Summing up, implementation of telematics will allow companies to accurately manage and evaluate the overall performance of sales representatives based on visits to customers and prospects, as well as streamline the reporting of data. As a result, the company gets a better ROI with minimal efforts.
Order a free demo version accompanied by one of our specialists to find out about all the possibilities for managing field employees in the telematics service. To do this, just contact us by e-mail [email protected] or on social networks.
We will be happy to offer ready-made tools or even custom solutions!