Let's stop COVID-19 together!
In these difficult times Navixy wants to support businesses: from April 1, 2020 to June 1, 2020 our partners may offer X-GPS tracker absolutely free of charge to their new customers.
The outbreak of COVID-19 started as a local virus and soon it affected every country, every area of life, every person. Giving up is not an option. People need medical, municipal and delivery services now more than ever, need businesses to keep on running. The pandemic made us understand how much we rely on digital tools. Some companies realized it only now, when they urgently have to adapt to the new reality. The service they search for must be easy to implement, cost-effective and available now.
There is a solution: mobile workforce management application. No special hardware is required, just a regular smartphone that everyone has. If you already provide the mobile app for field service, we suggest you leverage it more to fight the crisis. If you don't use one yet — we offer our mobile application X-GPS tracker for free. Here's why you need it.

Location Awareness
Whether managing remote/ quarantined employees or a mobile workforce, a supervisor wants to be sure the teams are exactly where they are supposed to be. It is required to maintain work discipline, to protect clients and to comply with COVID-19 regulations. The locations can be monitored real-time or played back: all trip data is logged by Navixy automatically.
Notify supervisors if a mobile worker takes a detour to run personal errands or an employee leaves a home office during the shift. Introduce Route deviation alert and Geofences to enable a timely response.
Photo proof for supervisors and clients
Enable teams to share their location and current activity with a tap on a Check-in button. The location and work results will be proven by the attached pictures. Set up camera shots only to eliminate frauds.
The photo proof will be instrumental for customer service as well. A popular option of no-contact delivery can be easily proven with images and immediately shared with the supervisor. That is how deliveries combine customer care and meet service standards.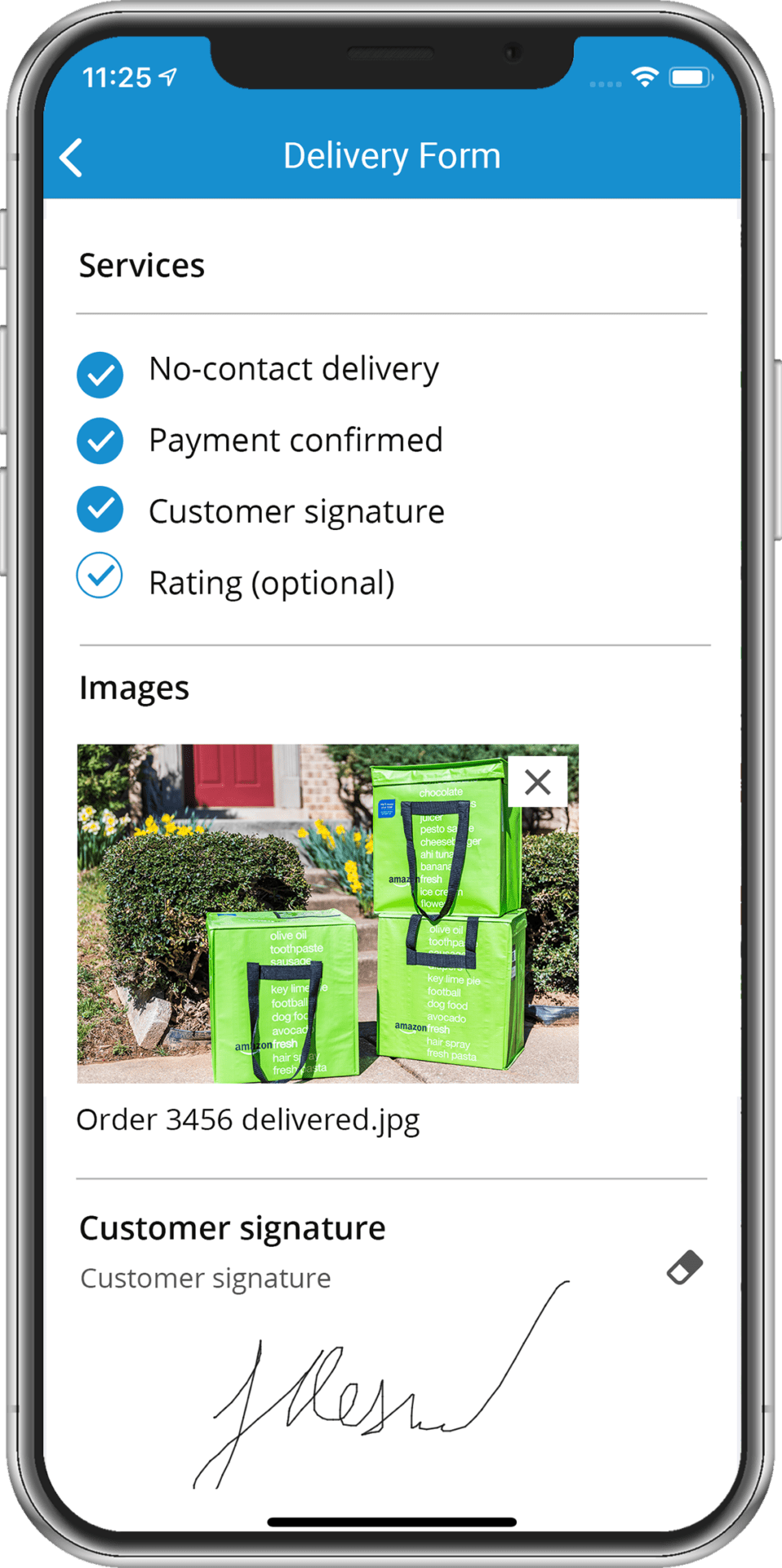 Take care with contactless approach
The pandemic urges to limit any offline interactions, both personal and business. With job dispatching, automatic routes and mobile forms employees won't have to risk their health and swing by the office to get necessary documents. The mobile worker will be able to embark on the new task right away: all routes, job details and attachments will be on their mobile device.
Digital forms eliminate paper burden and potential risks associated with printed documents, where viruses can live up to nine days. Introduce drag-and-drop customizable forms to sync data and media with the team. Add a signature field and sanitize a mobile device to secure POD and show the customers you care.
Instant communication
What keeps the teams truly connected is a good communication channel. We offer the one that's right in the app. No need to use multiple messengers or exit the program. Recently we have added a bulk messaging option. The supervisor types in one message and sends it to multiple users. Every staff member will get it in the one-on-one chat.
Better than emails. Everyone has a mobile phone, so the information will be read without delay. It will be easier for a supervisor to send a message than a corporate email.
Better than messengers. No group chat chaos: each employee will reply in a private conversation.
Join our initiative now
To take part and support new customer, please do as follows:
1) Create a tariff plan in Admin Panel and name it STOP COVID-19.
2) Choose a daily billing cycle.
3) Set monthly fee to 0 (zero).
4) Specify other available features of the tariff plan as you prefer.
5) Register X-GPS Tracker on the platform.
6) Assign the STOP COVID-19 tariff plan to the registered mobile app.
We hope our partners will eagerly support the idea and help companies overcome this difficult period. For more information please don't hesitate to contact us at [email protected]. Stay well!