The X-GPS Tracker mobile app is a powerful tool for a field employee that has become a backbone for many small and medium-sized thriving businesses. It allows users to leverage the basic GPS tracking and Navixy system features without the need to buy additional tracking devices. The app makes it possible to view employees' current location, view tasks, trip logs and customer visits, chat with the back office, etc. But how well do you know other handy but hidden features?
Using the X-GPS Tracker mobile application, a field employee can independently select and adjust a location precision before getting behind the wheel, when walking, riding a bicycle or traveling by public transport. Thus, the field employee can instantly set up the necessary geolocation settings for a specific task, by choosing either a detailed track or a longer battery operation. Let's see how it works.
According to a transportation method, field workers can be divided into two main groups:
Employees getting around on foot. Such employees travel by public transport or on foot during the working day. These can be couriers, promoters, merchandisers, etc.
Employees using a car. Such employees use an automobile as the main means of transportation. Traditionally, field workers use their personal cars for visiting job sites. The best example here would be sales representatives, auditors, technicians.
The usage of the X-GPS Tracker App for each of these groups will have its own specifics, which can be represented in the form of a table:
Criterion
Employees using a car
Employees getting around on foot
Task to be solved
Keeping track of customer visits and working hours
Keeping track of customer visits and working hours
Mileage counting
Needed for business expense reimbursement, including
fuel expenses and vehicle depreciation
Not required
Geolocation accuracy
High accuracy, satellite positioning only
Sufficient accuracy, satellite and terrestrial positioning (Cell-ID, WiFi)
Smartphone's battery drain when determining geolocation
Fast battery drain; charging of a smartphone may be needed during a day
Long battery life, enough battery charge for a working day
Ability to charge a smartphone during the day
Yes, from the car's power outlet (or cigarette lighter)
Not available
As we can see from the table, the selection of geolocation mode depends on a number of factors. 
Employees moving around on foot or by public trabsport use a smartphone as the main communication tool with the back office. Thus, for them its crucial to keep their gadgets running on a single charge during the whole day, as there may be no place to charge the battery as well as no time to do it.

Employees using personal or company cars need to keep a full record of mileage, as they're paid reimbursement for fuel and depreciation based on the distance traveled.
Three modes — just one tap and you're good to go!
Without exiting the X-GPS Tracker mobile app, a field employee can independently choose a tracking mode according to the specific task and the preferred means of transportation. To make working life simpler, we've added user-friendly and intuitive icons. The employee just taps the needed icon and starts the trip!
Driving. This mode maintains high accuracy in determining geolocation, allows keeping a record on mileage and is suitable for employees using a car. To determine geolocation, the app makes use of a GPS/GLONASS signal; the data is updated by distance (80m), time (90s) or rotation angle (30 °).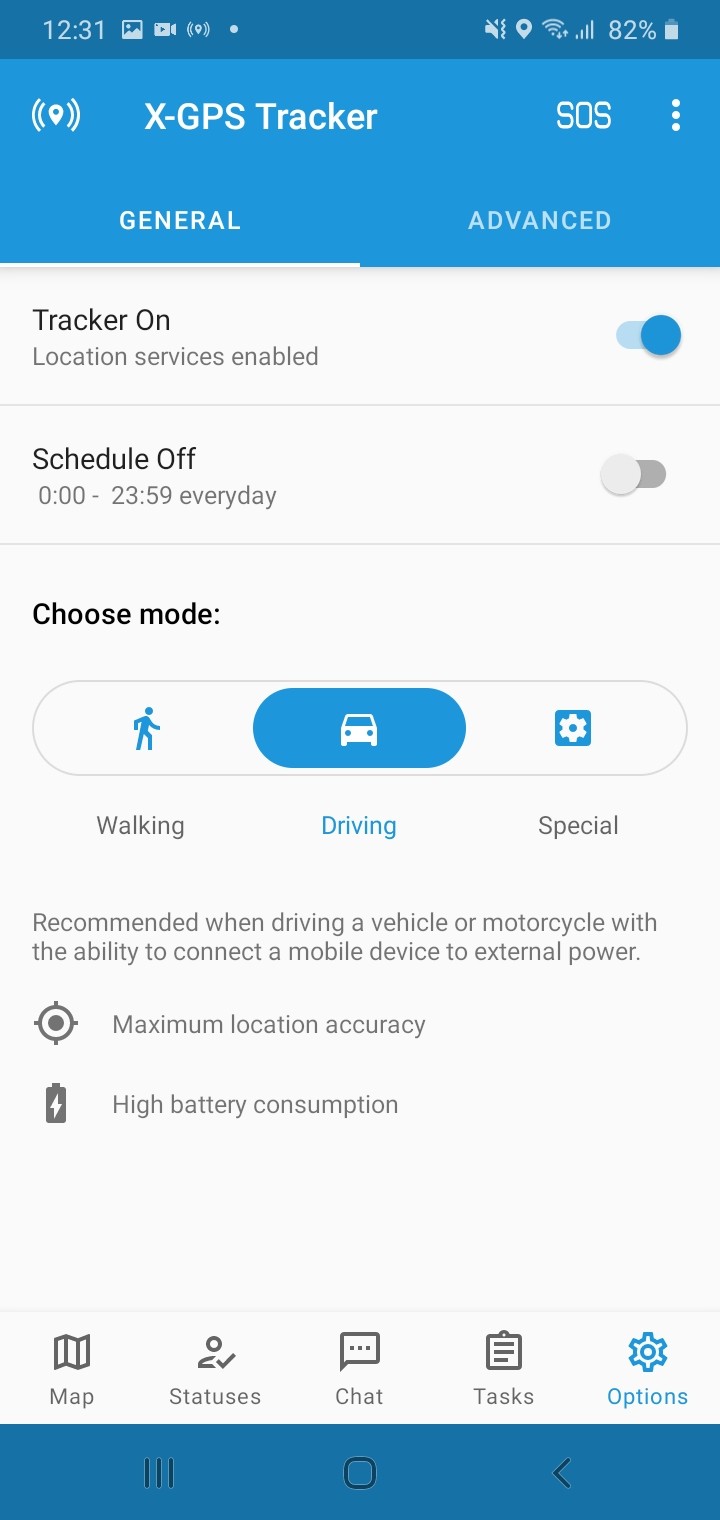 When driving a car on the way to the task or back home, an employee can use the "Driving" mode to get the most accurate track and mileage reports. Based on these data, it's easy to calculate a vehicle wear and tear and fuel consumption for any period.
Walking. This mode maintains sufficient geolocation accuracy, allows saving a smartphone's battery life and is suitable for employees traveling on foot. The GPS/GLONASS signal and terrestrial sources (WiFi and Cell-ID) are used for determining geolocation, the data is updated by distance (100m), time (180s) or rotation angle (40 °).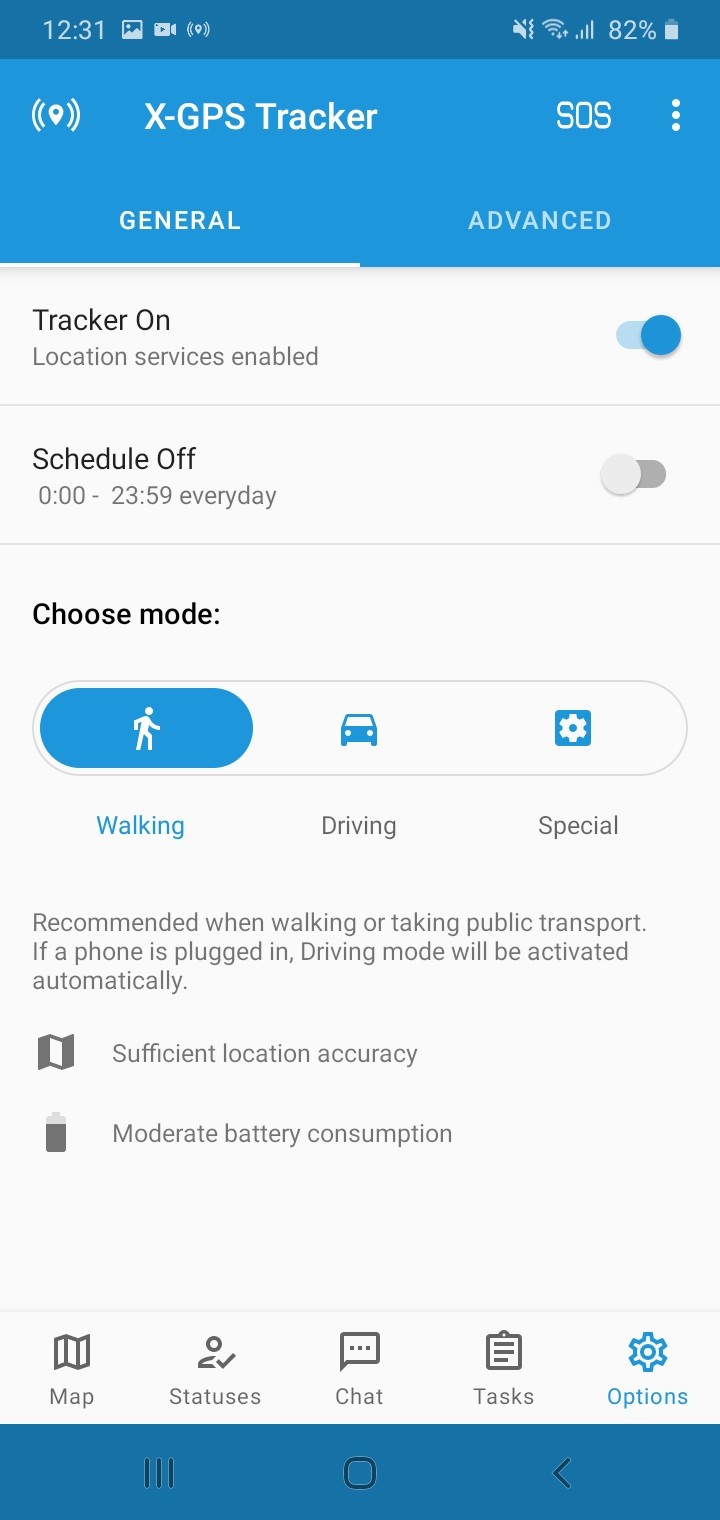 The "Walking" mode is specially designed to allow mobile employees moving around on foot to seamlessly communicate with the back office and inform about customer visits (time, duration) and trips made through the day, without being afraid of an unexpected gadget shutdown. A great option for on foot deliveries in densely populated areas and business districts, as well as couriers and promoters visiting a lot of customers and retail shops per day! The battery drain is hardly noticeable.
Special. In some cases, it may be necessary to manually enter tracking settings. To do this, the X-GPS Tracker offers a "Special" mode allowing a field employee to fine tune the needed tracking precision. One can select a geolocation source — GPS, LBS, or both, as well as set parameters for updating geolocation by distance, time, and angle of rotation.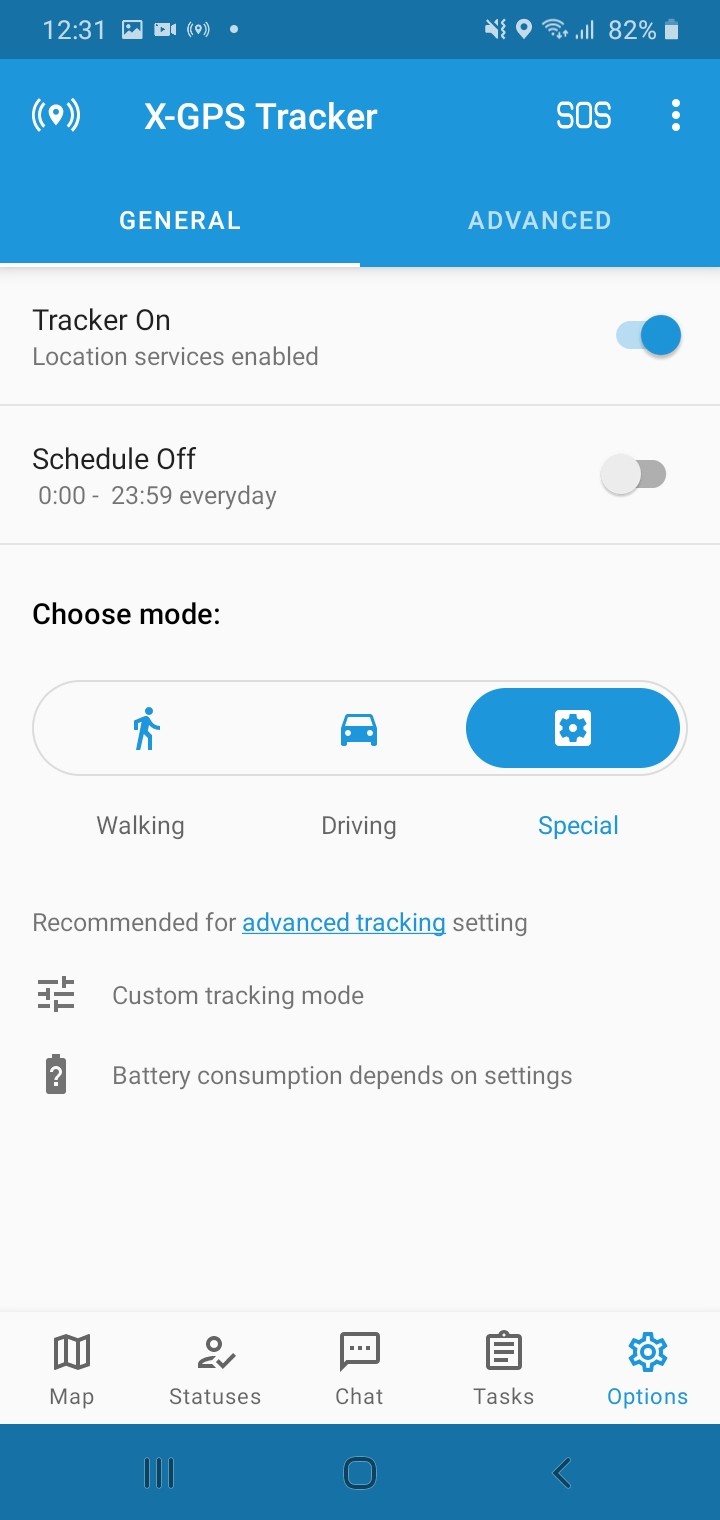 This option comes in handy when a field employee needs to quickly adjust the current tracking mode. For example, in order to allow smartphones with an old battery to work longer without recharging, the employee can configure location updates to be less frequent. The setting takes just a few minutes.
Worried about first or last mile or Google Restrictions?
The X-GPS Tracker provides a smart switch from "Walking" to "Driving" mode in the following cases:
The smartphone is connected to a charger. Saving battery power in this case is not required, so the X-GPS Tracker will go into "Driving" mode (the one with the highest accuracy). Once the device is unplugged, it will automatically switch to the "Walking" mode.
Although bus and rail services might cover the main part of a trip, employees need to first walk, drive or use another method to get to and from the work location. Thus, this auto switch option will come in handy for field workers who need to get around by car as well as walk: installers, service engineers, technicians, etc.
For example, in order to reach a client at rush hour, one often has to park a car near the center, and only then walk/ride a city bike 15 minutes to get to the needed place. The automatic switch will surely save a great amount of time here!
Google services are not available. Google does not work in China, which means that geolocation by terrestrial sources will be impossible. In this case, the X-GPS Tracker will work in the "Driving" mode. Once the access to Google services is resumed, the application will automatically switch to "Walking" mode.
Summing up,
The predetermined geolocation modes allow field employees to jump start the X-GPS Tracker mobile app without the need to go through long instructions. Starting now, it's enough to tap the corresponding tracking mode: Walking, Driving or Special. As a result, companies will be able to quickly implement telematics into their business processes with minimal investment and involvement of IT specialists.
In the new reality of remote work, we understand how crucial it is for your customers to keep managing mobile resources with the tools they trust and love. There's no time to onboard employees explaining how to work with this or that function!
For this reason, the Navixy team is doing everything possible to make our mobile application even more intuitive and stable. With new quick settings and "smart" tracking modes companies are able to manage any field employees — regardless of their field of activity and type of transport.
What do you think about the capabilities of the mobile application? We'd love to hear your opinion!