Is your company struggling to contend with the challenges of transporting temperature-sensitive cargo? Given that even a small variation can lead to ruined goods, cold-chain fleets need to be aware of the trailer temperature at all times. Otherwise, vital loads like medicine and fresh produce could fail to reach their destinations unspoiled, hurting your bottom line and reputation, and depriving customers of crucial goods and necessities.
To address the challenges of cold-chain logistics and help companies grow their businesses, Navixy supports flexible temperature, humidity, and other alerts to ensure service reliability and improve delivery management. Keep reading to learn about the setup, functionality, and out-of-the-box devices that support temperature monitoring.
Why is temperature monitoring important?
Though all types of cargo need some degree of care, temperature-sensitive loads require special attention. Goods like produce for grocery stores, life-saving pharmaceuticals and healthcare products for hospitals, and other important items need to be carefully monitored to arrive at the end customer unspoiled. If the trailer temperature goes out of range, spoilage can occur and cause companies to potentially lose both money and customers.
The consequences of temperature variations can be quite severe. To begin, the lost product will have to be replaced—increasing costs and directly impacting profitability. Moreover, if the cargo is something life-saving, such as medicine, the impact could be even more dire. To make matters worse, the end user will have to go longer without the delivery, which could lead to them choosing a different carrier in the future to avoid more disruptions.
When taken together, these problems can all lead to less business and lower profits for cold-chain fleets. To help our partners retain their clients' trust, avoid unnecessary product loss, and reliably deliver temperature-controlled cargo, Navixy supports flexible alerts that warn managers when the temperature is out of range. Our platform also supports humidity monitoring to ensure proper moisture levels in the air, and door alerts to notify managers if a fridge door is open or breached.
How to set up temperature alerts
By following the steps outlined below, it's possible to benefit from dependable temperature alerts through Navixy. Our platform supports a number of cutting-edge devices from leading manufacturers like Teltonika, CalAmp, Queclink, and others to provide our partners with many quality options.
1. Add a GPS tracker with temperature sensing, such as the Teltonika EYE sensor or one of our many other integrated devices.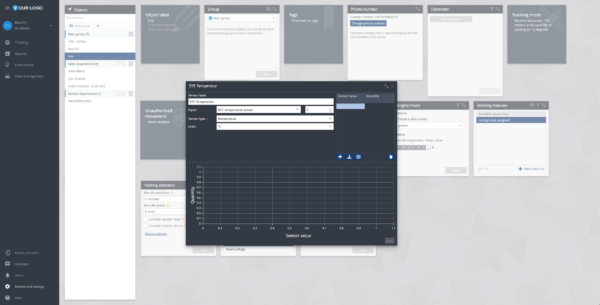 2. After activating the device, go to Devices and settings to determine the threshold values. Then, calibrate the sensor if needed.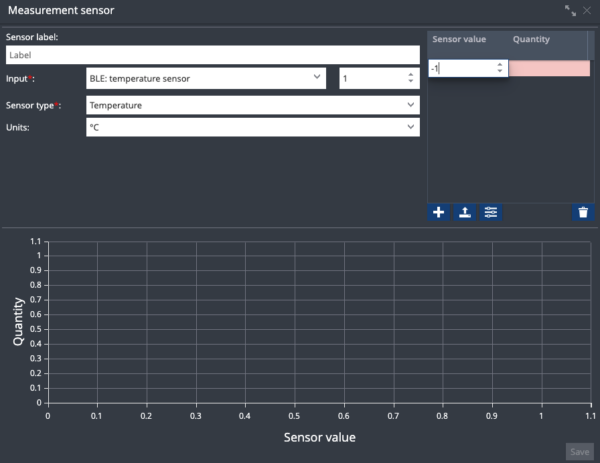 3. Go to "Alerts", then "Set Rules", and then "Add New Rule."
4. Choose the appropriate vehicle, then "Parameter in range" from the list on the left.
5. Set the limits for "More than", "Less than", and "Value Threshold", depending on what you're looking to monitor. For instance, when transporting goods that must remain frozen, it's important to know when the trailer temperature exceeds 0 degrees Celsius or 32 degrees Fahrenheit.
6. Choose the notification type and recipient to ensure the right person is informed when a temperature variance occurs.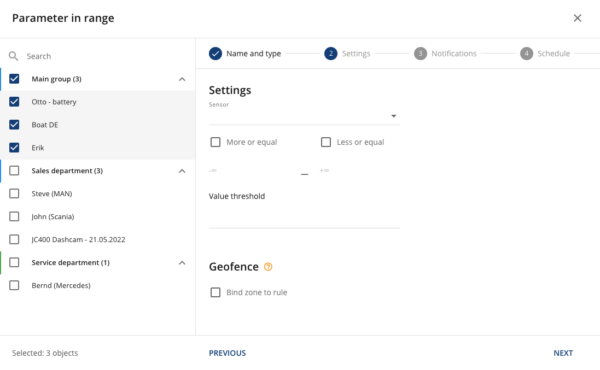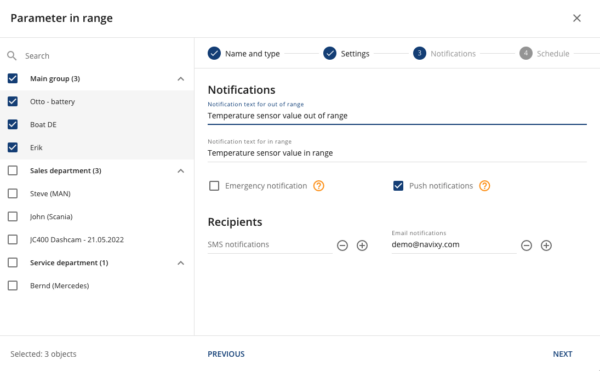 Cold-chain partner success stories
Naturally, Navixy has several global partners that have successfully utilized our cold-chain solutions. Take a look at the cases below to learn how our reliable temperature monitoring and other capabilities have real-world benefits.
One client was responsible for transporting chicken meat and eggs—products that must stay refrigerated to prevent spoilage. For dependably fresh deliveries, the company has sensors in their vehicles that utilize temperature monitoring with the aforementioned parameter in range alert. Thanks to this, they can know as soon as a variance occurs and take the proper action to avoid wasted product and loss profits.
In order to prevent loads of bananas from ripening before reaching their final destination, a produce transport company had to find a way to stop warm air from entering the reefer during routine inspections. By installing multiple sensors throughout the trailer, the company knows when the temperature is rising in certain areas. Additionally, regular reports assisted them with estimating how much produce might spoil en route, while geofence notifications kept managers informed whenever a vehicle reached an inspection point.
Finally, pharmaceutical companies in Mexico have to adhere to federal regulations regarding medicine and vaccine transportation. In addition to maintaining strict temperature controls, they also need to have all temperature sensors calibrated at accredited laboratories. Thanks to Navixy scheduled alerts, they always know when it's time for calibration. Plus, by using dependable, real-time temperature alerts to address sudden changes, vital cargo is more easily distributed.
Ready to take the next step? If so, contact Navixy to learn more about these alerts and how you can take advantage of our modern cold-chain solutions. In the meantime, feel free to start a free trial and test out our cutting-edge mobile resource management platform for yourself.