Getting a lead to become a customer is a long process that requires many stages — particularly when it comes to telematics and GPS asset tracking business. Apart from generating traffic to your website, you need to create a positive long-lasting impression, educate and entertain — to finally nurture prospects into loyal customers.
Well, yes, you don't have to be Shakespeare to make a presentation or booklet, still it's crucial to have a perfect understanding of the product in question, in-depth knowledge of ​SEO​, inbound marketing, design, and more.
At Navixy, we value our partners' time and money. That's why we've created Marketing Collateral, a free online resource with ready-to-use templates. Today we'll look at how it can help equip both your marketing and sales teams with the inspiration and support they need to boost sales and become marketing gurus.
Explore telematics
visuals and booth artworks
There's no need to start from scratch. Drive more right visitors to your website with expertly-designed and beautiful HD-quality images. Simply download eye-catching images to showcase the key features and capabilities of the platform — without involving teams of designers.
If you're stretched for time and have upcoming international business events on your agenda, just pick up our out-of-the-box booth artworks design and rollup templates — and, voilà, you're all set for any expo.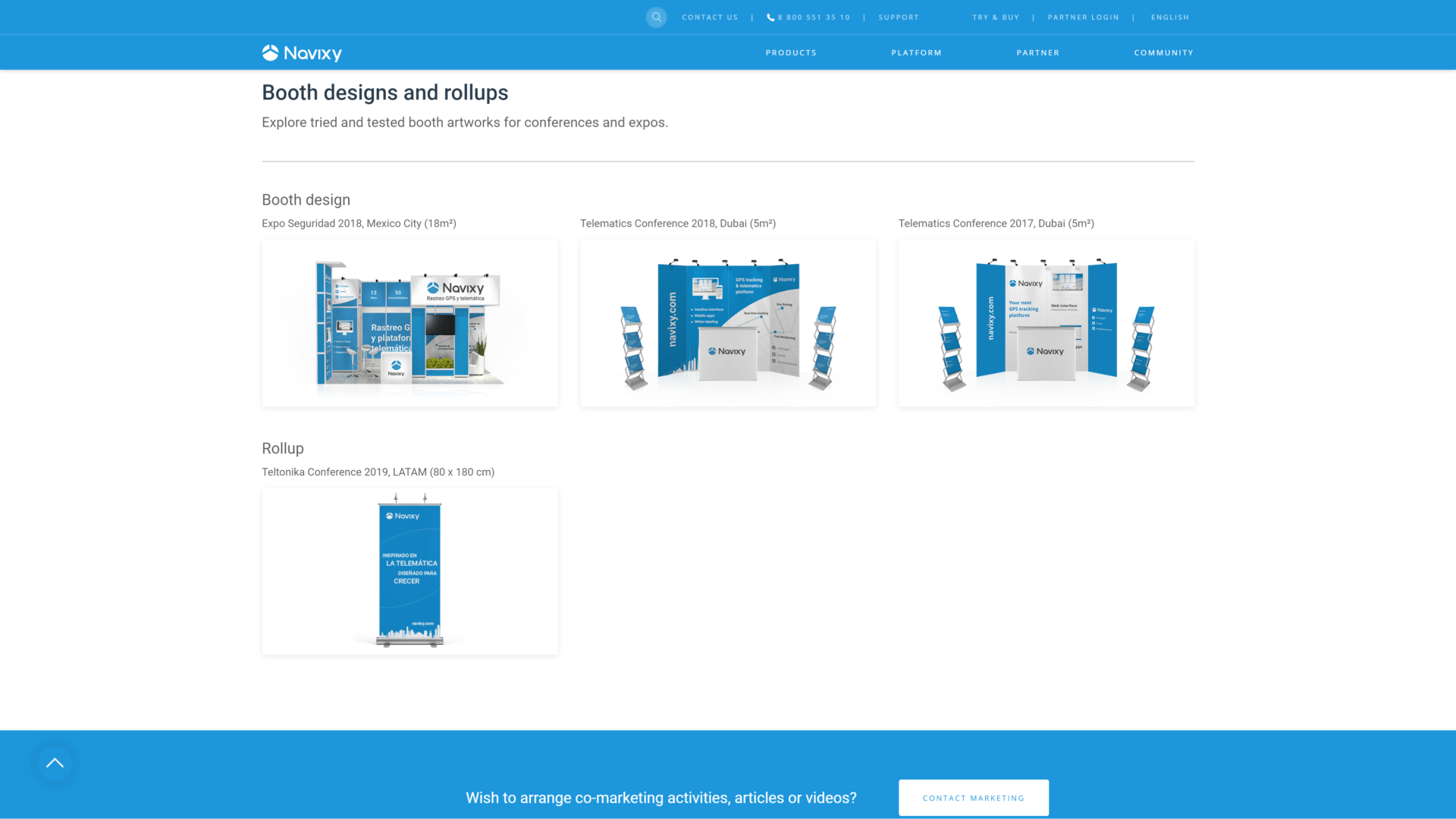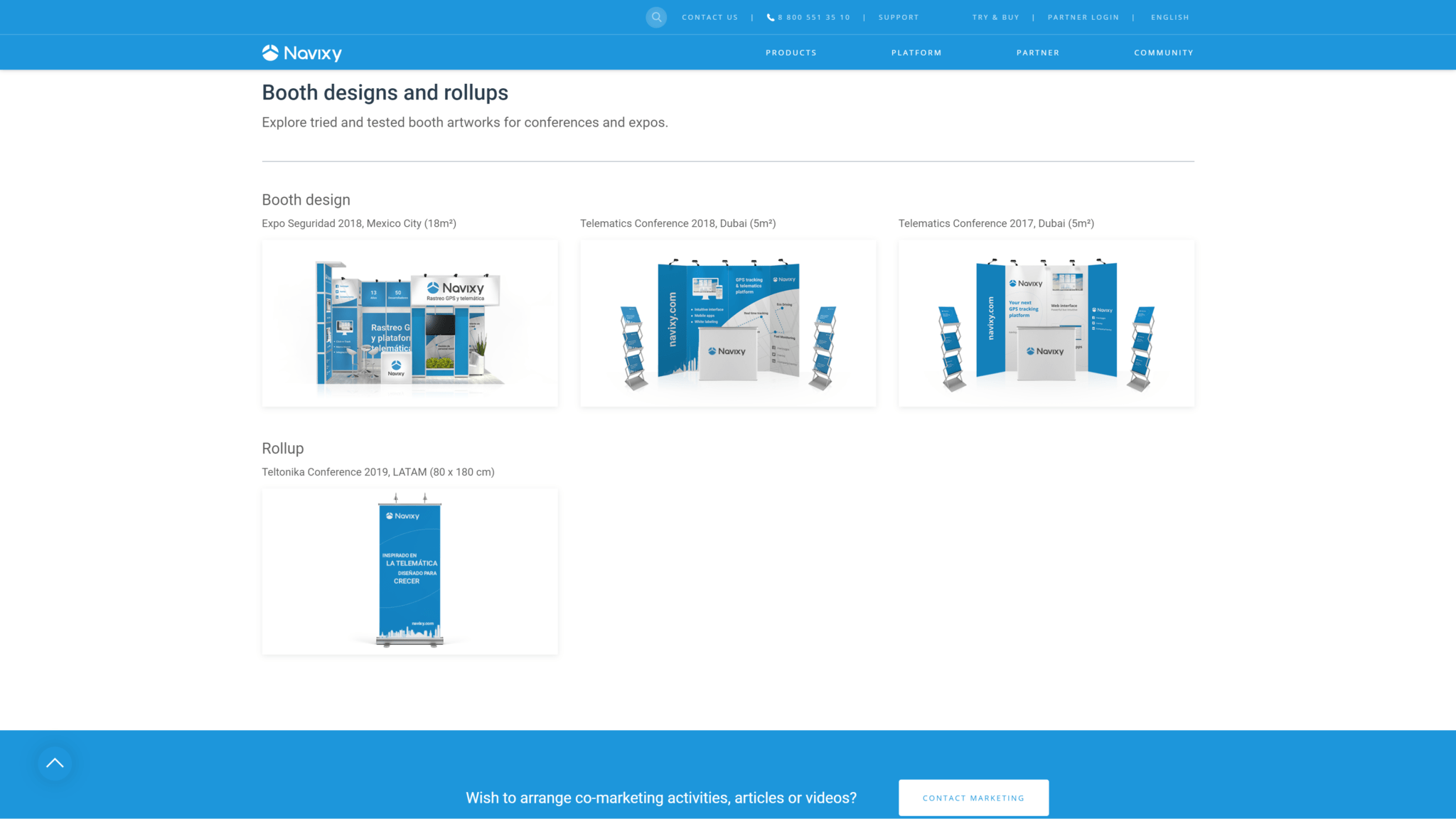 This way, you'll minimize expenses and concentrate on tasks that matter the most.
Facilitate sales with presentations
Increase your brand authority and help sales close more deals with​ ​ready-to-go presentations​. Download presentations illustrating cutting-edge telematics or GPS asset tracking technologies and features in pdf or request ppt and pptx formats from your personal Navixy manager.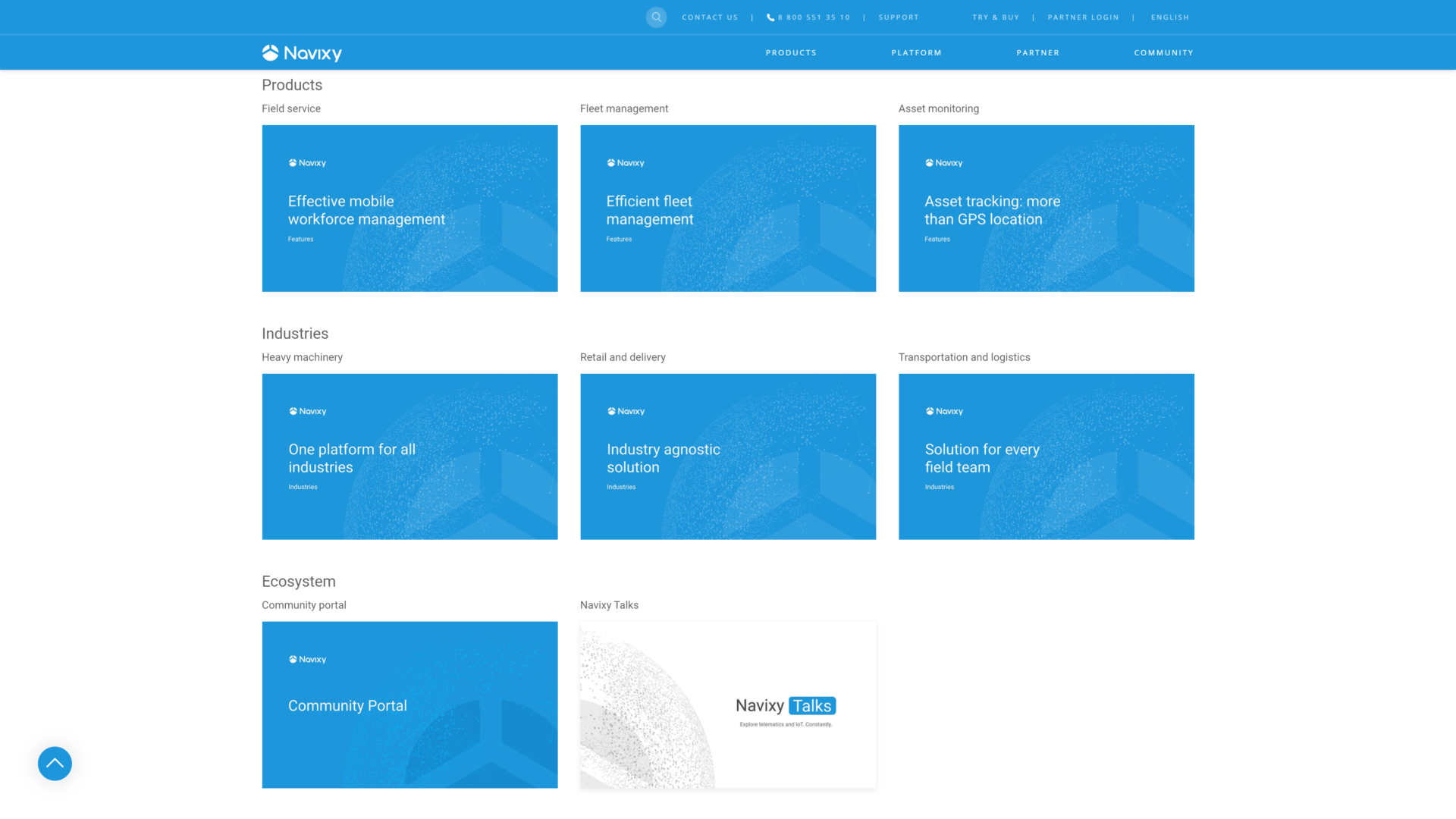 Want to enrich your inbound marketing with printed materials? Print out our brochures for expos and networking events — the files need no additional digital manipulations and can be printed as-is.
With the print-ready brochures and leaflets, you'll be able to provide in-depth and trustworthy information to draw prospects into the sales funnel and help make a purchasing decision.
Bring more credibility to your service
With the help of our official logos and badges, you'll bring more trust to your service by showcasing your partnership with Navixy.
Get recognized as a thought leader in your industry and develop outstanding credibility with each new lead.
Count on us
We know it takes time to onboard your staff and obtain the needed expertise, so we recommend taking a look at valuable insights from telematics professionals in our community ​portal​. If you're new in this business, gain ​global recognition​ with the latest GPS asset tracking, loT, OEMs trends, and technological news through Navixy Talks​.
Don't forget that you can arrange co-marketing activities, articles, or videos by contacting our marketing team. Get a helping hand by reaching out to our experts and true marketing-lovers!