Using Bluetooth Low Energy devices is a convenient and cost-effective way to expand your telematics ecosystem. Capable of monitoring everything from asset location and usage to ambient temperature and humidity, this technology allows you to gain valuable insights into your business to help reduce waste, avoid delays, improve productivity, and enhance oversight.
To demonstrate how Bluetooth can elevate your telematics solution, we'll take a look at three unique use cases of using BLE sensors for telematics: tool and equipment tracking, trailer tracking, and tracking assets in warehouses, as well as how Navixy acts as a gateway for processing BLE information for data-driven insights.
Enriching Bluetooth data with Navixy
Bluetooth has several advantages that make it an exceptional solution for telematics. First, BLE devices are able to collect environmental data and relay it to connected GPS trackers via Bluetooth connectivity, making them ideal for sending information over short distances. Furthermore, they're typically small and affordable, meaning you can enrich your telematics data stream at a low cost. Not to mention, they can be placed almost anywhere within range of the device, providing you with nearly endless tracking possibilities.
Acting as an information gateway, Navixy further enhances BLE sensor and beacon data management with robust capabilities such API integration and virtual sensors. Our dedicated API calls let you pull data from Navixy, enabling you to manipulate the data received or build your own custom applications, such as forecast models for predicting inventory needs.
In addition, virtual sensors can be used to interpret data from Bluetooth measurement sensors so you can give easily understood names to certain values. Moreover, they convert this data into meaningful parameters for you to view in real-time or reports, or to trigger alerts. In fact, recent Navixy customers have used virtual sensors for accessing extensive CAN bus data, securing movable property, and driver behavior monitoring, demonstrating just how versatile this technology is.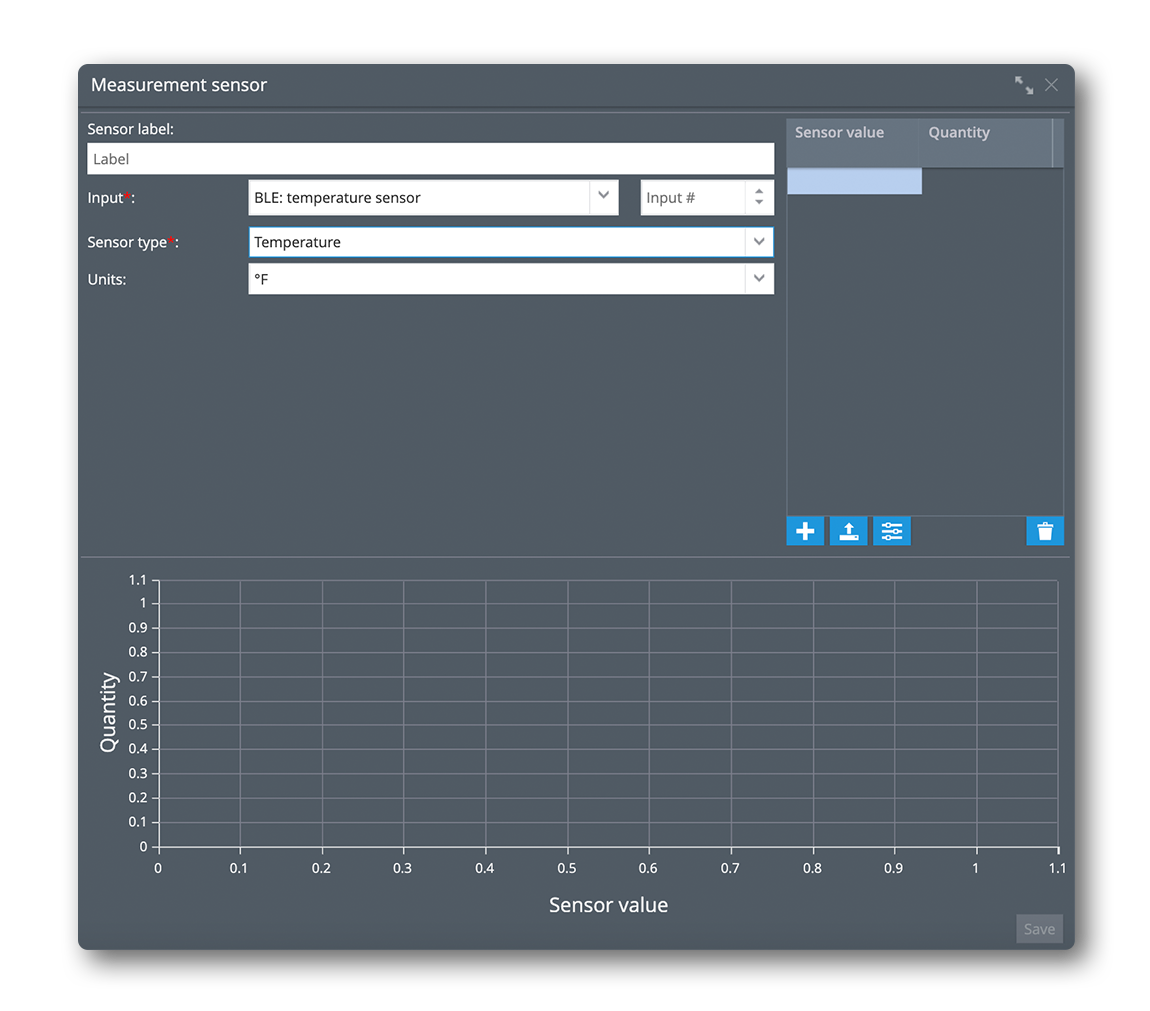 Using BLE sensors in telematics: monitor tools, trailers, and warehouse operations
To help you better understand the real-world advantages of Bluetooth, we've chosen three applications from different industries to explore. Each case highlights a unique aspect of BLE technology that makes it a desirable choice for a wide variety of needs, such as low cost and power use, ease of installation, small size, and range of connectivity options.
Tool and equipment tracking for construction, mining, and more
Thanks to their affordability and compact design, Bluetooth sensors are a great choice for monitoring tools and equipment on the jobsite. Losing valuable items not only wastes time and money in searching and replacing them, but also brings projects to a halt and hampers productivity until resolved. Not to mention, tools are a frequent target of theft, meaning that construction, mining, and other industries with various dispersed assets need to take precautionary measures to secure them.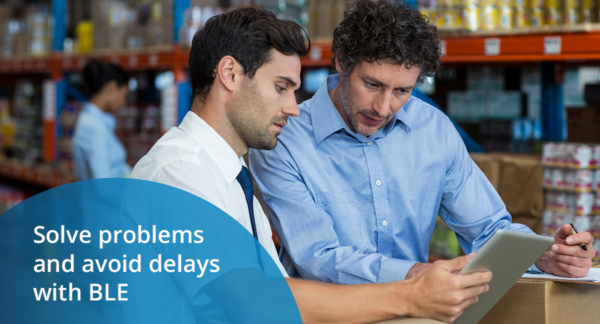 Fortunately, Bluetooth sensor technology provides a convenient solution for keeping tabs on crucial items. For instance, tags and sensors can be easily placed in a bag of tools or directly on a piece of equipment so its location is known at all times. This not only aids in recovering it when something is lost or stolen, but it also makes it possible to determine asset usage for maintenance and billing purposes. As a result, public fleets and municipal workforces can also take advantage of using BLE devices in their telematics ecosystems to maximize efficiency and optimize utilization.
Navixy's API makes it quite easy to keep track of such devices, including stationary objects, so you can read our documentation for more details.
Trailer monitoring with BLE: real-time alerts for temperature
Though many trucks are equipped with GPS trackers, this isn't always the case for the trailers, containers, and other non-powered assets they haul. However, Bluetooth sensors provide tremendous opportunity to those who need to monitor the location, conditions, and other variables of their trailers for complete fleet oversight.
One common way to use BLE sensors in trailers is for temperature, humidity, and door status monitoring. Cold-chain transportation, for instance, requires keeping goods like produce and medicine at a certain temperature during transit or risk arriving spoiled. Bluetooth hardware like the Teltonika EYE Sensor can monitor the temperature at all times and send the data to the vehicle's GPS device. You can then create a Parameter in range alert on Navixy to notify you if the temperature or humidity level is out of the expected range. This way, you're aware as soon as a change occurs to identify and fix the problem. You can also use the reporting function in Navixy to identify trends and patterns in your operations.
Furthermore, Navixy's virtual sensors can take these values and turn the incoming data into usable action items for the driver. Simply use the "Value in range" option to assign labels like "Hot" or "Cold" to the corresponding incoming values from the sensor so the alert is instantly understandable to prevent any delays in resolving the problem. For instance, a temperature range of -100 to 0 could correspond to "Cold", whereas any temperature greater than 0 is "Hot."
Bluetooth for warehousing: track assets and employees indoors
The last example we'll cover is using Bluetooth for tracking the multitude of assets constantly flowing in and out of warehouses, distribution centers, airports, and other busy hubs.
Whereas signals sent by traditional GPS trackers get blocked if the device is underground or in a building, Bluetooth uses radio waves to transmit data over short distances and relay indoor location data to GPS devices in real-time. In fact, the Teltonika EYE Beacon can even use the signal strength between itself and the GPS tracker to report statues like "near" and "away" for additional monitoring. That way, you'll know if the beacon and tracker ever stray too far apart.
BLE devices have exceptional indoor performance, meaning they're an optimal choice for tracking inside. This makes it possible to easily monitor the status and location of forklifts, lifts, containers, and team members at all times. Ultimately, Bluetooth devices can help improve delivery times, enhance inventory oversight, and reduce errors in operations.
For example, BLE sensors can be used to track forklifts that are moving throughout a large facility. Containers, pallets, and other assets can also be equipped with a BLE sensor to track locations for shipping and receiving, whereas airports can use them to shuttles, baggage transport, and other ground vehicles going in and out of buildings. Lastly, employees can also be tracked for supervisors and managers to direct and provide efficient mobile workforce management. To visualize this with Navixy, we recommend utilizing our API.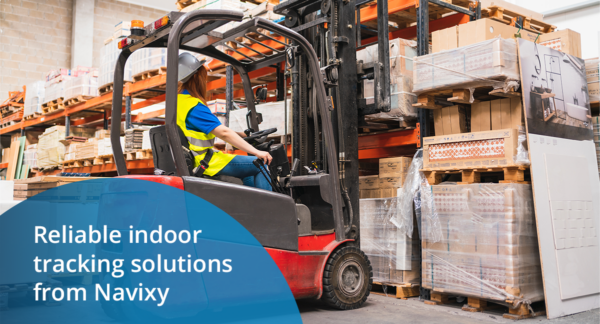 Conclusion
These examples are only the beginning of what's possible for Bluetooth in telematics. Offering convenience, affordability, and flexibility, BLE sensors are a reliable solution for businesses in a wide range of industries. Moreover, they open up new opportunities for tracking to help you access data about assets, people, and more.
If you're ready to learn more about how Navixy works with Bluetooth data, be sure to contact us today. You can also set up a free trial to see our platform in action for yourself.