User Reports app to acquire all-round statistics and analytics. The summary data can be shown in various perspectives, in tables and graphs.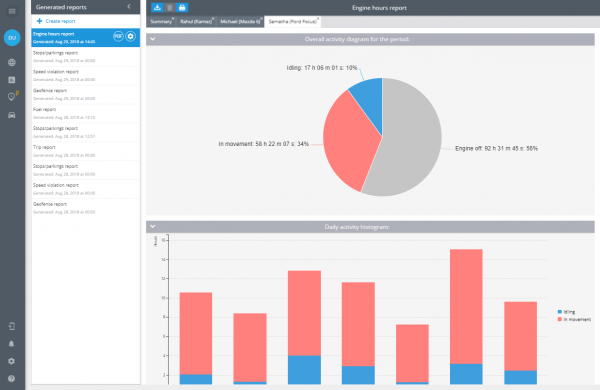 Basic features
Various reports types. Get all required data about activity, landmarks, safety and security, fleet usage, driving behaviour, device status and many other.
Flexible report settings. For each report type you can apply wide range of settings, limit the weekdays and working hours, change geocoder.
Background processing and storing. The reports are processed in background mode, using distributed calculation and data pre-processing – so you get all the data fast. Previously generated reports are stored for some time, so you won't waste a second to get that data again.
Group reports. You can retrieve reports for a set of objects.
Web, PDF or Excel. Chose the format for report's output: use interactive web version or save as PDF or Excel file. In web version you can sort data in columns, highlight the data, click the addresses to find them on the map, etc.
Scheduled reports. Set your report template and receive it repeatedly to your mailbox.