If your business needs reliable data delivery from key assets, then MQTT devices could be the solution. This protocol offers many advantages and has been rapidly adapted by fleet managers to address different challenges. Fortunately, you'll have a variety of options with TOPFLYtech, as this Navixy partner has a wide range of MQTT-capable devices to meet your various needs, including hardwired, OBDII, and portable trackers.
In this overview, we'll tell you more about why MQTT is favored in such applications, how you stand to benefit, and how you can integrate these TOPFLYtech devices with Navixy.
Interview with Blazer Hou of TOPFLYtech
We caught up with TOPFLYtech Sales Director Blazer Hou to ask him a few questions about the company's MQTT-enabled trackers and how this technology is used to provide solutions for fleet managers and other businesses. The Navixy support team can offer additional information if you wish to learn more.
What does MQTT provide to TOPFLYTech devices that a regular protocol cannot do? "MQTT is an application layer protocol which is based on TCP/IP. It offers 3 different QoS options. It's a reliable protocol and guarantees the delivery. The publish/subscribe messaging is perfect for many-to-many communication. Small transmission, low overhead, protocol exchange is minimized to reduce network traffic."
In what areas is MQTT used as the main solution? "It's a good protocol for massive connection. When the customer needs multiple terminals or servers to get a copy of data from a device, they can use MQTT. Many IoT gateways are now using MQTT as a standard protocol. AWS IoT cloud is one of them."
Will the MQTT protocol be implemented in future TOPFLYtech products, and do you have plans to release a new revision of old devices with MQTT support? "For 2G devices, we don't have plans to add MQTT support. All of our 4G products (TLW1, TLD1, TLW2, TLD2, TLP1 and TLP2 series) have already supported MQTT."
Do all of your devices support all 3 levels of QoS and which level of QoS is most commonly used for each application and why? For instance, does GPS tracking usually use a different QoS level than fuel sensors, etc? "Our device is using QoS0 since we have application layer message acknowledgement logic. We are using the same QoS level on all types of messages if the customer uses MQTT."
What other protocols are most commonly used besides MQTT? "Definitely it's UDP especially in developed countries. Data is expensive there. And it's better for the tracker platform to integrate the message ACK (acknowledgement) and enable message ACK on device. Because UDP does not guarantee delivery."
Are devices either only MQTT or another protocol, or are devices configurable to use any protocol? "The device can be configured to either TCP or UDP or MQTT based on customer demand through SMS command or config program or network command."
How does MQTT limit network traffic for customers, and how does this differ from a traditional request/response model? "If a customer wants to see the tracker data in the tracking platform only (1 to 1 application), using MQTT vs using TCP/UDP is almost the same. If multiple servers (systems) want to get a copy of the message/data from one device, MQTT or API is the solution.
In the tracking industry, we are mainly talking about tracker to server or vehicle to platform. It's a typical 1 to 1 scenario. But jumping out from the tracking industry, in the IoT world, the target is to connect thousands of billions of things (devices) together and they can communicate with each other. It's not 1 to 1. It's a typical many to many scenario.
One thing that may happen in the future is that terminal devices only need a simple broker server (publish and subscribe messages) to communicate with any other/amount of terminal devices. It's like how the internet connects people together so we can get connected and communicate with each other."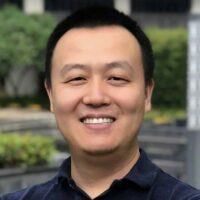 Why add MQTT to devices?
Although there are many advantages of implementing MQTT protocols in GPS and IoT applications, TOPFLYtech does so for several reasons. First, the publish/subscribe model allows individuals to only receive specific data points, which makes it possible for multiple third-party systems to connect to the server without overwhelming the network. This not only prevents data loss in low-bandwidth areas, but also helps to lower GSM transmission costs.
Additionally, MQTT's three Quality of Service (QoS) levels allow TOPFLYtech to guarantee data delivery even when multiple servers and devices are connected. As stated by Blazer Hou, "Technology is always evolving. MQTT offers a good way to create an intelligent IoT world. We think this is the key and advantage of MQTT."
TOPFLYtech's MQTT devices
There are three types of trackers you can choose from with TOPFLYtech, including hardwired, OBDII, and portable trackers.
Hardwired trackers: Device is wired to the vehicle or asset's electrical system for power. Can also run on an internal battery. Real-time and buffer locations, harsh driving warning buzzer, parking and moving alerts,  TLW2-2BL, TLW2-6BL, TLW2-12BL, and TLW2-12B models.
OBDII trackers: Plug right into vehicle's OBD input. No installation or maintenance required. TLD2-L and TLD2-D models.
Portable trackers: Can be moved from asset to asset as needed. No wires or plugging in required. Mount with magnets, screws, polyurethane glue, or heavy-duty tape. Run on battery or solar power. TLP1-LF, TLP1-P, TLP1-SF, and TLP2-SFB models.
Below, we describe what these categories are and what types of MQTT devices they include.
| | |
| --- | --- |
| Hardwired | |
| TLW2-2BL | Baseline GPS tracker for vehicles and powered assets. 2 wires (power and ground) make it very easy to install. With a 6-axis accelerometer, it's also a perfect model for UBI. This model offers BLE 5.0 connectivity. That adds support for BLE wireless sensors for monitoring cargo (temperature, humidity, door opening), as well as wireless relay for car anti-theft. This flexibility makes this model a good choice not only for fleet management, but also for logistics and car-rental. |
| TLW2-6BL | Same as TLW2-2BL but with two digital inputs, one digital output, and one configurable input (digital/analog). Capable of handling more complex logistic and fleet management challenges. |
| TLW2-12BL | With three digital inputs, two digital outputs and three configurable inputs (digital/analog), this is an "all-in-one" model for customized solutions. Along with the aforementioned capabilities, TLW2-12BL could support different BLE sensors, panic buttons, analog fuel sensors, and the ability to add your own accessories. |
| TLW2-12B | More powerful than TLW2-12BL with several additional benefits. Rated waterproof IP67 (tested at 5-meter water pressure for 15 hours), offers both digital and analog inputs, and has a large (9600mAh/3.6v) backup battery. With 7-60v DC power input, it can be connected to assets, vehicles, and different kinds of objects. It also has a 5/12V DC power output which can offer power to external sensors when the tracker disconnects from external power. |
| OBDII | |
| TLD2-L | Basic Plug & Play model for tracking vehicles. Can work with BLE 5.0 sensors to monitor the temperature, humidity, etc. Easy to use, requires little to no maintenance. With a built-in buzzer, it can remind the driver in different conditions. |
| TLD2-D | Plug & Play OBDII tracker with CAN bus readings for tracking vehicles and providing insight into vehicle data. Its built-in buzzer can help coach drivers to improve their skills. With a 6-axis accelerometer, it's also a perfect model for UBI. |
| Portable | |
| TLP1-LF | Ideal for stationary assets when frequent updates aren't necessary. 1-4 updates per day allow for extended battery life. Can last for 5 years with 1 ping per day. |
| TLP1-P | Has a built-in, long-life rechargeable battery for tracking people, vehicles, cargo, etc. Easily hidden. |
| TLP1-SF | 4G solar-powered tracking device that is designed to track the location of trucks and trailers. Has a large battery for extended usage. Waterproof IP67. |
| TLP2-SFB | 2nd generation 4G solar powered asset tracker. Solar panel size and battery capacity (9600mAh/3.6v) are doubled from the 1st generation TLP1-SF. Offers temperature, humidity, and door status monitoring when working with BLE sensors. Waterproof IP67. |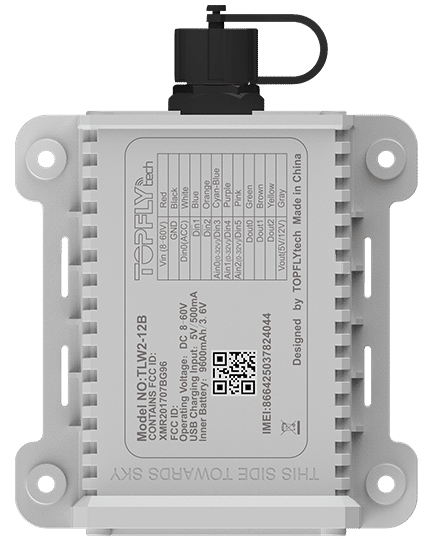 Key features of MQTT devices
Although there are far too many attributes to mention here, TOPFLYtech devices offer companies a number of advantages through key features that are supported by Navixy.
BLE 5.0 connectivity and wireless relay

: makes it possible to effectively cut off the engine to prevent car thefts or excessive use of rented vehicles, check tire pressure, and more without a physical connection to the device. TOPFLYtech trackers with BLE connectivity can work with TOPFLYtech BLE 5.0 sensors TSTH1-B, TSDT1-B, and TSR1-B.

Real time and buffer location messages

: different reporting intervals and alerts for when asset is both moving and standing still. Devices can store up to 49,000 position messages in its buffer when there is no network coverage.

Reckless driver buzzer (TLD2-D, TLD2-L)

: warns driver when harsh driving events occur.

LTEM Global Bands

: 4G LTE-M (Cat M1) global network bands supported with 2G fallback.

Firmware Over the Air (FOTA) updates

: keeps devices up to date with latest functions and features without having to manually remove and update.

CAN-BUS readings (TLD2-D)

: Covers VIN, odometer, ignition, fuel level and consumption, RPM, throttle position, air intake status, and DTC.

6-axis accelerometer

: Detects driving patterns and certain events, including harsh acceleration, braking, and turning, as well as collisions.

Solar Powered (TLP1-SF, TLP2-SFB)

: 4G solar powered GNSS tracking device is designed to track the location of assets, trailers, and trucks, and monitor the temperature, humidity, door status, etc, when working with BLE sensors. It features a huge battery and is solar powered for the operation of BLE 5.0. Its battery can obtain power from solar to avoid maintenance costs.

Global Certificates

: All 4G devices have been CE, RCM, IC, FCC, PTCRB, AT&T, and US-Cellular certified. The certificates list is still expanding based on customer requirements. It simplifies global deployment.
How businesses use TOPFLYtech MQTT trackers
Next, we'll discuss a few real-world examples of how TOPFLYtech customers have benefitted from their MQTT trackers and other devices.
A Mercedes-Benz dealership successfully used the TLD2-D model to track the real-time location of vehicles and monitor them for signs of harsh driving, helping the business save on maintenance. Additionally, since MQTT can also transmit CAN bus data, the customer could keep tabs on engine readings, fuel levels, and odometer status.
Pepsi, meanwhile, took advantage of the hardwired TLW1 tracker to prevent fuel thefts. After the client reported excessive fuel consumption, TOPFLYtech recommended this device catch thieves in the act with its tracking and monitoring capabilities.
Finally, thanks to the weatherproof, solar-powered TLP1-SF and TLP2-SFB trackers, Walmart was able to solve delivery delays. Moreover, their portable nature made them easy to secure the device to the tops of their trailers without damage.
When asked how many TOPFLYtech clients use MQTT devices, Blazer Hou told us, "It's around 15% of our partners using MQTT. These partners are mainly from North America and some European countries. But more and more people are interested in this technology."
Navixy MQTT capabilities
Thanks to the ease of integrating your device with Navixy, you can feel confident about tracking your assets using TOPFLYtech's many MQTT-enabled devices. In addition to supporting both MQTT protocol v3.1.1 and all QoS levels, we can also act as either the client or broker, enabling you to use our capabilities as you see fit.
Navixy MQTT Central handles all integrations, so viewing data is easy. Furthermore, TOPFLYtech uses compact binary data packets in their MQTT protocol, which is suitable for device-agnostic systems and scalability. Not to mention, features like wireless relay and FOTA updates are supported by Navixy. As a result, you'll have the chance to better understand your fleet, assets, and more.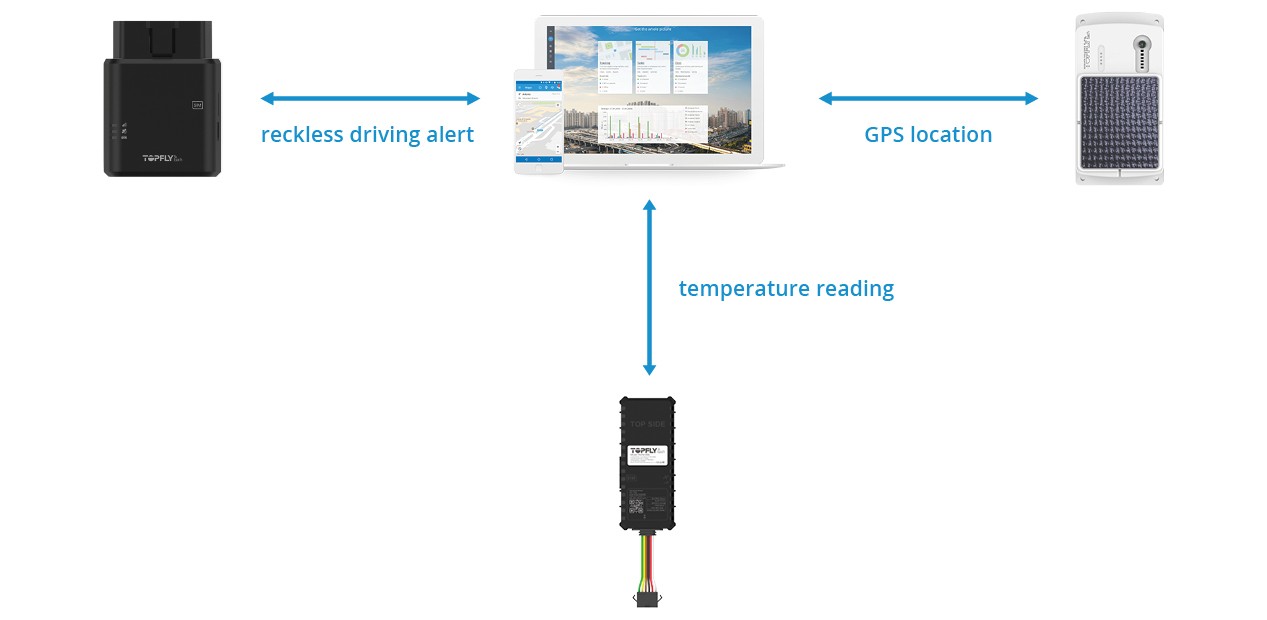 Integrate multiple TOPFLYtech devices with Navixy
Are you interested in learning more about how Navixy and TOPFLYtech can address the needs of your business? If so, you'll be pleased to learn that our support team is ready to answer your questions. In addition, the TOPFLYtech sales team can assist you with sales, marketing, and more.
Furthermore, you can access a free trial of Navixy by signing up for a demo account.