Description
Geofence is a restricted area on a map. This rule is for controlling trackers inside and outside the specified geofence area. On the Navixy platform geofences are used for setting a virtual perimeter. Users will get notifications whenever their objects cross the borders of the specified geofences. So, for example, if some building machinery leaves the zone, an employee of the company can receive the notification in the user interface or if they are listed for getting email or SMS notifications in the rule.
This functionality provides valuable insights and control over the movement of objects, ensuring adherence to predefined boundaries. It enhances security by alerting users to any unauthorized movement or potential theft outside the specified geofence area. Additionally, it enables efficient asset management, allowing users to track and optimize the utilization of their equipment within designated zones.
Settings
Geofence:
List of geofences that trigger the notifications when they get crossed. Users can specify multiple geofences in one rule.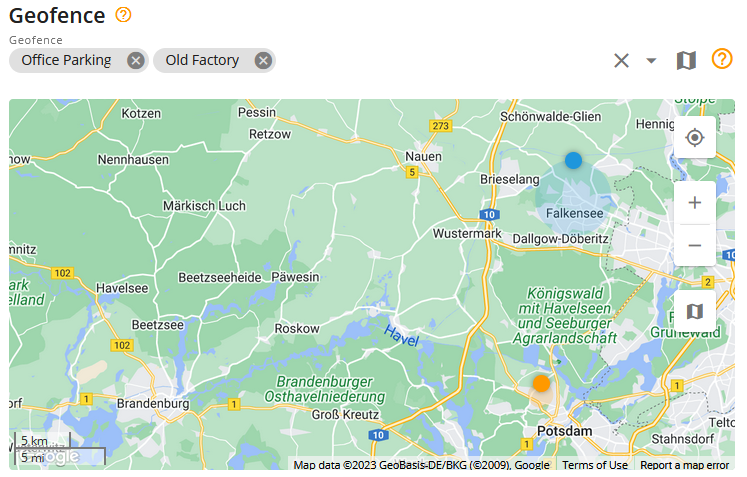 Map button:
Shows bound geofences on the map.
Notifications
Emergency notification:
is used for important events. A message on the screen and the sound signal can only be disabled by clicking on the notification. Please note, some browsers can block notification sound until user activity is recorded on the page.
Push notifications:
Receive push notifications on the mobile app and web interface.
Add geofence name to the notification:
Adds names of the specified geofences to the notification text. This option is available only when the "Inside" geofence binding radio button is selected on the "Settings" tab.
SMS notifications:
List of recipients for SMS notifications when the event occurs.
Email notifications:
List of recipients for email notifications when the event occurs.
Schedule
Set a schedule for when the rule will run. If your schedule indicates that the event should not run some day or time period, it will not appear as a notification in the user interface, and notifications via SMS or email will not be sent. Additionally, you can choose a default template for quick scheduling.
The platform specifics:
The "Geofence entrance or exit" alert has a 1-minute reset timer, meaning the alert event will not occur more often than once every 1 minute. If this type of event occurs in time the rule has been waiting for the reset, this event will be omitted by the platform, including the reports.
This rule is a generic type and is not specific to any particular hardware, which means it can be applied to multiple trackers simultaneously. This allows for the selection of several trackers within a single rule.
Event reports
To view the dates when the events were received, you can build the "Report on all events" report.