Construction and Heavy Equipment
Cut corporate expenses with optimized fleet utilization.
Raise drivers' accountability to eliminate idling and
improve preventive maintenance.
Efficient utilization
Monitor productivity with engine hour and PTO per each unit, whether it's raising or lowering the bed of a dump truck, operating the winch on a tow truck, etc.
Make sure the equipment isn't idling and doesn't leave the job site. Check it online in widgets, via MDVR or generate reports for any time periods.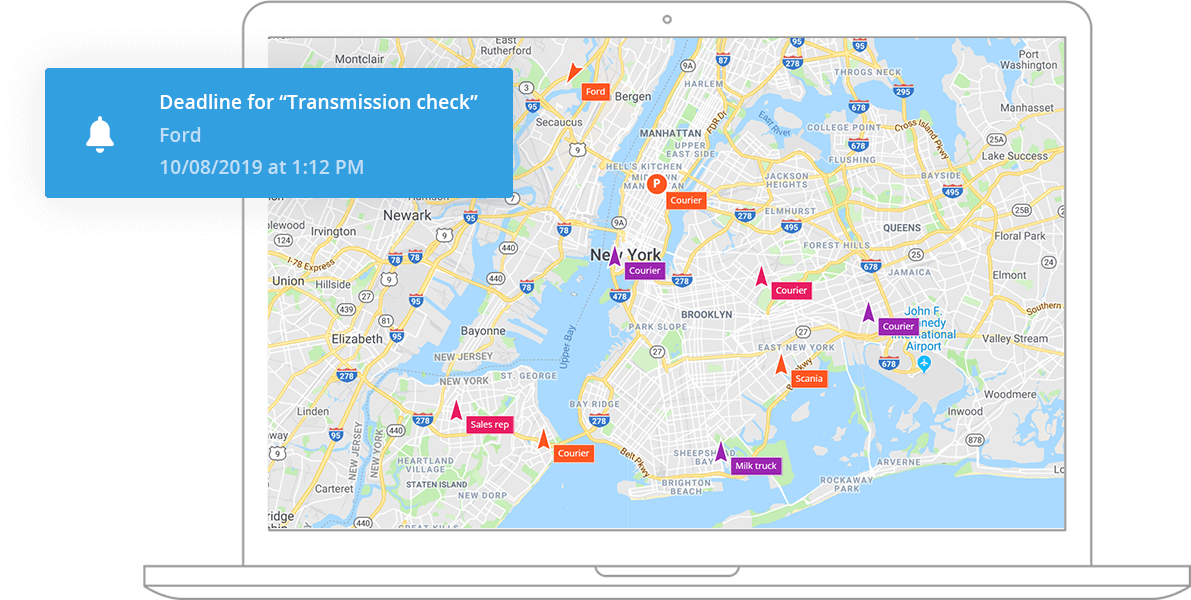 Remote security
Employ Driver ID to guarantee operation by authorized personnel only. Secure fleet and heavy equipment against theft and misuse.
Embrace continuous fuel monitoring to prevent drains and other fuel frauds. Set alerts to address drastic fuel level change without delay.
Maintenance: predictive
and proactive
Plan service works based on equipment utilization: by date, mileage or engine hours. Extend equipment's lifespan and prevent extra costs and breakdowns.
Set target values, estimate expenses, schedule recurrent maintenance works and specify recipients for service jobs notifications in a single interface.
Crane trucks
Use engine hours to track actual working time of the crane. Control jib position with a tilt sensor. Avoid accidents and unsafe transportation.
Garbage trucks
Enjoy best routes generated automatically: add required addresses and have them organized in the optimal order. Create POI to make sure no client is left behind.
Construction equipment
Protect hydraulic and pneumatic equipment against excessive use and overheating. Prevent malfunctioning, breakdowns and expensive repairs.
Mobile drilling rigs
Monitor working time and specific operating parameters, including the depth of drilling. Calculate payroll for rig operators and estimate the number of vehicles required.
Dump trucks
Help drivers steer heavy load trucks without accidents. Enable ADAS alerts and sound warnings to keep a safe distance, considering vehicle weight with/without cargo.
Cleaning trucks
Control effective fuel consumption. Prevent engine idling with comprehensive fuel reports. Detect drains and prevent fuel frauds with flow meters and fuel sensors.
Explore advanced Navixy solutions to boost fleet efficiency
Reap the benefits of productive and compliant fleet. Cut
maintenance and fuel costs. Make your vehicles safer,
greener and more reliable.
Provide smart and intuitive fleet management. Win and
impress your customers with the most user-friendly
telematics platform.