Wireless technology has been a trend in GPS tracking for years, Bluetooth 4.0 in particular. What makes it so attractive for businesses? Bluetooth connectivity has low cost, high energy efficiency, and high accuracy. Wireless devices are easy to install, deploy, and integrate into the existing telematics ecosystem.
The wireless solutions for people, asset, and vehicle tracking are usually made up of Bluetooth Low Energy (BLE) beacons and compatible GPS devices. In this article, we'll see what type of beacons to choose depending on the application, and highlight the cases for wireless GPS tracking.
Teltonika BLE beacons: types and use cases
Teltonika BLE beacons allow collecting data on driver identification (ID), temperature, magnetic state, and transmitting its identifier over a relatively long distance (up to 200 meters in an open area).
Sensors use Bluetooth 4.0 LE technology, which has great energy efficiency and allows the beacon to operate for incredibly large time periods using the internal battery. Teltonika offers three BLE beacon types: SLIM, COIN, and PUCK, different in form factor and battery lifetime. The actual battery lifetime is 2 years for SLIM models, up to 5 years for COIN models, and up to 19 years for PUCK models.
ID beacons keep transmitting signals unique to each of them and GPS trackers read and identify them. Afterwards, devices send this data, combined with its GNSS location details to a server for analysis. Dedicated telematics software determines all beacons (thus, tagged assets and/or people) locations based on proximity to the closest tracker. ID beacons can be fixed in any place indoors and used as a unique identifier of location/distance between the objects.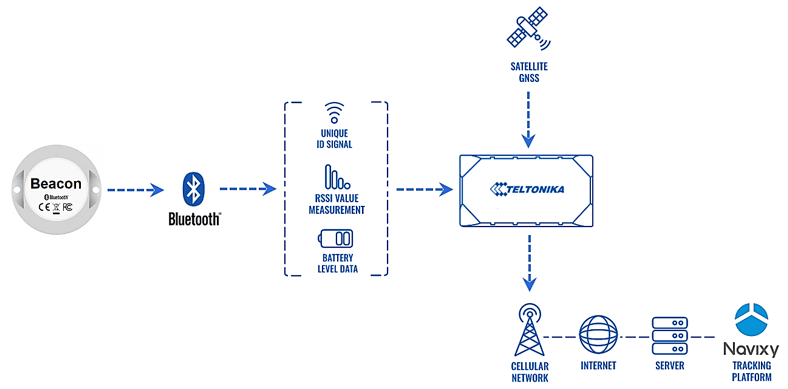 In particular, Teltonika offers the following types of devices, all of which are already supported by Navixy platform. Let's describe them a bit more while also considering potential use cases and applications.
Blue Coin ID, Blue Slim ID, Blue Puck ID: these devices essentially work as a driver authentication solution. Driver Identification will be extremely useful for companies and enterprises where several drivers share the same vehicle. This feature will make you aware of who is driving the vehicle at any given moment. These sensors work the same way as iButton and RFID,  but there is no special/ additional reader required. As soon as the sensor is in the range of the tracker, its identifier will be displayed.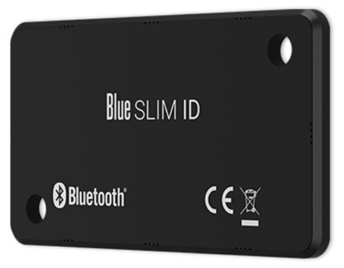 Blue Coin T, Blue Puck T: basically work as a wireless temperature sensor. Combined with Navixy platform they form a useful monitoring solution for wide use in cold chain logistics, freezers, refrigerators, and other temperature sensitive cases.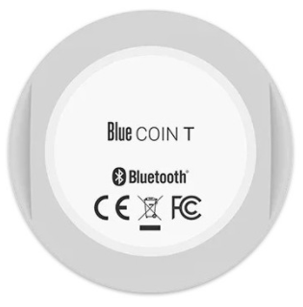 Blue Puck MAG, Blue Coin MAG: magnetic sensors. They could be used for doors, hood, or similar objects for open/close status monitoring. An additional magnet is required to receive the sensor data. The sensor can send signals in order to provide information if the magnet is attached or detached for example to distinguish if the doors are open or closed.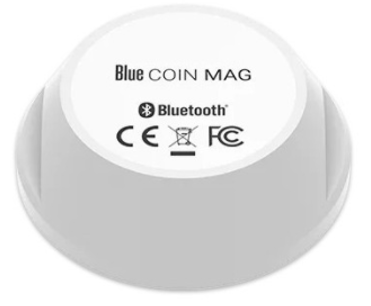 BLE beacons in GPS tracking
Potential use cases of bundled BLE beacons + advanced telematics solution include:
Indoor positioning on large warehouses. Allows tracking goods (individual or pallets/containers/canisters), vehicles (e.g. forklifts, fork trucks, pallet trucks, order picking trucks, tugger trains) and employees in real time. It allows for online location of people and assets and prompt equipment recovery. Powerful analytics tools will provide detailed statistics on the usage of the assets to improve their maintenance and forecast purchases or equipment rentals.
Сold chain tracking in real time (temperature control, door-opening alarm, and humidity control), anti-theft protection (door opening signaling and driver ID). Enables workplace environment conditions within vehicles and warehouses (temperature and humidity monitoring).
Special purpose vehicles. Teltonika GPS devices combined with Navixy platform functionality could amplify special vehicles, e.g. ambulances, carrying a lot of expensive equipment. The solution allows tracking real-time location and quantity of the tools and machinery onboard, protecting them from theft and damage.
Implementation at Navixy platform
All the considered beacon devices are already supported by Navixy and are pretty easy and straightforward to configure.
Temperature sensor
Temperature sensors (Blue Coin T, Blue Puck T) could be simply added as measuring sensors, in the input tab you should select "BLE: Temperature" and the sensor type "Temperature". Adding such sensors requires following simple settings procedure that could be completed in a couple of minutes.
Magnetic sensor
The magnetic sensor displays its status and whether it's active or not in the real-time widget.
Identification sensors
These sensors (Blue Coin ID, Blue Slim ID, Blue Puck ID) work the same way as iButton and RFID, but there is no need to attach them to a reader: it will show the name of the driver and when they started their shift.
Feel free to contact our sales team at [email protected] if you'd like to discuss more on how Navixy and Teltonika symbiotic solutions could increase your tracking business efficiency. If you already have experience in using the devices described above, you are welcome to share your use cases, opinions, and ideas.