It's useful to upload a large amount of POIs from Excel file rather than create them manually one by one. For that purpose you'll need an XLS, XLSX or CSV file.
In order to start importing from the file – choose the "POI" tool and click on "Import from Excel file".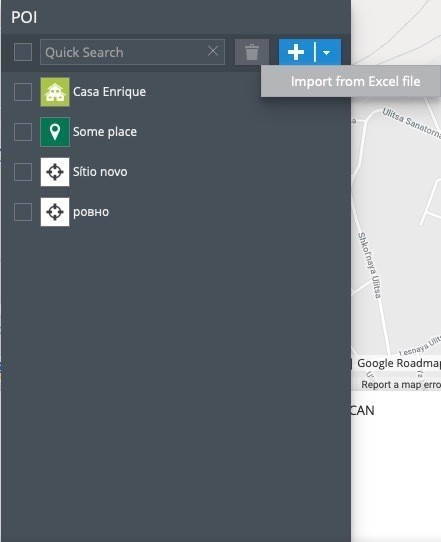 After downloading the file – fill in the following columns:
Name
Address
Latitude
Longitude
Radius
After you've filled in all the columns – save this file on your PC.
How do I upload the file?
Click on "Select" button in the "POI Import" window and find the file on your PC. After you've pressed "Next" button – the window with the column names will appear. After checking that everything is correct you can proceed to the next step.

If some data is missing – the system will offer you to specify it. If any blank fields left –  the record is not going to be imported.
If all the data is correct – your points of interest will appear in the list.