What is "Tag"?
"Tag" is a label for convenient search desired information.
In our system tags help you to find desired places, employees, tasks or vehicles.You can create tags on your own according to your needs. One object may have several tags.
To find all the objects with the same tag you need to enter it into a search box and the  system will display the information immediately.
How to add tags?
In our app "Fleet" you also may add tags.With its help you find a vehicle card very quickly.
To add a tag you should open a vehicle card (app instruction in the section "Fleet") and enter your keywords comma separated in the box "Tags".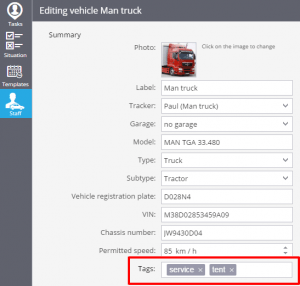 Each vehicle can have several tags, e.g. for a van you can such information as its cargo capacity, fuel type, wheel arrangement.