GSM-network is used for communicating a terminal with the data center (server), mainly GPRS/EDGE-communication channels, and in addition – the SMS channel. For this purpose SIM card is installed in gps-tracker. It can be a SIM card purchased from any telecom operator or a SIM card purchased with a device, provided by the operator of monitoring services. If you need to change the SIM card in the device, you will need to write a new phone number to change the settings. You can do this in the appropriate panel:
To change the number, open the panel and click Change phone number:
Specify a subscriber number of a SIM card installed in the tracker: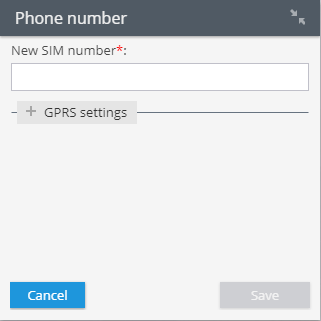 If, after entering the number, the operator of the SIM card is defined correctly, click Save and SMS command with the required settings will be sent to the specified number.
If the operator wasn't defined by the system or was defined incorrectly, write the GPRS settings manually. You can specify APN, login and password with your mobile provider.
After entering the settings, click Save, the SMS command with specified settings will be formed and will be sent to the SIM card.