404 error
If you see such error it means NGINX not properly configured or you're requesting wrong URL.Possible ways to solve:

Make sure that urls in configuration files are correct. Virtual hosts files are located in /etc/nginx/sites-available/
Check if necessary sites are enabled. Sites are enabling by creating symlink in directory /etc/nginx/sites-enabled/
Since you've edited virtual hosts reload nginx by the command

# nginx -t && nginx -s reload

Web interface is being hung when you're trying to logon into monitoring
For diagnostic press F12, click to "Network" tab and enter your login and password. Now look for errors when browser is loading the page.
Usually in a browser console you can find error's source. If you can't do it please report to support crew.
When you're trying logon you're receiving the error "No connection to the server"

It occurs if the API server isn't working. Start the API
URL of the API isn't correct in Config.js. Replace in Config.js file API URL by the correct one.
Non-correct user or password to database. Verify api-user's password to mysql and its grants. Also verify credentials in api server config.

When you're trying logon you're receiving the error "Database error"
The error may be caused by if mysql is not running. Type

sv s mysql

to make sure that mysqld is running or start it by the command

sv u mysql

You see the title "Welcome to the monitoring service" and "Connection failed" message against a background with patch cords.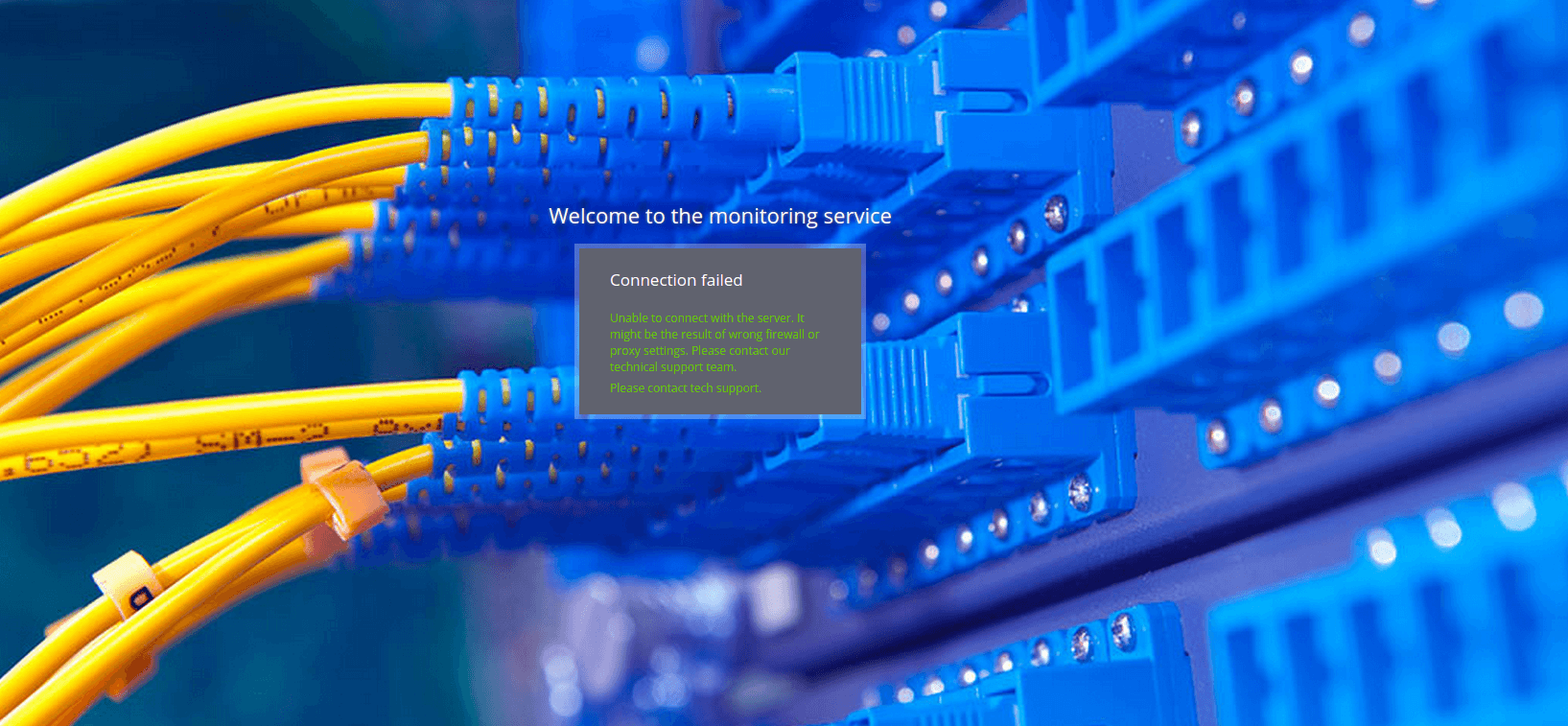 To know what error occur please start browser console pressing F12 (chrome and similar) then click on "Network tab" and choose red message. Clicking on the "Preview" you'll see the answer from API. Mostly it is caused by error "Dealer not found". In the admin panel, go to Service Preferences tab in the Account Management section, and insert your domain used for monitoring and save. It will be OK.