When you need to migrate certain users to the cloud version of the platform, between servers, or just want to duplicate data on an additional server, these instructions will help with the proper setup. It is recommended that you start data forwarding about a month before the user is fully migrated to the new server.
How to set up data transfer
Below are instructions for transferring multiple users with numerous devices.
1. Create the same users on the new server. If there are many users, export a list of them from the initial server.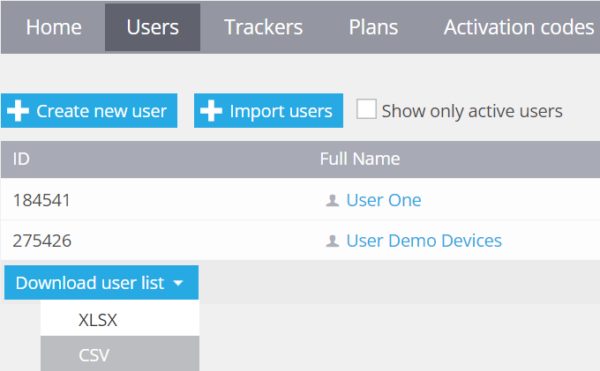 2. After that, download the import template file and fill it. Fields marked with an * are required. Import users to the new server.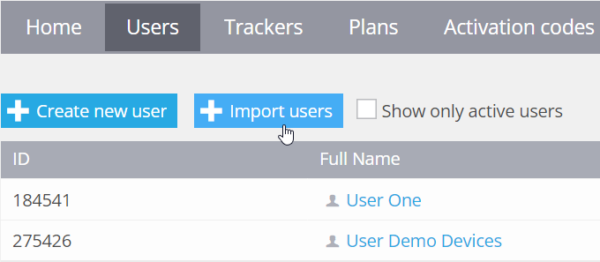 3. To avoid sending configuration commands to your devices, enable Do not send default settings option on the destination server. It is located in the Account management → Service preferences → Device Activation section.

4. Adding devices to the server. Choose a real device model, not a retranslator on the server receiver.
If there are less than 50 devices, then add them one by one to the platform through device activation in users.
If there are more than 50 devices, use the instructions for bulk device registration. The filled file from instruction must be sent to our technical support.
5. Configure data forwarding on the initial server.
Retranslator name - any
Protocol - Wialon IPS
Server address - enter the activation address of the recipient's tracking server
Port - 47768
Login and password remain blank
6. Bind each device to that retranslator. To make the process easier, bind it to one device and then click apply the setting to the other objects. Select the desired objects from the drop-down list.
The configuration is done. After a while, you can transfer users to the new server.