All current versions of Navixy On-Premise, both those that are freshly installed and those that received new updates (starting from summer 2022) work on a monthly subscription basis. This means that the product can only keep working if a monthly usage fee is received.
The amount of payment depends on the number of devices active during the month. Inactive devices and clones do not affect the payment amount. You receive an invoice to pay in the beginning of the next month.
When the subscription is active, your server transmits statistics on the number and models of active devices to our authentication server auth.navixy.com by port 32233. This mechanism is similar to the license verification mechanism, and connection to the authentication server is critical in this case. Transmission of statistics is necessary for correct billing and renewal of the license for the next month.
Monthly payment is a key factor for smooth operation of the server on the subscription. Payment must be performed by the 10th day of each month. If payment is made on time, your instance will run stably without any interruptions. In the absence of payment your instance will be blocked until funds are received.
Please note! The above information means that your instance must not be in arrears by the 10th of the month. Payment is considered to be made when money is received by Navixy. If payment was delayed due to banking systems issues or other reasons, your instance will be blocked until the necessary funds are credited to your account.
How blocking works
If there is no payment, the access to the platform is blocked. Visually, it looks like an authentication error.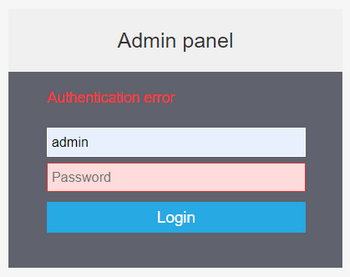 Blocking occurs in two stages:
On the 10th of the month access to the admin panel is blocked. However, the platform continues to work, tracking data is processed, and user accounts are available.
On the 15th of the month the platform is blocked completely. Access to user accounts is closed, and data from devices stops being processed.
Once the required amount is received for the blocked instance, the blocking is not removed instantly. It happens within a day, when your instance communicates with the authentication server to verify the license and send statistical data.
However, there is a way to speed up access recovery in critical situations. Once you've received confirmation from your account manager that funds have been credited, you can force an authentication check. To do this:
Run the restart-navixy script (Linux only).
Restart tcp-server (all OS).
When you restart the service, the platform will connect to the authentication server, check the balance, and the instance will be unblocked.