Configuration wizard can be used to initially configure Navixy platform or change some common settings.
All of the settings described below can be applied directly to the database and service configurations, but in this case there is a risk of malfunctioning if handled carelessly. Using the configurator avoids this risk.
If you have a non-standard platform installation, or your task is beyond the capabilities of this wizard, you can use the various configuration guides on this website for specific tasks or contact technical support.
To run the wizard, go to the Navixy package directory and run ./configure.sh
You will be greeted by the main menu: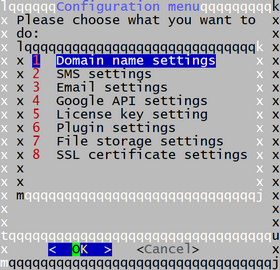 Below is the explanation of each menu and sub-menu: