Quick configuration guide
After you have launched AWS instance with Navixy Cloud, you'll get a 30-day trial version of the platform. This Quick start guide describes how to set up Navixy Cloud instance in the Amazon Web Service (AWS) with minimum efforts. However, after the evaluation period and/or for further customization (e.g. your domain name, custom Email and SMS gateway) you're suggested to check advanced configuration guide.
First launch
Launch the AWS instance using instructions on this page (we recommend to choose at least t2.small instance type, but for 1-5 trackers can be suitable t2.micro instance type). Wait until your instance has been started and enter ip address in your browser:
http://instance_ip_address
Here instance_ip_address is the IP address of the launched instance. It can be found in the instance properties of your AWS console.
You'll see a page with welcome message: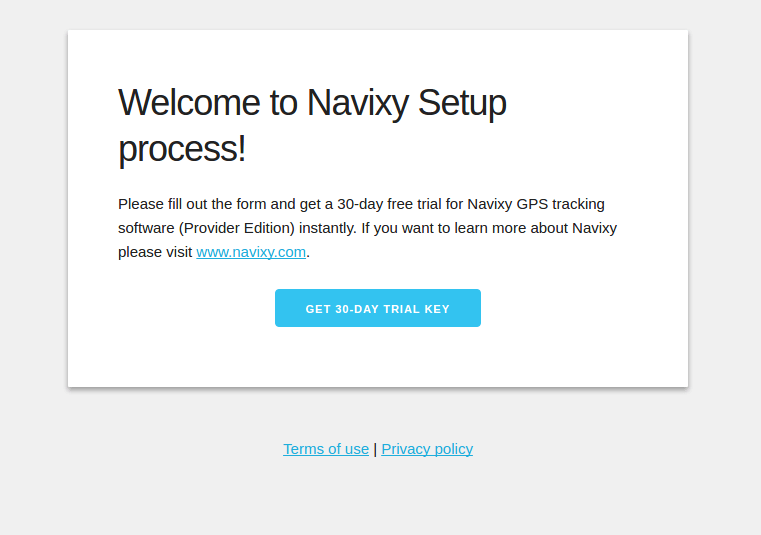 If you want to take "test drive" you should press button "Get 30-day Trial Key" and fill out three fields: first name, last name and your email. Email will be used only for connection with you:
After all fields have been filled out press "Get 30-Day Trial Key" and you'll see a page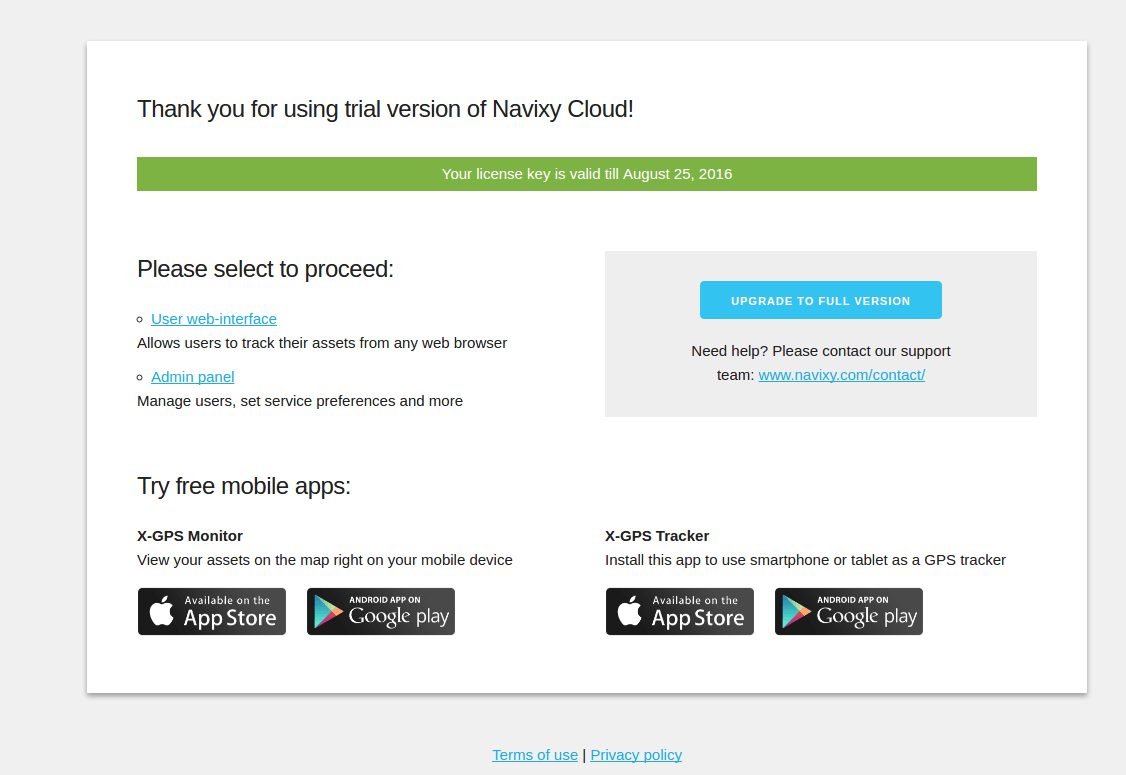 To jump into monitoring press "User web-interface", if you need to manage users, tariffs and another things please click "Admin panel".
Also there is a possibility to upgrade to full version. Press "Upgrade to full version" button and request to upgrade will be sent to us.
Login to monitoring
You should see a page with the form to enter login and password:

If you see the page with text "Connection failed":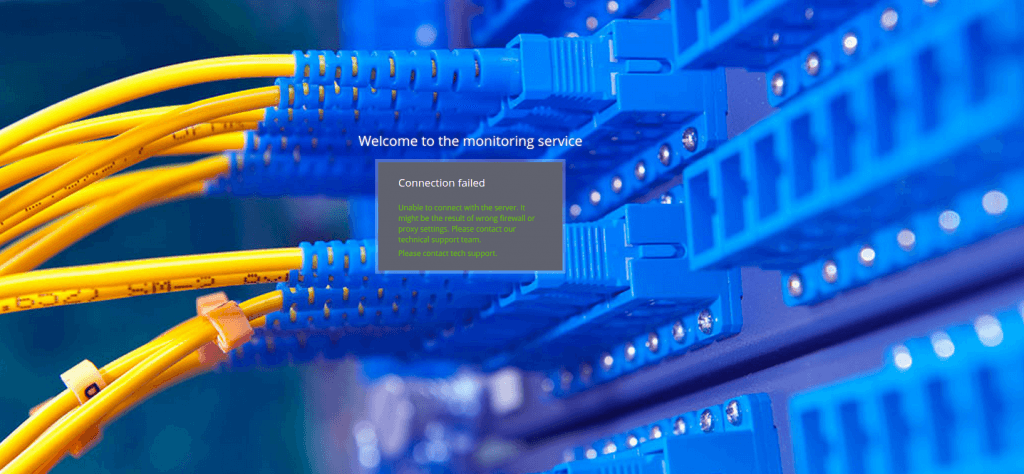 please wait for some time. Usually it takes not more than 5 mins. In case you have issues with that, please contact us.
Important: While you are evaluating Navixy Cloud software on AWS instance we do not recommend you to stop the instance. Because after you start/stop the AWS instance, the assigned IP will change. Later you have to allocate dedicated elastic IP from Amazon and bind it with your domain using advanced configuration guide. For further questions or assistance, please contact us.
Registering user accounts
If you have chosen Navixy Provider Edition your users can either register themselves from the login page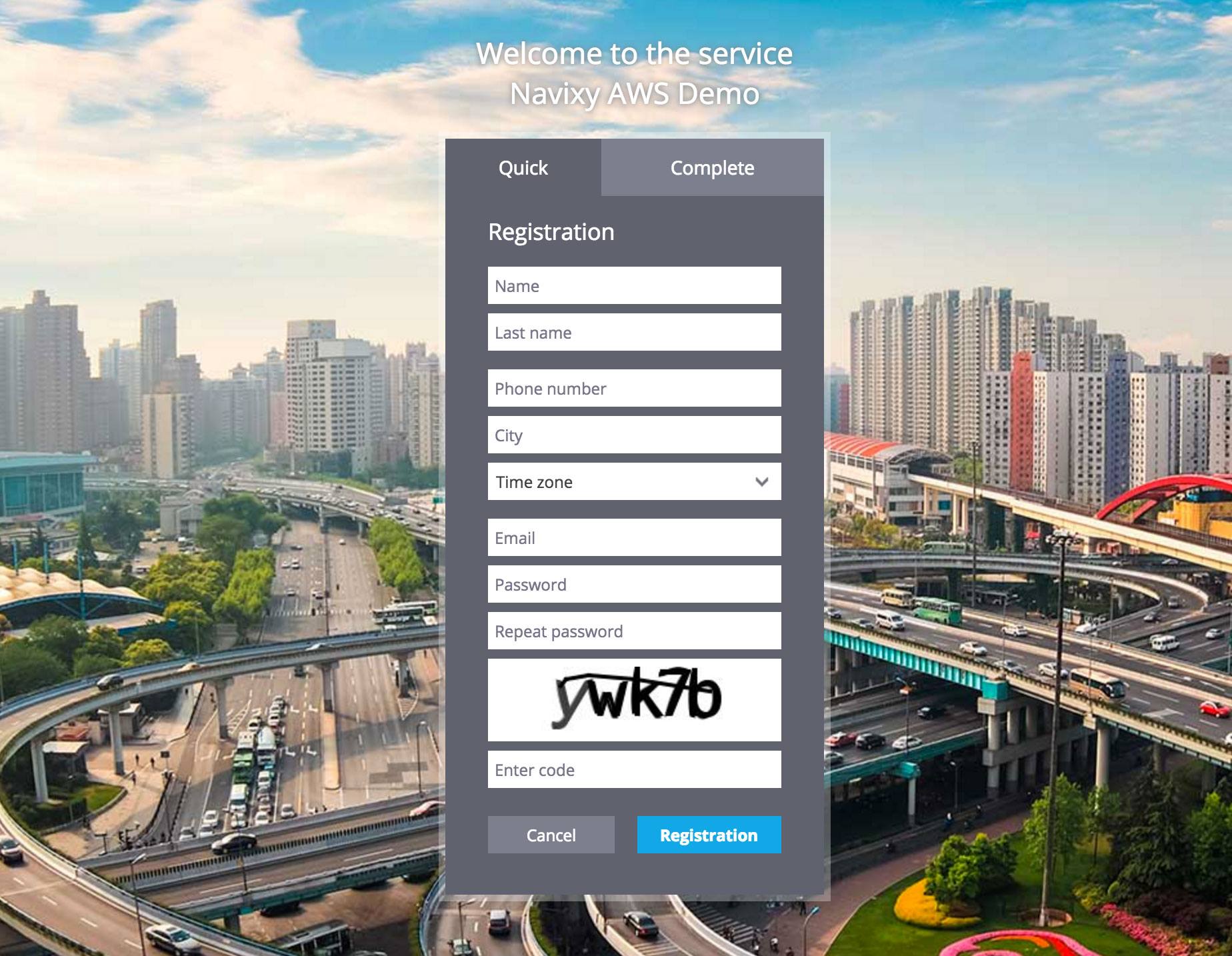 or be registered by service administrator using Admin Panel:
http://instance_ip_address/panel
For Navixy Enterprise Edition there is the only way to create user accounts – through Admin Panel.
Credentials for Admin panel
By default you should use 'admin' as the login and instance id as the password to access Admin Panel. Instance id can be found in AWS console in instance properties. However, we highly recommend to change the password as soon as possible. You can do that in the Settings section of the Admin panel.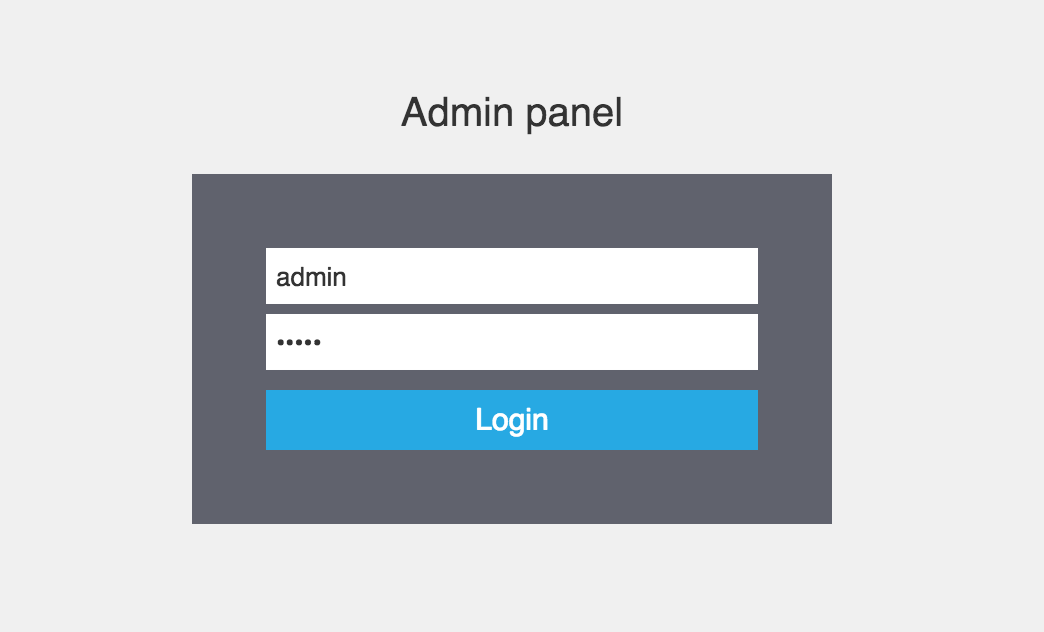 Side notes
Free SMS gateway service from Navixy
During a 30-day Trial period Navixy Cloud images for AWS use free Navixy SMS gateway by default. It is a global and reliable SMS gateway that allows the platform to send M2M commands to GPS tracking devices (e.g. for automatic device setup), as well event notifications (as set by rules) to users.
Besides the 30 day period there is a certain limit of messages that can be sent through the SMS gateway. Please contact us if you exceeded the limit or can't receive SMS messages in your country.
Email delivery service
By default emails are sent from the instance – we included smtp service into the package.
Email service is used for user notifications about the events (as set by rules) and other notification from the systems (i.e. about low user balance, customer's statistics).
Please note that default Email gateway does not support 'User feedback feature'.
Since default mailing service is not verified properly from the beginning, it might not be trusted by popular email services, and potentially can be placed to spam folder.
Using Mobile Apps with your cloud instance
With your Navixy Cloud instance you can use X-GPS Tracker and X-GPS Monitor mobile apps available in the Google Play and App Store. Generally you only should tell the app to use your server IP.
However, since Apple's App Transport Security (ATS) policy requires secure connection between the app and API, for using of X-Monitor iOS app you have either acquire own certificate and install it on your server, or install Navixy's CA certificate (https://www.navixy.com/NavixyCA.cer) on each Apple device as described below.