In this tab you are able to see all the tariff plans, edit them or create new ones. Billing gives you an opportunity to offer your end-users very flexible tariff plans that will make your service more attractive. The number of plans is unlimited.

Functions
Charging services
Automatic block of services with zero balance
Automatic renewal of services
List of transactions with all billing operations
Billing system implies advance method of payment: Only when there are money on user personal account all the services are provided.
Plan Settings
Tariff Plan is a set of commercial terms that define the structure of the service packages available to a user, and its prices. The tariff plan is assigned to each individual tracker, so a user may track assets with different tariff plans.
When a user creates account NAVIXY Server automatically creates test Demo tariff, which is recommended for use only during test period.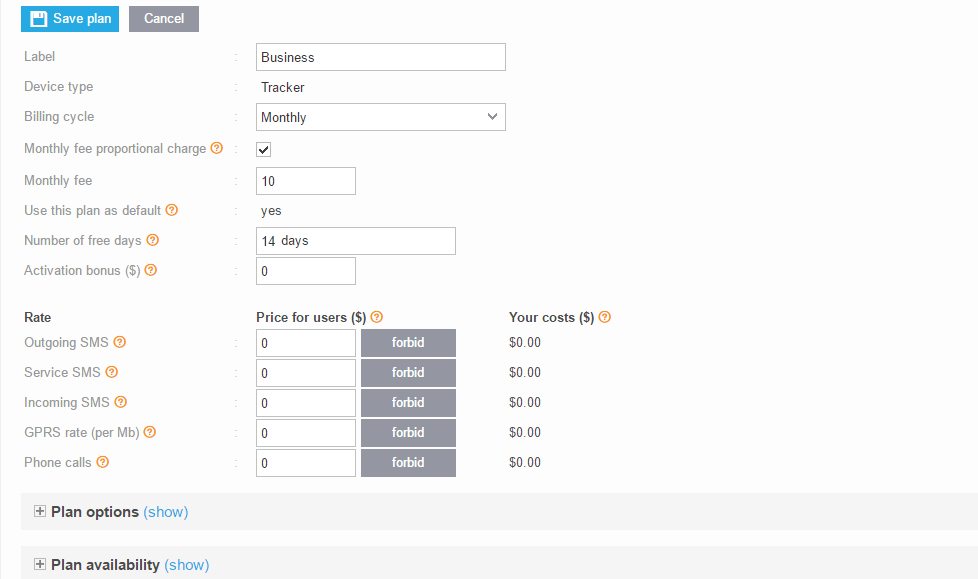 Here you have an opportunity to:
Give a label to plan wich will be available in User Account.
Set up bylling cycle: monthly, montly (daily debit), daily.
Set up monthly fee and proportional charge.
Set a plan as default for all the devices.
Rate all the kinds of SMS and GPS traffic.Also you have a possibility to forbid using these functions.
Plan Options
In this field you may set up all the features and GEO-services that will be available to trackers on the tariff plan:
Maximum devices for the plan. If a user reaches the limit, he will not be able to add and track more assets. In case user has assets on different plans,the minimum value will be applied.
Set up a period to store history. The system logs and store data within set time: one or several days, months, years.
Select maps available for users who tracks assets on this plan.
Select plan options. Mark the apps you need (Reports, Tasks, Fleet), different features and miscellaneous.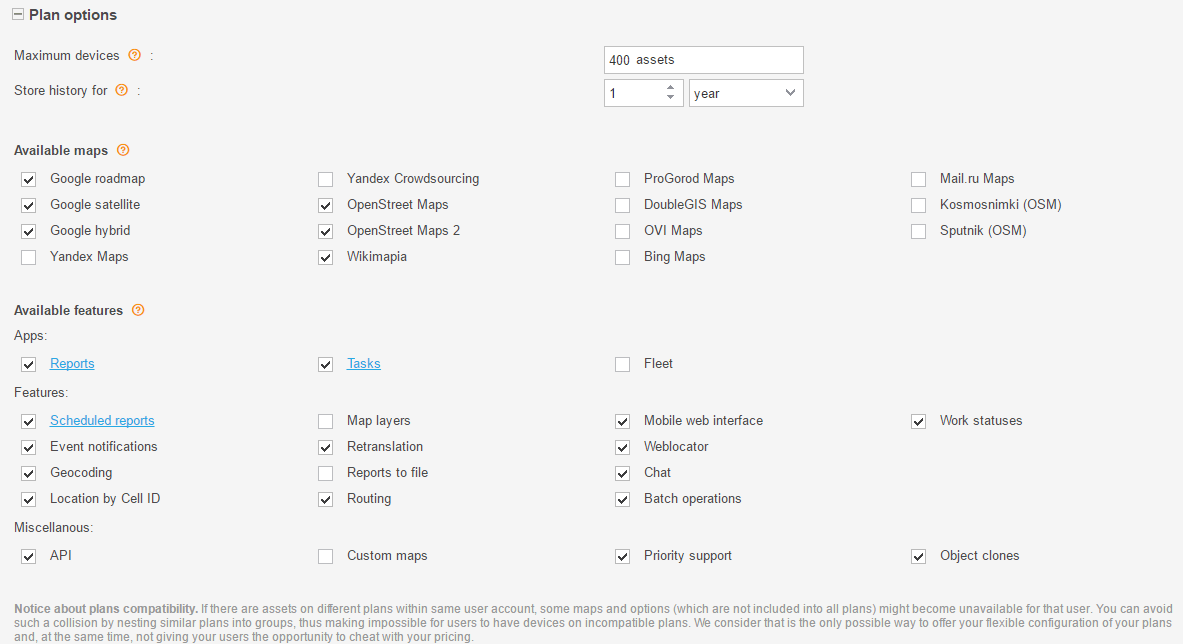 Plan Availability
Here you may set up a group the plan belongs to. By combining plans into groups you can organize your plans better and allow your users to switch the plans on their own. While you can assign any plan for any asset in the Admin panel, your users are able to switch the plans that are marked with appropriate checkbox.
If there are assets on different plans within same user account, some maps and options (which are not included into all plans) might become unavailable for that user. You can avoid such a collision by nesting similar plans into groups, thus making impossible for users to have devices on incompatible plans. We consider this is the only possible way to offer your flexible plans configuration and, at the same time, not giving your users the opportunity to cheat with your pricing.
Moreover you may allow or forbid your user to switch the devices on the plan by their own.