What is Stripe?
Stripe builds powerful and flexible tools for internet commerce. Whether you're creating a subscription service, an on-demand marketplace, an e-commerce store, or a crowdfunding platform, Stripe helps you create the best possible product for your users.
Using Stripe with Navixy, you can easily set up automatic payments for your customers.
Webhook set up
Login to Stipe dashboard
Proceed to Developers → Webhooks
Click "Add endpoint" in the top right corner. Fill out the fields in the popup dialog box: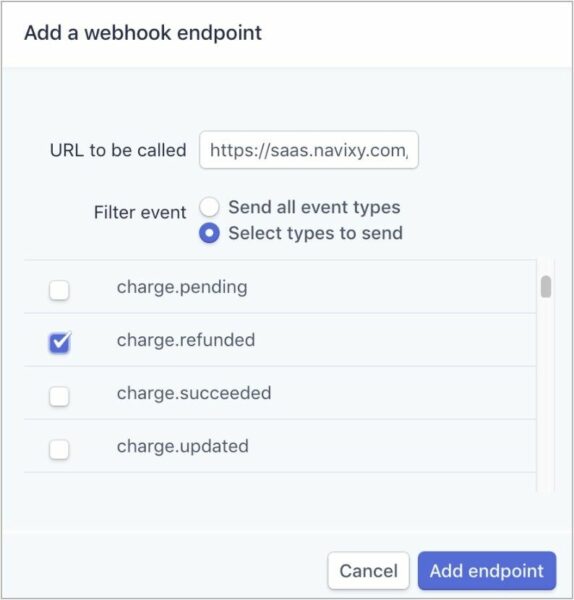 URL to be called – paste the following string:
For Eurasia server:
https://saas.navixy.com/api-v2/external/payments/<PlatformID>/stripe
You need to use your platform ID – 5 digits – without brackets as <PlatfromID> parameter.
For US server:
https://saas.us.navixy.com/api-v2/external/payments/<PlatformID>/stripe
Filter Event
Choose "Select types to send" and check only the following 4 items:
charge.refunded

payment_intent.amount_capturable_updated

payment_intent.succeeded

payment_intent.payment_failed
Provide Stripe keys
Contact support to provide your Stripe API credentials:
Developers → API keys | Reclaim two parameters:
Publishable key
Secret key
Developers → Webhooks → Webhook | Click on webhook to reclaim: