As a GPS-Tracking service provider, you are able to specify which maps will be available to your users. Usually, you may activate several map services.
List of available maps
All of the most popular map services are technically supported by Navixy: Google Maps, Yandex, Double-GIS, Progorod, OpenStreetMaps, Bing Maps, etc.
Map Activation
To activate maps is very simple - tick the needed checkboxes in the Admin Panel - Account Management - Service preferences. You may also choose available maps for each tariff plan.
Make sure that you have legal access to the services or use "Premium GIS" package from Navixy.
Default Maps
To make your service more convenient, you can determine which maps will be shown by default (when you login to the platform for the first time), as well as its center and scale.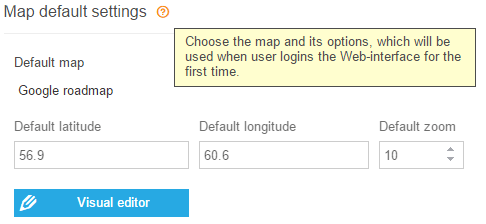 When a user logs into the platform, he is able to change default settings and they will be automatically saved in Cookies. After that a user will see chosen maps.