You may use any SMTP server with all Navixy products: ServerMate, Cloud or On-Premise.
It may be your own daemon, public mail service (like Gmail, Hotmail etc.) or transactional email service (mandrill, sparkpost, sendgrid, mailgun etc.). In all these cases all you need is just to configure your SMTP server credentials in Admin panel.
Login the Admin panel and proceed to 'Account management' section. Find 'Email Gateways' and choose 'Your SMTP server' option.
Encryption. If you use secure connection, you'll be advised to use standard port; you may also modify this parameter manually. For more information please visit your email service's website (e.g. link for Gmail).
Authorisation. If the server requires authorization, tick the checkbox 'Authorization' and type in login and password (usually not required for public mailing services).
Sender Email. Add your email address that will be used in 'From' field. You can also add some text as your email signature.
Click 'Save settings' to apply the configuration immediately.
To check that everything works well click 'Send test mail' button and enter your email address.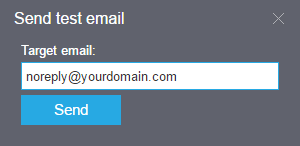 If everything is done well, you will get this kind of email:

In case you have any specific questions about using Email gateways with Navixy GPS tracking platform, please send them at [email protected].