Navixy's Advantage League verdict
The Morey MCX series is an easy-to-install OBDII tracker for cars and light commercial vehicles available in two variants — the MCX1M1 and MCX101. It is certified in the US and equipped with an LTE module to work in the US, Canada, Mexico, and other countries with 4G coverage. Thanks to its affordability and ease of reading OBDII parameters from conventional and electric vehicles, the MCX series is one of the best OBD trackers for vehicles in North America.
The Morey MCX1M1 and MCX101 are exactly the same with the exception of their supported cellular networks (Cat 1 vs Cat M1), so any description regarding their functionalities can be assumed to be accurate for either device. In this review, we'll cover the MCX1M1, as well as explore results from our real-world testing of the MCX101.
Pros
Accurate and flexible tracking A-GPS / LBS
Long list of configurable events
Full OBDII data PIDs with OEM parameters
Bluetooth connectivity for sensors
Cons
No J1939 data for heavy duty vehicles
No buzzer for direct sound feedback to driver
No anti-tampering / sabotage
SMS command syntax has compatibility issues and may fail to properly execute during remote configuration
The Morey MCX1M1 and MXC101 are OBD trackers that were developed in the United States and perfectly match the needs of US customers. These devices are a good choice for both business customers and consumers, but fleet managers could benefit most as the devices are much more than a GPS tracker. In addition to advanced location tracking capabilities, they read telematics data from the CAN bus of a wide range of cars, vans, and other light vehicles. They can be also used in vehicles with 24V board voltage, but do not support J1939 protocol for CAN bus data readings in heavy-duty vehicles.
First released in Q3 2021, the Morey MCX1M1 is manufactured in the US by Morey Corporation at their impressive manufacturing facility in Woodridge, IL U.S.A. A multigenerational family-owned company founded in 1934 headed by a third generation CEO. Morey has decades of experience in the electronics industry and offers a wide variety of advanced connectivity solutions for many industries. They have extensive experience in contract manufacturing, design, and process automation and are a leader in IoT solutions. To continue to innovate and address challenges, the company leverages new technologies and practices that keep them on the cutting edge.

In December 2021, Navixy met with Morey's leadership at their spacious and modern headquarters in suburban Chicago. We had the chance to not only view nearly ninety years of company history displayed in the foyer, but also their expansive manufacturing floor, where employees work tirelessly to assemble, test, package, and ship innovative electronic devices like the Morey MCX series. The facility is sleek and modern and the Morey family were eager to welcome us and share their company history and vision. We had an extensive tour of the manufacturing floor and watched IoT devices being made on the line. Every step and process was thoroughly explained and it was obvious that the family had worked in every position on the line from the bottom up. The experience confirmed our belief that Morey is a top-tier manufacturer and thoroughly knowledgeable in several areas of expertise. We not only had an interesting experience and strengthened our business relationship but we came away with new friends and trusted partners.
Thanks in part to Morey's reputation, ingenuity, and dedication to quality, Navixy chose to write this in-depth review on the MCX1M1.
OBD tracker for United States
4G LTE (Cat M1) connectivity
The MCX1M1 was developed specifically to work on LTE Cat M1 networks, which means it can operate anywhere as long as bandwidth is sufficient. If you need global coverage, we recommend choosing its Cat 1 variant, the MCX101.
Cat 1 and Cat M1 networks are both part of the 4G standard and are ideal for low-power, low-complexity data transmission. Cat 1 was first standardized in 2008 to support IoT communication, while Cat M1 is more recent and was specifically developed for LTE-M (Long Term Evolution Machine Type Communication) networks. Both have their advantages depending on application, scale, and budget.
Primarily, Cat 1 networks are more widely available worldwide, whereas access to Cat M1 is mostly limited to the US, Canada, and other Western countries that have more updated cellular networks.
Morey MCX1M1
Morey MCX101
Recommended use:

US
US with travel to Canada

Recommended use:

US
US with travel to Mexico/Latin America.
The Morey MCX1M1 device comes with a Quectel BG96 module optimized for M2M and IoT applications.
Certification: FCC, PTCRB, RoHS, and more
In the US, GPS trackers need to be certified before being sold. In addition to the required certifications, there are other optional certificates that a device may be tested for. Consult the table below to see which certifications are required in the US and which are required globally.
Mandatory certifications in the US
FCC
The Federal Communication Commission (FCC) must certify any communication device that is sold, produced, or marketed in the United States.
Mobile Network Operators

PTCRB
Verizon Open Development

RoHS
Only fully enforced in California, but other states (New Jersey, Illinois, Indiana, Minnesota, New York, Rhode Island, and Wisconsin) have laws based on RoHS standards.
Optional certifications globally
ISED Canada (formerly IC)
ISED performs essentially the same role in Canada as the FCC in the US—approving communication devices for market entry. In fact, a product with prior FCC certification can often expedite the ISED certification process.
CE
In the EU, the CE (Conformité européenne ["European conformity"]) marking is required for any product to be sold.
GCF
GFC (Global Certification Forum) is the international equivalent of PTCRB. They test and certify devices based on 3GPP standards for compatibility with global cellular standards. Certain organizations, such as Verizon, require this certification for approval on their Open Development network.
Mandatory certifications
The US requires GPS trackers, along with other electronic communication devices, to be certified before being sold or marketed domestically. The FCC is responsible for testing products for interference to ensure interoperability with other devices. Once certified, the tracker must display either an FCC approval mark or FCC identification number on its packaging, exterior, and manual.
PTCRB (PCS Type Certification Review Board) certification is required for a device to be approved for use on North American cellular networks. Though not a government agency, the board comprises members from cellular and data network companies like AT&T and T-Mobile and tests devices for compatibility with regional standards.
Although RoHS (Restriction of Hazardous Substances) certification is not required by the federal government, some individual states either have laws based on its standards or, as in the case of California, enforce it outright. The initiative was originally enacted by the EU in 2002 and has since been adopted in other parts of the world.
Optional certifications
Since the MCX1M1 is designed and marketed solely for the US market, CE, ISED, and other common certifications aren't relevant or necessary.
As an LTE Cat M1 device, the MCX1M1 may be effectively used not only in the US, but essentially in any country with sufficient network coverage. As long as your connectivity provider supports roaming, you can travel across the border to Canada or Mexico without any issues.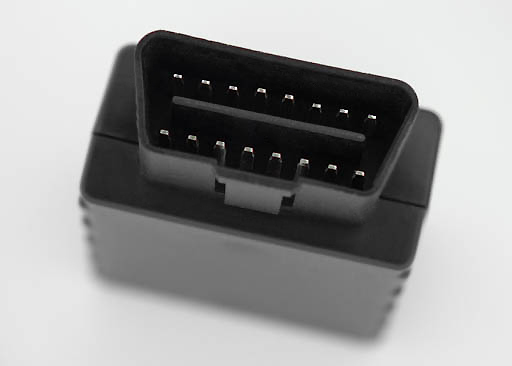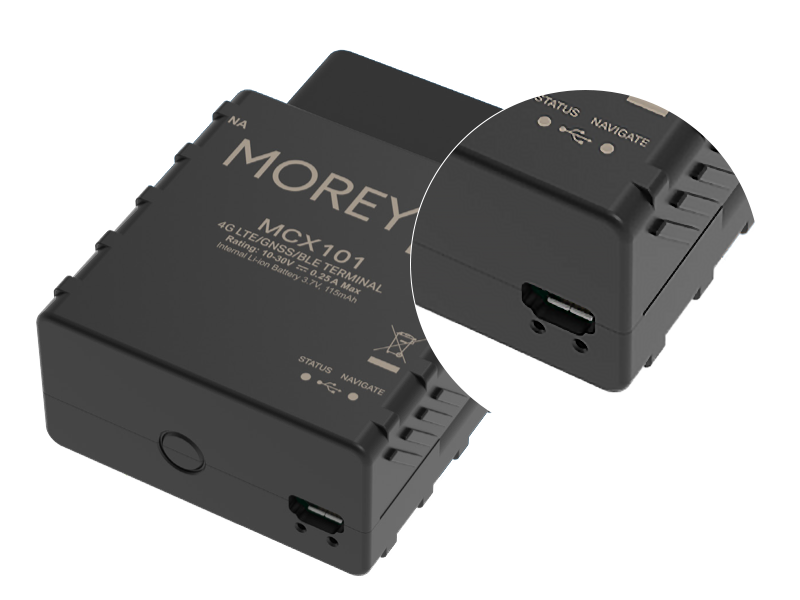 The MCX1M1 is medium in size, meaning that it's smaller than many competitors. This also makes it easy to plug in.
It has two LED lights to indicate device status. The LEDs are located opposite the OBD port contacts and are easily accessible for readings. They're small and dim, meaning that they are not distracting even when driving at night.
The casing is only opened pre-sale to install a SIM card and to make sure the backup battery is connected.
No screwdriver is needed to open the casing. You may use any slim plastic tool and push into the side to open the device.
IP41 waterproof rating — the industry standard for an OBD tracker.
Overall quality (plastic and assembly) is somewhat average.
What is inside:
SIM card
Backup battery: Li-ion 3.7V, 115mAh which allows up to 3 hours approximately in active mode.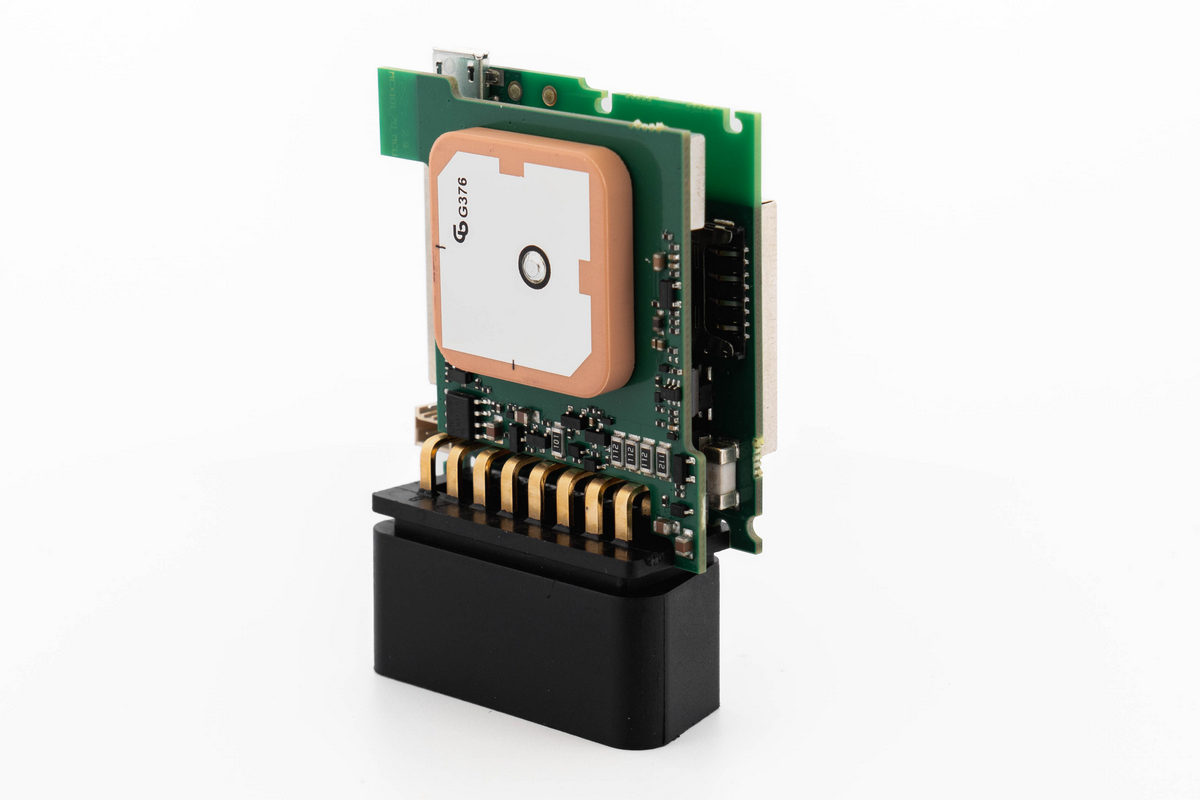 Location positioning
One of the primary functions of the MCX1M1 is location positioning. This can be accomplished with GNSS connection, movement detection capabilities, and LBS / Cell ID functionality. Since each of these functions has different use cases, we'll explain them in greater detail below.
GNSS capabilities
As mentioned, the Morey MCX1M1 is based on the Quectel BG96 module, which supports GPS, GLONASS, BeiDou, and Galileo. In addition to good tracking sensitivity (-165 dBM for tracking), the device also supports Assisted GPS functionality to improve time to the first fix (TTFF).
Supporting A-GNSS feature should be accessible in your VPN/MVNO networks. With Morey devices that are based on the Quectel module, it's necessary to maintain access to the EPO (Extended Prediction Orbit) files.
If you use the SIM cards from Navixy's recommended MVNOs (or supplied directly by Navixy), no action is needed. Otherwise, please consider contacting the Navixy support team for proper private network configuration and network environment testing.
GPS tracking modes
To provide high tracking accuracy when driving and low power consumption when idling, Morey has multiple tracking modes that are independently configurable. This also helps reduce data consumption and related costs when a vehicle goes abroad and enters a roaming area.
Real-world testing of the MCX101
We tested Morey MCX101 in urban, mountained, and wooded environments in cars of different makes. In all cases, we did not have any issues with tracking: it was quite accurate both while driving and in parking lots. After the car was parked underground for a few days, the GPS tracker only needed anywhere from a few seconds to a minute to reacquire its position. Unless the device is installed in a concealed place, such as under the dashboard, you shouldn't have any troubles with tracking accuracy in regular cars.
Device data consumption ultimately depends on the tracking modes and other settings you use. Whether you need to prioritize tracking accuracy or data costs, the Morey MCX series can be configured as needed. To demonstrate the real-world performance of these modes, we tested the MCX101 under various conditions to see how data consumption per 1000 miles traveled is impacted in either scenario.
Navixy allows telematics service providers to flexibly configure initial settings and remotely execute specific OTA (over-the-air) commands via SMS and IP. Among other unique features, our platform offers fully automatic device activation and an intuitive graphical interface that allows users to control their devices, including tracking modes.
Automatic device activation when uploading the initial settings profile
Connecting a single device (bulk devices) to Navixy does not require prior manual configuration. The system uses a number of SMS / IP commands to activate the device based on minimal information about the device: its IMEI number and the SIM card (ICCID or associated phone number). The configuration profile, including APN settings and preferred device settings, uploads fully automatically, and the device is fully operational in a few seconds. This approach significantly reduces labor, speeds up the installation, and eliminates configuration errors.
Air console for OTA device configuration
The support tools provided as part of the administration panel allow technical specialists to send customized commands to devices via SMS and IP channels. The responses from the devices are parsed and presented in an easy-to-use format.
User interfaces for device settings change
End users may see and update common device settings remotely via the easy-to-use graphic interfaces of our web and mobile apps. These settings include the most common parameters, such as device tracking modes, parking detection, Cell ID location preferences, and more. This functionality may be limited to specific user roles only or switched off completely if a TSP decides to do so.
Conditions
Description
While driving
Activated when two conditions are met simultaneously: ignition is detected (read about ignition detection below) and 4 or more GPS satellites are locked. The location is updated and continuously reported to the GPS tracking server based on the following parameters and conditions:

Time. The position is updated on the server in a set interval. By default it's 300 seconds, but the value can be set from 1 to 2592000 seconds, or up to 30 days.
Distance. The location is updated and reported to the server after a certain distance traveled from the previous position. By default it's 100 meters (about 300 feet). The value can be set anywhere from 1 to 65535 meters, or up to about 40 miles.
Cornering. A new point is reported when the driving direction of the vehicle changes more than the set angle value and the speed is at least 6 mph (about 10 km/h). The default angle value is 10 degrees and can be set within the range of 1 to 180 degrees.
Speed change. The current speed of the vehicles is compared with the speed value in the previous reported position. If the difference is greater than the one specified, then a new location is reported to the server. The default value is 6 mph (about 10 km/h), and can be set from 1 to 100 mph.

All these conditions may be applied simultaneously or separately; if the value is set to 0, the parameter is not considered.

While parking
The mode is activated immediately after the ignition is turned off (read about ignition detection below). In this mode, the location is updated in equal time intervals only. The default value is 120 seconds.
Sleep mode
Sleep mode saves vehicle battery power when it goes unused for an extended period of time. This mode is helpful to avoid situations like battery drainage, which prevents the vehicle from starting. After activating Sleep mode, device power consumption decreases from an average of 30-35 mAh to 4-15 mAh, depending on the chosen sleep depth as described below.

The timeout interval that activates this mode can be set in minutes from 1 to 3000 and starts counting once the device goes to "While parking" mode as described above.

Device goes into the sleep mode if two conditions are met within the set timeout interval:

Ignition is off
Movement is not detected by the built-in accelerometer

Device turns off sleep mode automatically if either of the following conditions are met:

Ignition turned on
Motion is detected by the built-in accelerometer (e.g. vehicle is towed)

There are four depth levels of the sleep mode:

GPS sleep. On this level of the sleep mode, the device turns off the GPS module and continues to make new periodic updates. As a result, power consumption is reduced, which in turn saves the car's battery power. In this mode, the consumption of the device is 15mAh on average.
Deep sleep. The GPS module and cellular modules are both turned off. If you consider using this mode, remember that it won't be possible to "wake up" the device remotely with an SMS command or update its configuration immediately. In the Deep sleep mode, the device consumes an average of 5mAh.
Online Deep Sleep. The device works similar to Deep sleep mode, but without disconnecting from the cellular network. The connectivity module stays on, so it slightly increases power consumption, but lets you reconfigure the device anytime and get responses via SMS. In the Online Deep Sleep mode, the device consumes an average of 8mAh.
Ultra Sleep. In the Ultra sleep mode, most of the device's electronic modules (except the accelerometer) are disabled, so the device goes on standby completely for maximum power saving. Though similar to the Deep sleep mode, the ignition status in Ultra mode is detected only with the OBD port pin, so we recommend making sure that's suitable for your vehicles. In Ultra Sleep mode, the consumption of the device is an average of 4mAh.

For the majority of real-life situations, GPS sleep and Online Deep Sleep modes are sufficient. By default, Sleep mode is disabled.

On roaming
If a device is expected to operate in the roaming network (e.g. during cross-border trips), separate tracking settings can be configured for "While driving" and "While parking" modes. These alternative configurations are activated automatically when the vehicle flips between home and roaming networks. For example, in the "On Roaming" mode, you can decrease the frequency of location updates to reduce data consumption and costs in roaming.
All sleep modes and parameters can be configured remotely via SMS or IP command, as well as locally via a USB cable and Windows-based configurator.
Telematics service providers usually need to thoroughly consider parameters for tracking modes set for the devices to find the right balance between track quality and data costs. Below, we provide recommended configurations for the Morey MCX101 device in specific environments:
City environment: track quality preferred
City environment: cost saving preferred
While driving

| | |
| --- | --- |
| Time | 60s |
| Distance | 100m (328ft) |
| Cornering | 15° |
| Speed change | 10 |

| | |
| --- | --- |
| Time | 120s |
| Distance | 200m (656ft) |
| Cornering | 20° |
| Speed change | 10 |

While parking

| | |
| --- | --- |
| Time | 180s |
| Delay after ignition is off | 5 minutes |

| | |
| --- | --- |
| Time | 600s |
| Delay after ignition is off | 5 minutes |

Sleep mode
Online deep sleep
Online deep sleep
Track image
(screenshot roundabout) + Navixy product placement logo

(screenshot roundabout) + Navixy product placement logo

Data consumption
XX MB / 1000 miles (avg)
XX MB / 1000 miles (avg)
Highway environment: track quality preferred
Highway environment: cost saving preferred
While driving

| | |
| --- | --- |
| Time | 60s |
| Distance | 100m (328ft) |
| Cornering | 15° |
| Speed change | 10 |

| | |
| --- | --- |
| Time | 120s |
| Distance | 200m (656ft) |
| Cornering | 20° |
| Speed change | 10 |

While parking

| | |
| --- | --- |
| Time | 180s |
| Delay after ignition is off | 5 minutes |

| | |
| --- | --- |
| Time | 600s |
| Delay after ignition is off | 5 minutes |

Sleep mode
Online deep sleep
Online deep sleep
Track image
(screenshot highway) + Navixy product placement logo

(screenshot highway) + Navixy product placement logo

Data consumption
XX MB / 1000 miles (avg)
XX MB / 1000 miles (avg)
Determining driving and parking statuses
Vehicle driving and idling status determination is closely related to the ignition status, which in turn is detected based on information from the four sources listed below, going from most to least exact.
Source
Description 
PIN 1
If there is power on the ignition pin (number 1) of the OBDII connector
Board voltage
When the engine is on, the board voltage increases (which also allows the battery to be charged by the alternator). This change in voltage is used for ignition detection. By default, this is 13 volts, which is the recommended value for vehicles with 12-volt board voltage and can be fine-tuned if necessary. For trucks, tractors, and other heavy-duty vehicles with 24-volt board voltage, the threshold needs to be configured to 25 volts. Please note that this source is not suitable for hybrid and electric vehicles.
Motion sensor
This option enables vehicle movement status by the built-in accelerometer. To prevent false triggering (e.g. a strong gust of wind from a passing vehicle), there is a delay threshold parameter for continuous movement. It can be set from 1 to 60 seconds, with a default value of 2 seconds.
Position change
Vehicle movement status is detected by GNSS coordinate change. When coordinates change, concurrent GNSS sources may be used:

GPS
GPS + Beidou
GPS + GNSS
GPS + Galileo + GNSS
Starting with firmware version 03.25.14, it is possible to use a combination of multiple (1 to 4) sources simultaneously to detect vehicle movement and/or idling status.
Odometer: CAN and GPS
The mileage on the Morey MCX1M1 can be read via two methods:
Readings from vehicle CAN bus
This is the exact same value that is displayed on the vehicle's dashboard. This could be an ideal source of mileage information, but this parameter (OEM Total Mileage) can't be read from every vehicle. Morey provides the full list of makes and models that are supported with the current HW and SW versions.
GPS-based mileage
An alternative way of acquiring mileage information is with the internal counter of miles driven. The counter is updated at a very frequent rate (independently from the parameters set for the tracking modes), which brings highly accurate measurements. However, the mileage in this case will be different from the mileage stated on the vehicle's dashboard. In practice, the difference between the readings from GPS and vehicle odometer may be within 5 to 15%.
In Navixy, both data sources can be used for mileage calculations. Their actual values are displayed in the corresponding widgets, and are used in analytical reports (including fuel consumption) and predictions.
For GPS based mileage, the counter displayed in the web or mobile interface may be adjusted for convenience. Also, the value can be automatically adjusted by an empirical coefficient for better accuracy.
Cell ID positioning
Even though the Morey MCX1M1 has high GPS sensitivity, there are instances when the satellite signal needs to be backed up with Cell ID positioning (also referred to as LBS or Location-Based Services positioning), including:
In subterranean, multi-level parking areas where there is no GPS signal reception
In covered areas with unstable satellite coverage
As protection against theft via jamming devices
As a type of supplemental technology, Cell ID positioning is less accurate in comparison to satellite navigation. In practice, the accuracy of an estimated position mostly ranges between 300-1000 yards in urban areas and between 2-5 miles in rural areas. While using LBS positioning as backup technology, the Morey MCX1M1 constantly searches for satellite signals and, once restored, switches back to satellite positioning.
LBS positioning is available with the Morey MCX1M1 and it is not configurable. Navixy fully supports LBS technology in 240 countries by transforming the CID data received from the devices to its approximate position. This feature may be configured by setting the minimum required accuracy (so less accurate positions will not be considered as valid) or completely disabled.
Events with flexible configuration
The Morey MCX1M1 has advanced onboard logic that sets it above the competition and significantly expands the device's range of applications. Its sophisticated algorithms and flexible configuration provide access to information from GPS and cellular modules, and its accelerometer, power voltage, and OBDII data stream can detect many real-life situations related to vehicle security and efficiency.
Featured events
First, let's review some of the most noticeable features that many of Morey's competitors lack or are simply inferior to in terms of logic.
Ignition start / stop
In the Morey OBD device, the ignition state is determined from any of the following three sources: board voltage, engine RPM, or movement detected by the accelerometer. This helps to correctly determine the ignition state on conventional and electric cars, LCVs, and heavy-duty vehicles.
Board voltage. Since the device is powered from the OBDII port, it can directly measure board voltage. If the voltage level is higher than the adjustable threshold set for 12V or 24V vehicles, the ignition is considered to be in the ON state; otherwise, it is in the OFF state. This method is not suitable for electric vehicles.
Engine RPM. This method is only applicable for conventional vehicles and only if the engine RPM value is accessible in the OBDII data stream. Any RPM value above zero switches the ignition state to ON.
Accelerometer. When the built-in G-sensor detects movement, the ignition goes to ON. Otherwise, it is OFF.
When two or more sources are selected, at least one condition must be met to change the ignition state.
Towing
Towing alert triggers when a parked vehicle (with the engine switched off) starts moving, which is detected with the built-in accelerometer.
Specifically, the alert is sent when the ignition is off but the acceleration or tilt angle reaches the set threshold value. The feature can be configured through the thresholds for the tilt angle (0.5-30°), acceleration (0.1-10 g), impact duration, and time to activate and deactivate after the ignition state change. This flexibility covers a wide range of applications and helps to avoid false triggering, such as when the driver and passengers are getting into the vehicle.
Tracker removal
This event is generated when the device is unplugged from the OBDII port. It has two modes:
Standard – based on external power only and recommended for most vehicles where the OBDII port continues to supply power after the vehicle's ignition was switched off.
Advanced – defined by the combination of external power and accelerometer. It is suitable for some vehicles where power is not supplied via OBDII port after the ignition is switched off.
Geofence
Geofence related events are the most common as they make it possible to detect and analyze situations when a vehicle enters or leaves certain areas. While in most cases it's easier and advantageous to detect these events on the server side, in some cases it's necessary to monitor geofences on the device level. One of these cases, for example, is related to vehicle theft prevention. The Morey MCX1M1 has a special and unique feature called "Auto Geofence."
| | |
| --- | --- |
| Geofence type | Description |
| Manual geofence | Device allows setting up to 50 rectangular or circle geofences with notifications on exit, entry, and speed exceeded inside the geofence. |
| Auto geofence | This unique feature allows users to be notified when a parked vehicle is being towed. If enabled, it automatically creates a temporary circle geofence when the car is parked. The center of the geofence is set to the last known GNSS position. The default radius of 100 meters and the delay when the rule is activated can be adjusted. If the car leaves the auto geofence, the device sends a notification. |
All the geofence-based events are fully supported in the Navixy platform. Users can flexibly set notifications about the corresponding alerts by SMS, email, and push notifications. Advanced geofence features in Navixy include easy-to-edit geofences (circle, polygonal), multiple geofences per rule, and time constraints (e.g., only active on weekdays). Software developers can use these notifications as triggers in their apps.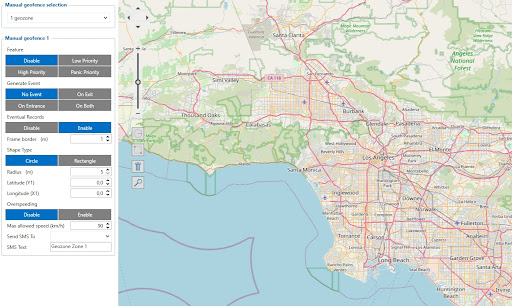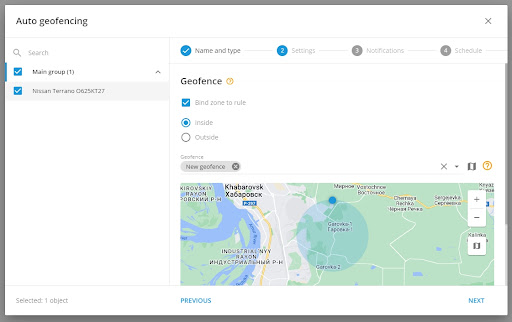 Driver behavior
The Morey MCX1M1 device can analyze six parameters that relate to the driver behavior:
Excessive idling
Harsh acceleration
Harsh braking
Harsh cornering
Speeding
Excessive engine RPM
All of these parameters are configurable, allowing various vehicle types, from cars to heavy-duty vehicles, to use this functionality, as well as in different environments, such as roadways, construction sites, factory facilities, and more.
Crash Detection
Crash detection functionality is used for early response to accidents and in telematics insurance applications.
Once enabled, the feature monitors acceleration along each of the three axes for potential collisions. Thresholds for acceleration and duration enable the device to detect impacts of different severities, from slight bumps to serious crashes.
Besides the collision itself, the Morey MCX1M1 can collect detailed data from the accelerometer, GNSS module, and optional Bluetooth sensors. This data contains high frequency measurements prior to and after the accident and is immediately sent to the server using an optimized data exchange protocol.
Custom events
For more specific applications, the Morey MCX1M1 offers customized events based on monitoring various parameters listed in the table below. If a certain parameter changes or its value fits into the specified range, the corresponding event is reported to the server.
Ignition (on/off selected ignition)
Battery Voltage (internal battery voltage)
Ignition On Counter (hour meter)
Movement (start of movement, in sec)
Battery Current (current consumption internal battery)
BLE Battery (battery charge of the BLE sensor)
Data Mode (TCP/UDP)
Active GSM Operator (operator code)
BLE Humidity (humidity control)
GSM Signal (%, GSM level)
Trip Odometer (current trip mileage)
BLE RFID (driver identification)
Sleep Mode (changing sleep mode)
Total Odometer (total mileage after installing the device)
BT Status
GNSS Status (number of satellites)
Digital Input 1 (voltage on pin #1)
BLE Fuel Level (fuel control)
GNSS PDOP/HDOP (GNSS horizontal/vertical accuracy)
Fuel Used GPS (total consumption)
BLE Luminosity (cargo opening control)
External Voltage (on-board network)
Fuel Rate GPS (consumption per 100 km)
BLE Custom (custom sensor)
Speed (GPS speed)
Instant movement (instant movement)
BLE Fuel Frequency (fuel control)
UMTS/LTE Cell ID (Tower ID)
Battery Level % (discharge of the internal battery)
BLE Button (SOS button)
GSM Area Code (LAC of the tower)
Network Type (network type 3G / LTE, etc.)
BLE Temperature (temperature control)
Axis X,Y,Z (acceleration along three axes)
User ID (tag/driver ID Blue Slim ID)
ICCID (SIM change)
Eco Score (driver rating)
Basic events
We didn't cover every basic event here since they're either standard for GPS trackers at this level or simply not relevant for OBD devices. These events include, but aren't limited to, speeding, idling, and jamming.
It's worth mentioning though that the Morey MCX1M1 does not have anti-tampering features, such as a casing opening alert. To address that issue, fleet managers should consider sealing the device.
Communicating events to driver
The Morey MCX1M1 does not have a speaker or buzzer, so it's not possible to directly inform the driver about any triggered events from the device itself. However, for training purposes, the driver may be notified in alternative ways:
Navixy app that comes as a component of the fleet management software, which allows drivers and fleet managers to monitor vehicle location and parameters, both current and historical, and be notified about important events.
Morey driver app that communicates with the device via Bluetooth and allows drivers to receive Push notifications.
Fuel saving features
GPS/OBD odometer and fuel readings aren't the only ways to calculate MPG for fuel savings. The Morey MCX1M1 has other unique features to measure fuel consumption more efficiently and encourage more economical driving habits.
GNSS Fuel Counter
The Morey MCX1M1 can use GNSS to calculate fuel usage based on the distance traveled and display the consumption rate in various speed modes.
The parameters of the fuel consumption meter are set according to the consumption rates of a particular vehicle, according to its technical documentation. In this case, you can specify values ​​​​for three driving modes determined by speed ranges (default values are ​​but can be changed):
City – 18 mph (about 30 km/h)
Medium – 38 mph (about 60 km/h)
Highway – 56 mph (about 90 km/h)
For more accurate fuel consumption calculations, the values ​​of additional empirical parameters are required, which can be fully justified for fleets with the same type of vehicles.
In highway driving mode, add 20% to the base consumption for every 50 km/h (31 mph) above the specified limit. However, these thresholds and allowances can be overridden. In winter, when fuel is consumed by 7-10% more, you can also use a correction factor. It will be applied to the calculated value before it is passed to the server.
Idling Fuel Consumption (L/h) is used to calculate fuel consumption when the ignition is on but the vehicle is stationary. The default flow rate is 1 L/h, with a minimum and maximum value of 0 and 5 L/h, respectively. This figure is less than 1.0 L/h for almost all diesel vehicles and is approximately 1.5 – 2.0 L/h for gas vehicles.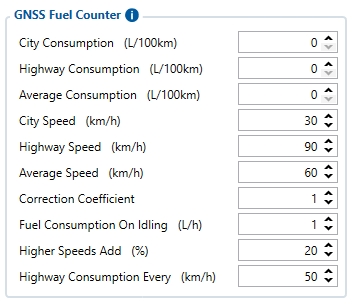 Eco/Green Driving
Since aggressive driving causes increased fuel consumption, vehicle wear, accidents, and fines, the total cost of owning a vehicle often depends on how the driver drives it.
The Eco Driving function allows you to reliably determine how carefully employees are driving. The Morey MCX1M1 analyzes six parameters and evaluates each trip on a scale from 0 to 10 points.
Main parameters:
Sharp acceleration
Hard braking
Sharp turn
Additional parameters (taken into account optionally):
Exceeding the set speed limit
Extended downtime with engine running
Excessively high engine speed (if this parameter is read via OBDII)
The rating value ranges from 0.00 to 10.00 (excellent):
| | | | | |
| --- | --- | --- | --- | --- |
| Very bad  (0.00 – 1.99) | Bad (2.00 – 3.99) | Medium (4.00 – 5.99) | Good (6.00 – 7.99) | Excellent (8.00 – 10.00) |
Accordingly, the ECOscore is determined by the formula:
ECOscore = (10 / Egen) × (D × Eallowed / 100)
Where:
E allowed = The number of allowed events of this type per 100 km of tracking
D = Distance traveled in km
E gen = Total generated events
After installation, the accelerometer is calibrated once to ensure the Eco Driving function operates properly. The automatic calibration process is as follows:
Stop the car on a flat, straight road without a slope
Send SMS command "auto_alibrate:set"
Accelerate within 5 seconds to a speed of at least 18 mph (30 km/h).
Successful completion of the calibration is confirmed by an SMS message.
OBD reading capabilities
The Morey MCX1M1 has advanced capabilities for obtaining OBDII data as defined by the SAE J1979 standard. Besides the common information that is required by environment regulations and thus supported by all vehicle manufacturers, the Morey OBDII device also decodes custom, manufacturer-defined blocks of data. This extra information is gathered from both conventional and electric vehicles and delivers unique benefits that are not available with many competitors. This makes the MCX1M1 a good choice for applications that depend on extensive vehicle telemetry, including leasing and car-sharing fleets, insurance telematics, and corporate vehicles.
Starting from the firmware version 03.27.12.Rev.143 released in May 2022, the Morey MCX1M1 features full OBD II data PIDs. The company continuously pays attention to OBDII data readings by adding new manufacturer-defined parameters and sharing detailed information with customers about what data can be acquired from specific vehicles.
Common OBD parameters
Readings of all OBDII data PIDs result in
| Property Name | Description | Units |
| --- | --- | --- |
| VIN | VIN number | – |
| Number of DTC | Number of DTC (number of errors) | – |
| Engine Load | Calculated engine load value | % |
| Coolant Temperature | Engine coolant temperature | °C |
| Short Fuel Trim | Short term fuel trim 1 | % |
| Fuel pressure | Fuel pressure | kPa |
| Intake MAP | Intake manifold absolute pressure | kPa |
| Engine RPM | Engine RPM | rpm |
| Vehicle Speed | Vehicle Speed | km/h |
| Timing Advance | Timing advance | ° |
| Intake Air Temperature | Intake Air Temperature | °C |
| MAF | MAF air flow rate | g/sec |
| Throttle Position | Throttle Position | % |
| Runtime since engine start | Runtime since engine start | s |
| Distance Traveled MIL On | Distance traveled MIL on | km |
| Relative Fuel Rail Pressure | Relative Fuel Rail Pressure | kPa |
| Direct Fuel Rail Pressure | Direct Fuel Rail Pressure | kPa |
| Commanded EGR | Commanded EGR | % |
| EGR Error | EGR Error | % |
| Fuel Level | Fuel Level | % |
| Distance Since Codes Clear | Distance Since Codes Clear | km |
| Barometric Pressure | Barometric Pressure | kPa |
| Control Module Voltage | Control Module Voltage | V |
| Absolute Load Value | Absolute Load Value | % |
| Fuel Type | Fuel Type | – |
| Ambient Air Temperature | Ambient Air Temperature | °C |
| Time Run With MIL On | Time Run With MIL On | min |
| Time Since Codes Cleared | Time Since Codes Cleared | min |
| Absolute Fuel Rail Pressure | Absolute Fuel Rail Pressure | kPa |
| Hybrid battery pack life | Hybrid battery pack remaining life | % |
| Engine Oil Temperature | Engine Oil Temperature | °C |
| Fuel injection timing | Fuel injection timing | ° |
| Hybrid System Voltage | Hybrid vehicle system voltage | V |
| Hybrid System Current | Hybrid vehicle system current | A |
| Fault Codes | Fault Codes (values separated via ",") (error numbers) | – |
| Fuel Rate | Engine fuel rate, L/h*100 | L/h |
OEM OBD parameters
While there is tendency for car manufacturers to restrict access to OBD data readings, Morey engineers work relentlessly on expanding the list of car models that support reading fuel and mileage information. The company maintains the lists of cars supported and tested, as well as which parameters are supported.
Thanks to the support of OEM OBD parameters, it's also possible to use the Morey GPS device in electric vehicles. Available parameters for EV and Hybrid vehicles include:
| | | |
| --- | --- | --- |
| Property Name | Description | Units |
| OBD OEM Total Mileage | Total mileage received by requesting vehicle specific PID | km |
| OBD OEM Fuel Level | Fuel level in liters received by requesting vehicle specific PID | L |
| OEM Battery charge state | 0 – Not charging1 – Charging | 0/1 |
| OEM Battery charge level | Represents battery charged level | % |
| OEM Battery power consumption | Represents battery power consumption | kWh/100km |
| OEM Remaining distance | Remaining distance until fuel tank empty or battery (EV) is depleted | km |
The list of tested EV/Hybrid car makers and models is constantly growing and includes Tesla, Audi, BMW, Hyundai, Kia, Smart, and others. It also provides details about what data is potentially available in similar cars.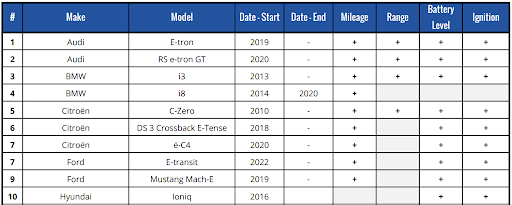 Bluetooth connectivity
The Morey MCX1M1 is equipped with Bluetooth LE 4.0, which may be used for connecting external equipment, such as sensors, and for configuring the device from a PC or via the mobile app.
Connecting external equipment. BLE connectivity is not unique to Morey OBD trackers; a number of competitors also offer this feature. However, Morey's implementation of Bluetooth can be praised for a very wide range of supported sensors and other equipment:

Wireless interlock relay (interrupting ignition or fuel pump)
Wireless panic button
Measuring sensors for fuel (for example, Escort TD-BLE), temperature and humidity, magnetic field (EYE Beacon / EYE Sensor or Escort TH-BLE)
Magnetic field sensor and light sensor (to detect the opening of a container or cargo)
Driver ID (Blue Slim ID)
Tire pressure sensor (only supported by Continental TPMS)
Up to four Bluetooth devices can be connected to the MCX1M1 tracker simultaneously.
Device configuration. The device can be configured from a PC via Windows software or USB cable. Additionally, there is a mobile app which allows for limited configuration of basic settings such as APN and server connection.
Configuration: Local and OTA
The device can be configured both locally and remotely. The firmware has password protection to prevent settings from being changed by an unauthorized person.
Local configuration
USB connection
A standard USB / micro USB cable is used for connecting the device to a PC. There is a Windows-based configuration tool provided by the manufacturer.
Bluetooth connection
A device may be configured from a PC in the same manner as via USB. Additionally, there is an Android mobile app that allows limited configuration of basic parameters including APN and server connection.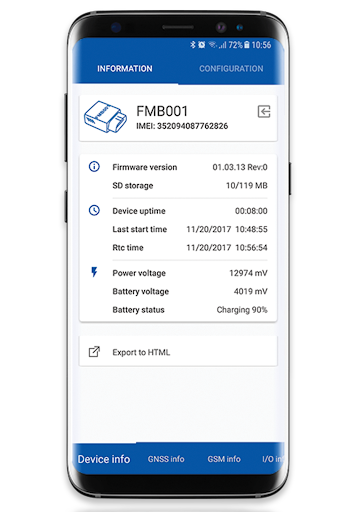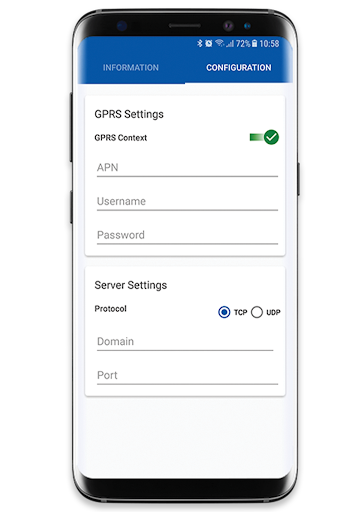 Remote configuration
SMS commands
SMS commands enable remotely changing the complete range of the device settings. Once the command is executed, the sender receives an SMS response.One particular issue with SMS commands is that their syntax requires that the device login and password come at the beginning of every command, delimited with spaces. If these are not set (particularly when the device is brand new), it results in two leading spaces in the text message. Unfortunately, many SMS gateways services, including popular choices like Twilio and Nexmo, remove these spaces at the beginning as insignificant, and the command fails to execute.
IP commands
Once the connection to the server is established, the device can execute binary IP commands with a response to the server. The majority of device parameters can be set remotely, including firmware updates, meaning that OTA configuration has practically no restrictions.
Remote management for Morey devices is fully supported in Navixy and implemented through both SMS and IP channels. For higher cost efficiency, Navixy generally relies on IP communication for automatic activation, setting changes by users, and configuration/diagnostic tools for technicians and support teams. As a ​​workaround for the double leading spaces in the SMS channel, Navixy offers dedicated paths for IoT commands sent to Morey devices.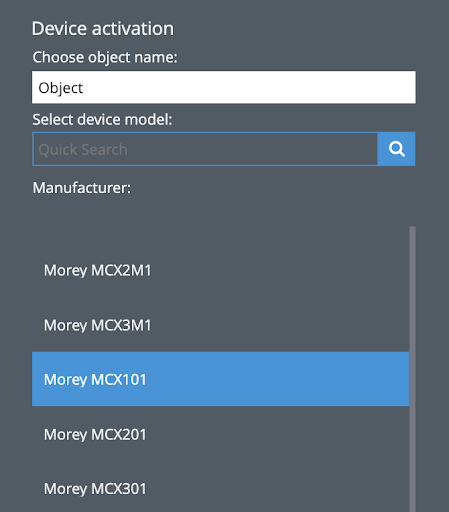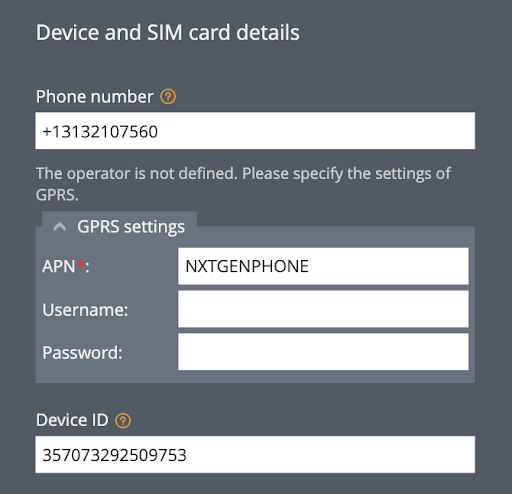 The bottom line
The Morey MCX series is a fully-fledged and highly configurable OBD tracking device. Its fully remote (OTA) updates via IP and SMS and extensive OBDII readings (full PIDs including OEM) make it a good choice for conventional cars, hybrid and electric models, vans, and light trucks of various manufacturers.
The MCX1M1 and MCX101 receive continuous support from the manufacturer and improvements via FOTA, so it will likely provide even more functionalities in the future. These devices also have good stability from a proven vendor, which means extremely low chances for device reboots, resets, or halts.
Downsides: Device assembly and the quality of materials is good but could be a bit better. However, the price is more than reasonable. A backup battery with a 3-hour charge on average may be a bit limited for some cases. There are no anti-tampering measures, which means the device can be easily opened (no screw driver is needed), but also readily fixed with sealing.
Even though it is suitable for 24V, the MCX1M1 and MXC101 can't read CAN bus data from heavy-duty vehicles since the J1939 protocol isn't supported.
Overall, these trackers are a good choice for the US. The MXC1M1 is certified 4G LTE Cat M1, which means it can operate in the US and basically any other country with sufficient 4G coverage. The Morey MCX101 has Cat 1 support for global connectivity.
Looking for recommended models in other countries? Check out our OBDII tracker comparison table for our suggestions in major regions.