What is the future of telematics? When will it become widespread? How to deliver the value of telematics to the end customers? These were the questions that a group of experts led by the session host, Den Demianikov from Navixy, had to discuss in the framework of Telematics conference and expo CEEurope, part 1. Part 2 will take place next month already on December, 15th.
In the candid talk, the panelists shared their experience, their concerns, but above all — their insightful and open-minded ideas. If you couldn't be there or missed the conference or want to remember how it went, we'd like to share some of the key takeaways from the event.
Is telematics mass-market?
While a number of IT-products turned out to be quite popular throughout the industries, e.g. CRMs and ERPs, telematics is not there yet. Den Demyanikov starts with a straightforward idea: If you ask a random person on the street, 'What is telematics?' most certainly they won't understand you. In business terms, it means companies don't realize the value of implementing telematics.
If you ask a random person on the street, 'What is telematics?' most certainly they won't understand you.
So, what stops telematics from becoming widespread? The panelists singled out three major challenges.
Market difference
Countries have different telematics penetration rates and therefore require different solutions. For Latin America and Africa, the main issue is still security. For Europe and North America, the focus is on efficiency and tech progress. Edmundo Muñoz Henríquez, who relocated from Chile to Lithuania and represents a hardware manufacturer, knows it first-hand and suggests: We need a solution, that meets the requirements of both sides.
Lack of standardization
Den Demianikov shares: "Telematics is all about the data. But now, as I see it, telematics is a bit chaotic. There are no specific rules or a single standard". The same idea was supported by Colin Sutherland of Geotab in the previous session, as he mentioned multiple legislations in different companies. All the participants understand these concerns. The data should be stored, but who shall be responsible for it? Armands Viksna of Mapon suggests government support might be the solution.
Telematics is all about the data. But now, as I see it, telematics is a bit chaotic. There are no specific rules or a single standard.
Small companies are not ready for API
No software provider can build a solution that fits all the specific requirements. API can easily help with that. Unfortunately, not all businesses are ready to hire developers and use this amazing tool. Armands Viksna shares, that though many enterprises can boast an in-house developers team, for small businesses it's a struggle.
Knowing the challenges, now we can focus on the ways out. The participants agree that the solution must be comprehensive. Maria Ilicheva from Omnicomm suggests the form: clients want a single platform that can do it all, from GPS tracking to detailed fuel consumption and more.
What might be the remedy for telematics?
There are many applications and solutions on the market. Which one of them is the future?
Electric vehicles and wireless. Though it seems to be an absolute trend, the conference attendees were divided in their opinions. Wireless or hard-wired? Each technology has its adepts. In North America, emerging technologies and OTA are gaining momentum. Yet for many other parts of the world, EVs are too futuristic.
Working with OEMs. Aftermarket sales need separate GPS devices. When it comes to new vehicles, some manufacturers apply telematics by design as they wish to offer their clients more high-tech features. A lot of software companies now collaborate with OEMs to complete the business workflows.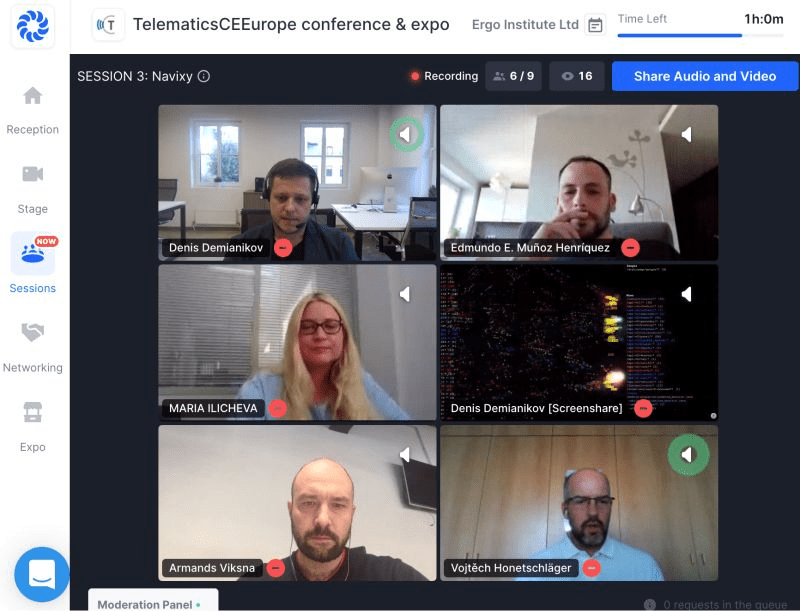 Free/ open-source telematics. Can telematics data become free of charge as it happened to basic GPS tracking? Sure. Vojtěch Honetschläger, of CEDA maps, suggests: the data might be free for non-commercial applications and paid for further developments by businesses or the government.
Data as a service. A few platforms offer anonymized location-based data. It works great for big solutions, like connected cities, but requires extra efforts for smaller companies. To make the data a valuable asset for end customers, it should be parsed, aggregated, and delivered exactly the way they want it.
Answering the main question: what's the future of telematics
So, is the future of telematics a particular tool? Creating separate features is not a trend anymore, you should create an impact, Den Demianikov says. The participants agree: you can't be good for every end customer, so focus on creating opportunities instead. Adaptive and advanced API fits the description. At Navixy we support this vision, as our partners in both hemispheres are using API to create unique solutions. That trend has proven its value many times over, so yes, API is one of the winners.
Creating separate features is not a trend anymore. Focus on creating opportunities instead.
And definitely, we can't neglect the generation of millennials and their favorite tool – smartphones. Businesses love mobile technology just as much. Den Demianikov explains, "Many telematics stakeholders see cell phones as hardware". It can be a game-changer for price-sensitive regions, where GPS trackers and IoT hardware installation can be quite costly. Even hardware manufacturers turn to mobile apps: fuel sensor vendors now offer a mobile app for easy and remote management of their devices.
Many telematics stakeholders see cell phones as GPS hardware.
We'd like to thank the panelists and organizers of the Telematics conference and expo for the great event and a wonderful networking opportunity. Don't miss your chance to register for the 2nd part of the Telematics conference on December 15th. Let us know if you're in.
As for the future of telematics, do you agree with the experts' predictions? Do you have anything to add? Leave your comments in the section below or on our social media, we'd love to hear your opinion.