Over the years we've teamed up with many best-in-class software developers and solution providers, helping partners all over the globe build successful and in-demand GPS and telematics services. The suite of required options is hardly ever the same: some partners need straightforward tools (layouts, chats, etc.), some need integrations with advanced hardware, e.g. MDVR and ADAS. Global services seek after SMS gateways and payment systems.
As needs and businesses develop, so do the features we offer. With the set of available extensions and integrations growing bigger and bigger, we saw no better option than to launch our own Marketplace. What Navixy Marketplace is, what it has in stock and how it helps partners reach new objectives and milestones is covered in this article.
What's on the market
Serving as both a developer and a mediator, Navixy Marketplace offers apps, add-ons, plug-ins, extensions and integrations created in-house and externally – all in one place.
The items are sorted by products (GPS Asset Tracking, Fleet Management, Field Service Management) and extended features (cameras and ADAS, cartography, payments, etc.), showcasing related products for each item to provide the full picture. Detailed descriptions and basic requirements are available immediately alongside each option.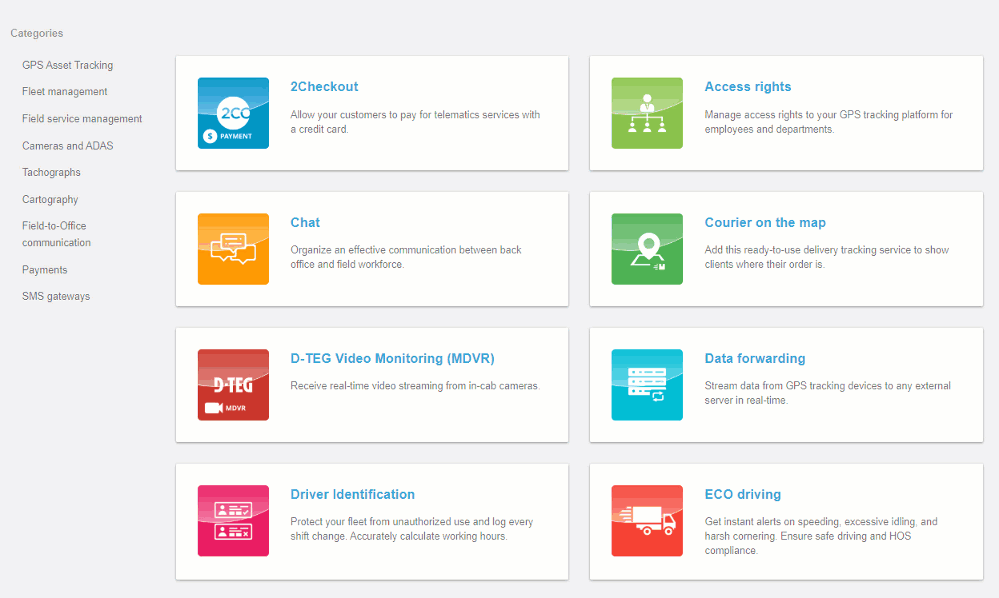 A launch pad for most ambitious business plans
Select the tools for your service. Navixy Marketplace is the place to buy or simply pick-up due to a wide range of free options. The products are available around the clock: take time to study and compare solutions and tools and choose the best match for your business.
The new resource allows Value Added Resellers (VARs) to create unique and industry-specific services without a hitch. Select the features you actually need and reinforce your solution with useful plug-ins and add-ons to anticipate the needs of your clients. Reach global customers with payment gateways and international connectivity partners of your choice.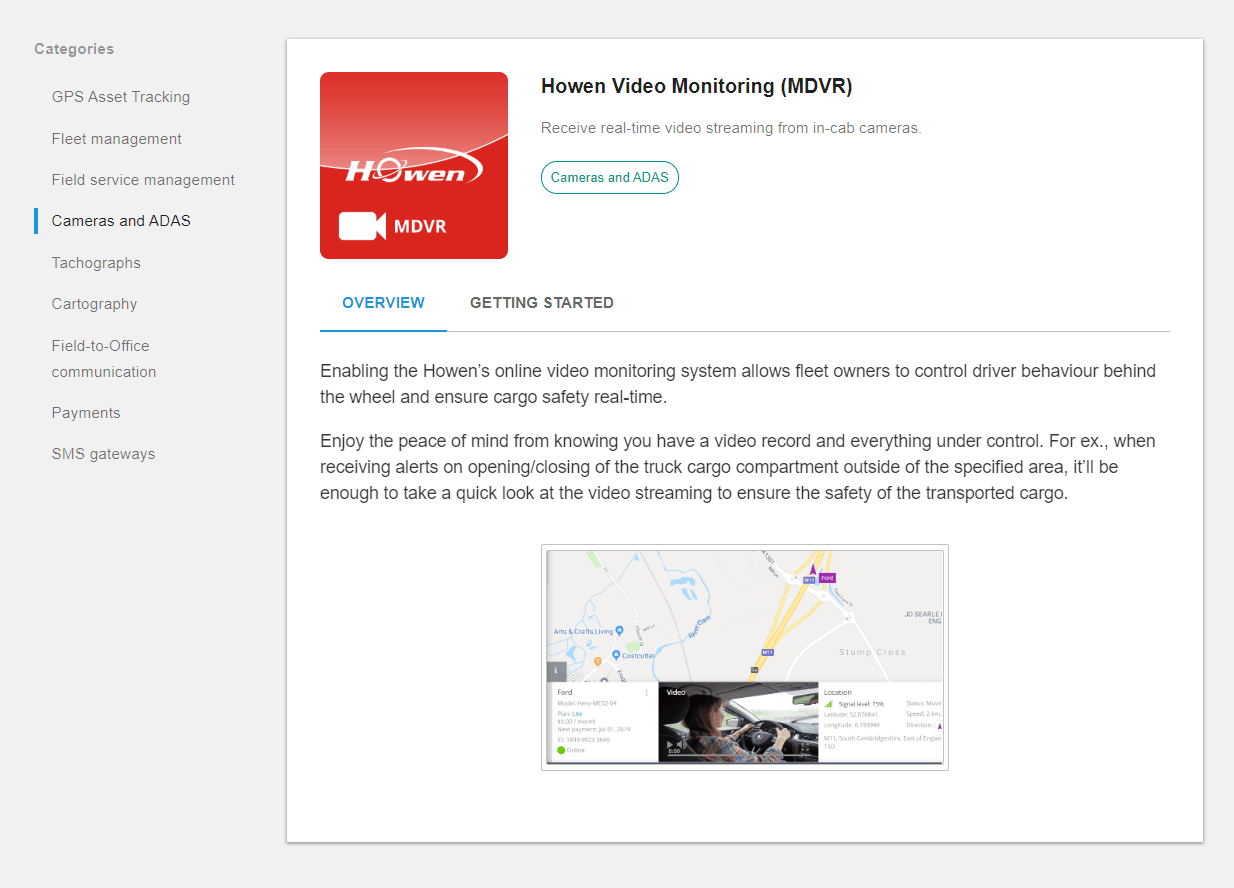 At the same time with Navixy Marketplace everyone can be a merchant: get international recognition not only as a GPS and telematics service provider but as an insightful IoT developer and integrator.
Introduce your product via Navixy, collect feedback from telematics professionals, gain profit and expertise. Draw attention to your developments, while Navixy will provide all the support you might need.
Buy, sell and return investments
However, for some partners an off-the-shelf solution, notwithstanding how practical it is, is not enough: they require modifications, unique integrations or out-of-the-box solutions. As these custom developments gain momentum (at least with Navixy partners), we see it as another opportunity to spread the technology among telematics providers.
If a partner has ordered a bespoke solution to be developed by Navixy and wishes to market it for wider audiences, doing so on Navixy Marketplace will be a piece of cake. This option advances global partners with most sophisticated tools and helps initiators return the investments even faster.
To sum up, Marketplace is an important addition to Navixy ecosystem. It's a hybrid marketplace with Navixy and third-party developments on the same platform, where you can both buy and market telematics extensions and apps, as well as share custom developments with other partners. Should you have any questions, requests or offers, please forward them to [email protected], social channels or directly to your Customer Success manager. Can't wait to see your business taking that next big step!