Dual-mode (GSM/satellite) tracking ensures robust connectivity even in areas where GSM connection is unavailable — the device automatically switches between cellular and satellite options so that connectivity costs remain optimal while connection stays reliable.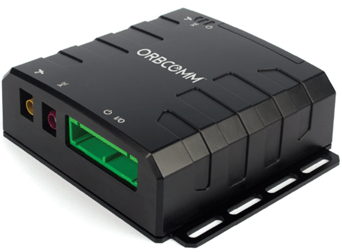 Navixy GPS platform has recently integrated Orbcomm IDP-782 — a dual-mode satellite-cellular terminal. It allows GPS monitoring businesses to cut off the costs of moving in and out of communications networks, while simultaneously employing advanced telematics platform functionality.
How satellite-cellular connectivity works
Dual-mode (GSM/satellite) tracking opportunity essentially provides constant real-time monitoring as well as efficient communication by means of either satellite or cellular networks. Therefore, if a GSM connection in a particular location is unavailable, the system automatically switches to a satellite connection, so connectivity with assets or fleets remains unobstructed.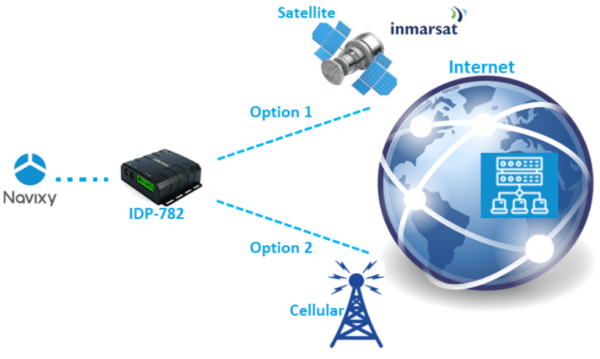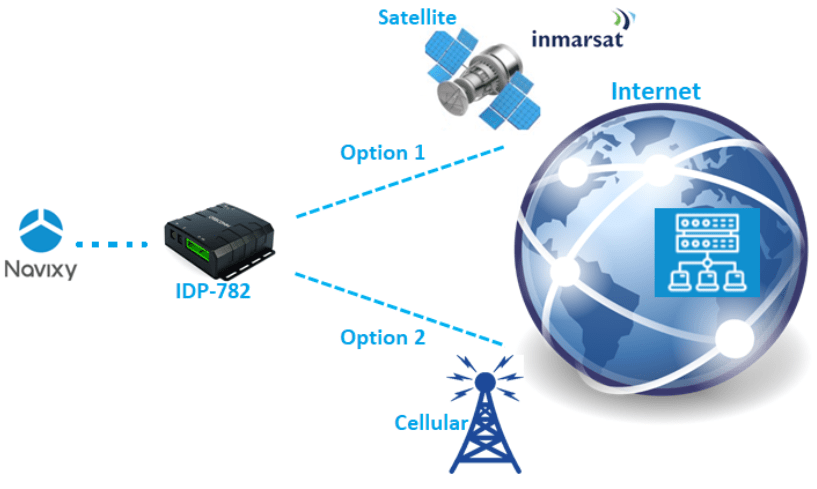 As a result, it forms a cost-effective network with automatic switching capabilities between cellular by-default (HSPA or GPRS) and satellite coverage.
To take advantage of the dual-mode connectivity, business owners have to sign an agreement with satellite network provider Inmarsat and International Civil Aviation Organization (ICAO) for global safety communications. Otherwise, only by-default cellular connectivity will be enabled.
Applications and real use-cases
Employing the advanced telematics platform and satellite-cellular terminal increases GPS tracking business availability. It helps to preserve insightful location data and transport telematics functionality in areas with a lack of cellular coverage (deserts, wild areas, seas, and oceans). In particular, the following businesses would greatly benefit from such a solution:
Transmodal transportation – dual-mode terminal enables insightful tracking at a significant cost saving without compromising tracking, M2M communication, and vehicle as well as cargo monitoring.
Oil & Gas – the timely delivery of oil tanks, special fuel reservoirs, and services by means of the satellite-cellular communication terminal. Opportunities to track vehicles traveling in and out of dangerous areas. Due to the improved temperature range supported by the IDP-782, harsh climates influence (far north and deserts) is dramatically reduced.
Mining – with the IDP-782's reliable, always-on backup satellite communications, mine operators can easily collect location, telemetry, and sensor data in remote locations. Opportunities to protect expensive equipment while keeping drivers safe using the advanced driver behavior monitoring features.
Vessels – IDP-782 satellite-cellular option leads to lower-cost cellular connectivity for near-shore communications and satellite service for accurate and robust offshore communications (since GSM signals could be lost completely offshore).
Defense – cellular connectivity with satellite backup ensures reliable tracking even in geographically difficult areas such as wild areas, deserts, and zones in close proximity to military objects.
Navixy and Orbcomm: broader functionality
In addition to the continuous and cost-efficient dual-mode (GSM/satellite) tracking, a combined Orbcomm-Navixy solution enables not only constant location tracking but also a set of crucial functions for transport telematics. Currently, the solution has the following features supported both by the hardware and software sides:
Driver ID. A crucial feature for companies and enterprises where several drivers share the same vehicle. This function will make business owners aware of who is driving the vehicle at any given moment).
Accelerometer events detection. Harsh driving, towing, or accident detection.
Battery level control. Helps to stay tuned on battery status and charge conditions.
Outputs. Up to 6 outputs that could be set on-demand, for example, to control the engine start, engine stop, engine hours, etc.
Navixy platform is famous and highly regarded among the partners also for its automatic device activation. However, this particular device has very fine-tuned embedded software settings that might be affected by automatic activation. As such, a bit of "hands-on" activation is needed. No worries — our handy and friendly technical support team will be glad to assist you with that.
The solution is already available and if you would like to learn even more about how this solution will benefit your business or how to implement it for a particular use case, please contact our sales team. They will be glad to help.