When it comes to managing a fleet, tracking assets is only part of the equation. In order to ensure that each trip goes smoothly from start to finish, it's also essential to know that your trucks, trailers, cargo, and employees are where they should be. For this reason, Navixy is proud to announce that our platform now supports distance alerts. Today, we'll explain how this technology can help prevent theft, improve safety, and assist with time management.
If you wish to learn more, contact our sales team after reading the article below.
What are distance alerts?
Before we discuss some of the unique characteristics and benefits of distance alerts, it's important to know what these functions are. Essentially, any two GPS trackers can be linked together and report on the distance between them. Moreover, you can decide whether you wish to measure two devices coming together or moving apart, depending on your needs. At the moment, Navixy supports a distance interval of 5 to 20,000,000 meters. Without question, this versatile tech offers a wide range of capabilities and benefits for fleets.
Types of distance alerts
Next, we'd like to explain some of the different distance alerts that are supported by Navixy. Using these, you'll have an easier time mitigating the theft of both vehicles and cargo. Plus, you can ensure safe deliveries and optimize transport logistics.
Truck to trailer: By installing GPS devices in both the truck and the trailer, you'll have the ability to determine if the two have become separated or disconnected.
Vehicle convoys: Similar to truck-to-trailer scenarios, vehicle convoys can also benefit from using distance alerts. If one or more vehicles is separated from the group, the fleet manager will receive an alert.
Geofence: In the Navixy platform, you can establish virtual boundaries, or geofences, to know when a driver enters or exits a designated area to schedule deliveries and appointments more accurately.
Cargo tracking: To ensure that every piece of cargo reaches the destination, you can place GPS trackers on each individual piece to locate stolen or misplaced goods.
Public transportation: Using tracking devices to properly space buses and other forms of public transportation can help with both safety and adhering to consistent time schedules.
What are the benefits of distance alerts?
Thanks to the versatility of distance alerts and the ease of establishing rules in the Navixy platform, you'll have little difficulty implementing them in your fleet. Check out the list of key advantages below to learn how you stand to benefit.
Theft prevention: Unfortunately, cargo theft remains one of the most pressing issues in the logistics industry. With distance alerts, you'll know as soon as a trailer is disconnected from a truck and can contact the proper authorities sooner. Doing so can increase your chances of locating stolen property and reducing your losses.
Increased safety: In addition to helping you keep track of vehicles and assets, distance alerts can also make driving safer. For instance, you'll know if a convoy has been broken up and can contact the driver to see what has happened.
Time management: Distance alerts also assist organizations with planning deliveries and public transit schedules more efficiently. By knowing how far apart two buses are, for instance, dispatchers can determine if a given route needs more service.
Use cases and examples
To help demonstrate just how impactful distance alerts can be, we'd like to call your attention to several recent use cases. Many of the devices mentioned are already supported by Navixy. However, if you have a tracker that you wish to integrate, feel free to get in touch with us. Since distance alerts are device agnostic, you can use them with any tracker. Now let's learn how organizations across the world are taking advantage of this technology.
In a recent customer survey, we discovered that many Navixy customers were using devices like Queclink's GV300 and Suntech's ST4300 to find out if a truck and trailer were separated. Through the Navixy platform, fleet managers can establish parameters to know if the distance between two assets is increasing or decreasing. This can make it easier to tell if a theft or inadvertent detachment has occurred.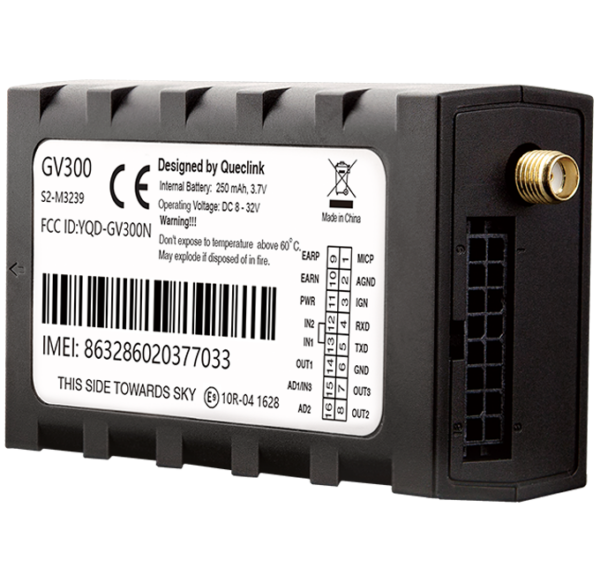 Among other functions, Ruptela's FM-Pro4 allows customers to set virtual limits when combined with the Navixy platform. Once a geofence is in place, you will receive an alert if a driver enters or leaves the designated area. As a result, fleet managers can know when drivers are in certain territories, arriving at a job site, or entering a restricted area, which helps prevent vehicle theft, as well as the unauthorized usage of company property.
To illustrate one final example of how businesses use distance alerts to improve operations, let's direct our attention to TOPFLYtech's TLP2-SFB. To address cold-chain logistic challenges, Walmart installed this solar-powered device on their reefers to stay up to date on movements. Thanks to this, the company was able to learn of potential disruptions that might damage temperature-sensitive cargo.
How to set up distance alerts
In order to take advantage of these benefits, you'll need to create a specific rule within the Navixy platform.
Select one or more main object and controlled object
Select the type of control: removal or approach
Set distance
Select a notification method: push, SMS, or email
If the distance from the main object to the monitored object increases or decreases beyond the specified parameter, an alert will be triggered.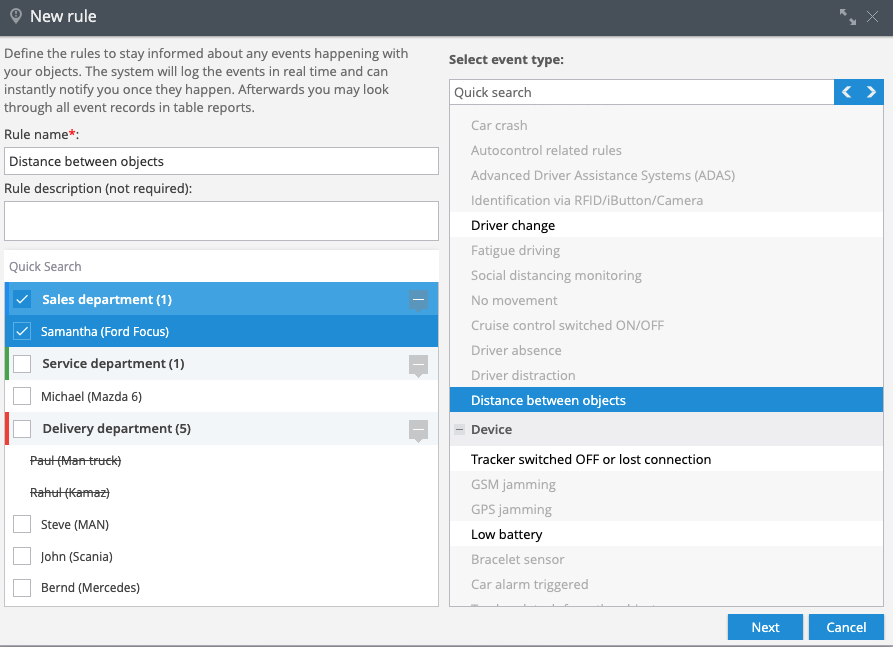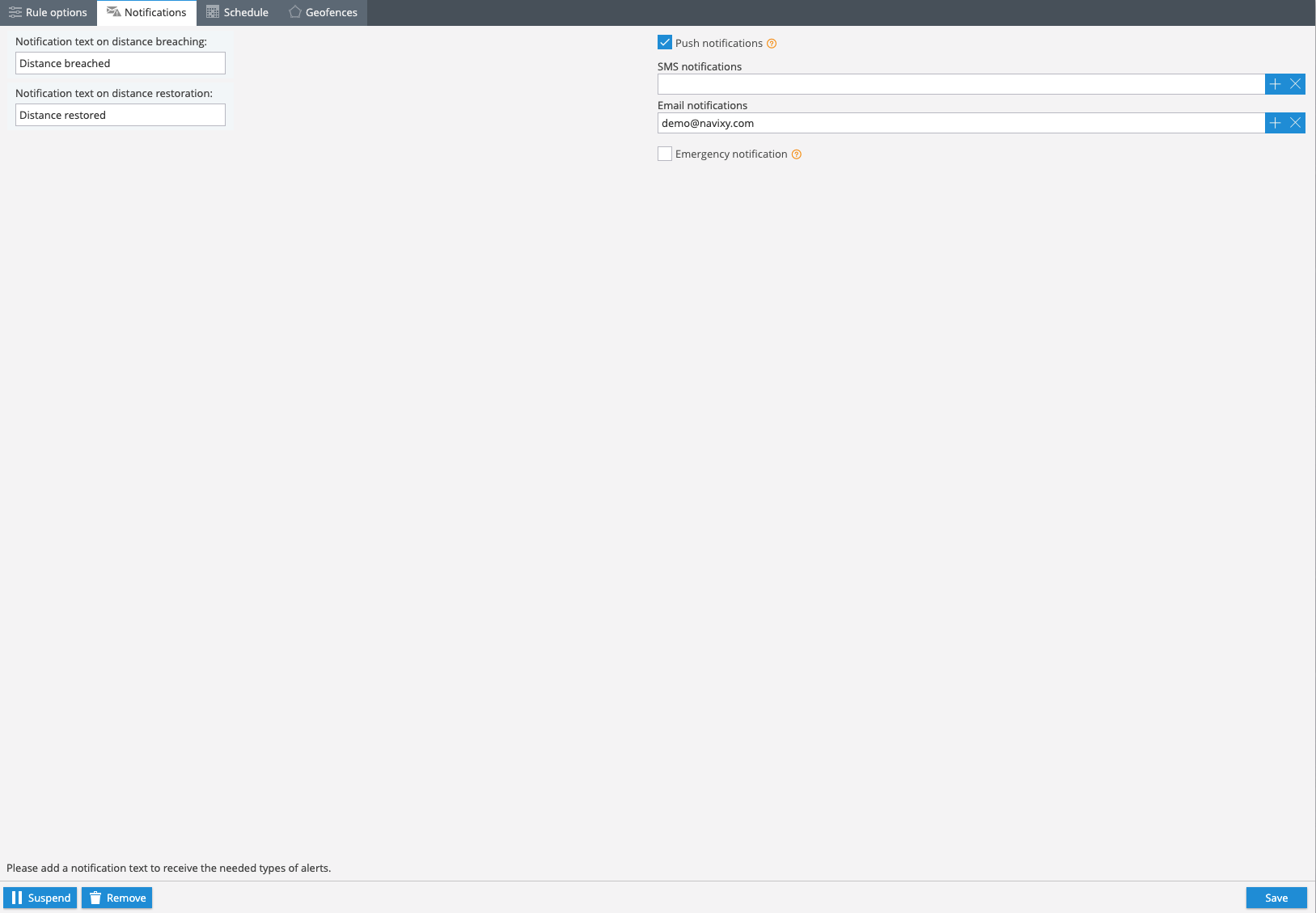 Regardless of your industry or needs, distance alerts can help your business save money and stay safe on the roads. We invite you to try out a demo of the Navixy platform if you'd like to test out these features on our own and see how they work.
You can learn more about the benefits and uses mentioned in this post by speaking to one of our product specialists.