Since 2004, Navixy has committed to building the telematics of tomorrow, but we are aware Navixy is only a part of an ecosystem. Our platform works best when it's paired with the best equipment. Over 17 years of operation, we have partnered with a network of top GPS hardware manufacturers that are helping us to shape the future of IoT.
These manufacturers have created trust among customers by listening to the market's demands, creating innovative products, and sharing our telematics vision. Currently, Navixy hosts over 600,000 assets using about 1,300 integrated GPS devices. We're proud to announce our top 10 GPS tracker manufacturers for 2021, and to share it with all our partners and other telematics stakeholders.
Global Top 10 GPS tracker manufacturers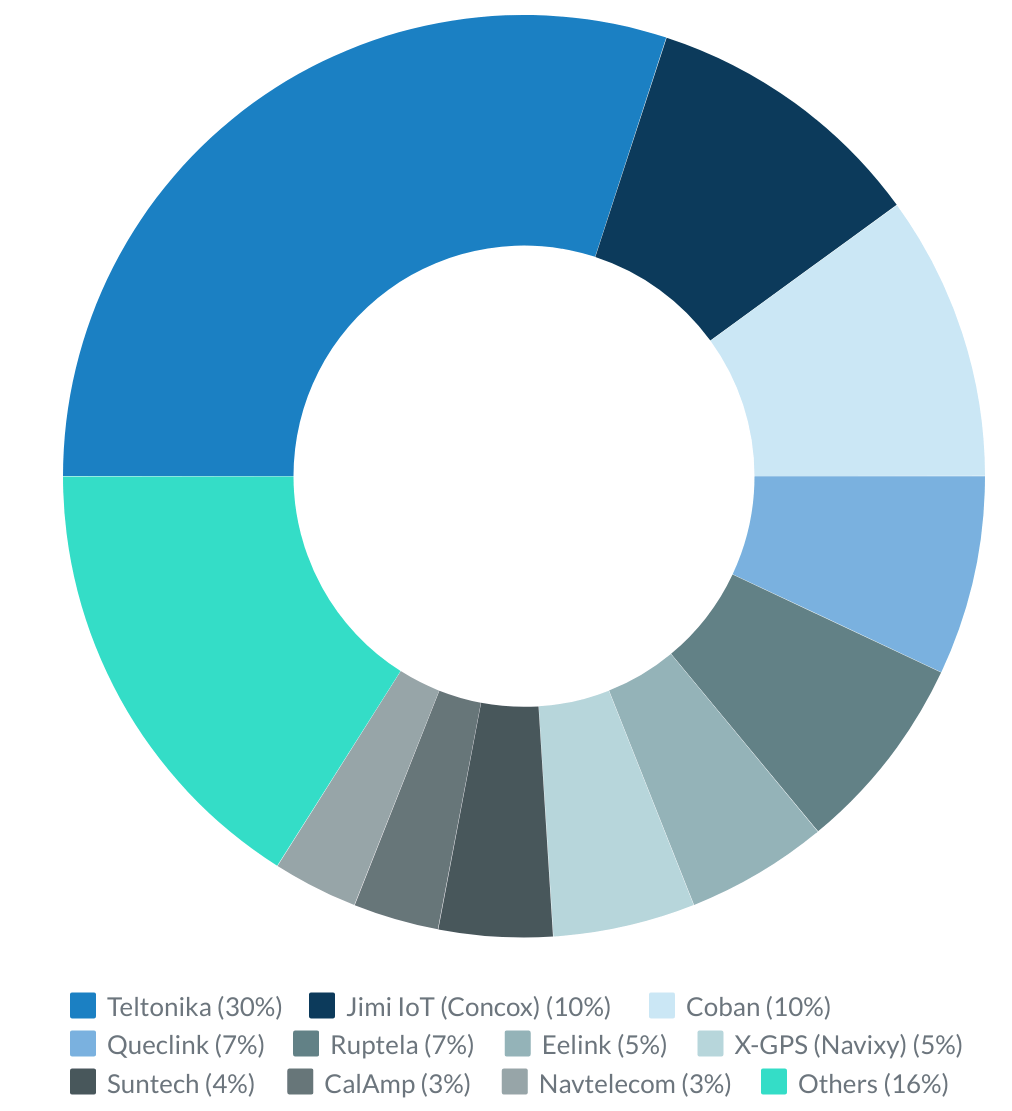 1. Teltonika (30%)
Leading fleet management solutions manufacturer. Their devices cover a vast amount of use cases from fleet management and security, to insurance telematics and more.
Type of supported devices: Vehicle, asset, personal, routers, accessories.
Number of models integrated to Navixy: 77
Top device in Navixy: Teltonika FMB920
2. Jimi IoT Concox (10%)
Professional telematics and wireless communications solutions provider. Jimi has more than 20 years of experience developing and deploying M2M GPS solutions.
Type of supported devices: Vehicle, personal, and assets.
Number of models integrated to Navixy: 39
Top device in Navixy: Concox GT06N
3. Coban (10%)
Founded in 1999, with experience in automotive electronics, security products, wireless communications equipment and more.
Type of supported devices: Vehicle and personal devices.
Number of models integrated to Navixy: 12
Top device in Navixy: Coban GPS303F/G
4. Queclink (7%)
Queclink Wireless Solutions is a prominent M2M device and ready-made solutions provider. Their IoT solutions have been implemented in industries ranging from agriculture to transportation.
Type of supported devices: Vehicle, personal, asset, accessories.
Number of models integrated to Navixy: 46
Top device in Navixy: Queclink GV300W
5. Ruptela (7%)
Telematics company that develops, designs, and manufactures hardware, firmware, and software products for fleet management and GPS tracking.
Type of supported devices: Vehicle and accessories.
Number of models integrated to Navixy: 12
Top device in Navixy: Ruptela FM TCO 4
6. Eelink (5%)
GPS trackers manufacturer and supplier. They have developed a rich product line of a wide variety of different GPS tracking devices to OBD & CAN bus related services.
Type of supported devices: Vehicle, asset, personal.
Number of models integrated to Navixy: 8
Top device in Navixy: Eelink TK-319
7. XGPS (5%)
Navixy's own app for mobile devices. X-GPS Monitor app for supervisors and X-GPS Tracker app for employees. Available on App Store or Google Play.
Type of supported devices: Smartphones and tablets
OS Availability: iOS and Android
8. Suntech (4%)
South Korea-based firm that produces a wide range of equipment for GPS/GLONASS asset tracking, and for transport telematics and IoT applications.
Type of supported devices: Vehicle, asset, accessories.
Number of models integrated to Navixy: 25
Top device in Navixy: Suntech ST4300
9. CalAmp (3%)
Telematics pioneer and leader in the mobile resource management (MRM) and machine-to-machine (M2M) space based in the US.
Type of supported devices: Vehicle, asset, telematics gateways, accessories.
Number of models integrated to Navixy: 24
Top device in Navixy: CalAmp LMU-800
10. Navtelecom 3%
Russian manufacturer and developer of GLONASS/GPS hardware for vehicle and asset tracking. Their products are well-known in the market of satellite monitoring systems.
Type of supported devices: Vehicle
Number of models integrated to Navixy: 21
Top device in Navixy: Navtelecom Smart S-2433
Top GPS tracker manufacturers by region
Local metrics are as important as global ones. They provide insights to different needs, trends and opportunities that help Navixy, manufacturers, and partners know where they should put their efforts and interest. Let's take a look at the breakdown by region. 
Top GPS hardware manufacturers in Africa and the Middle East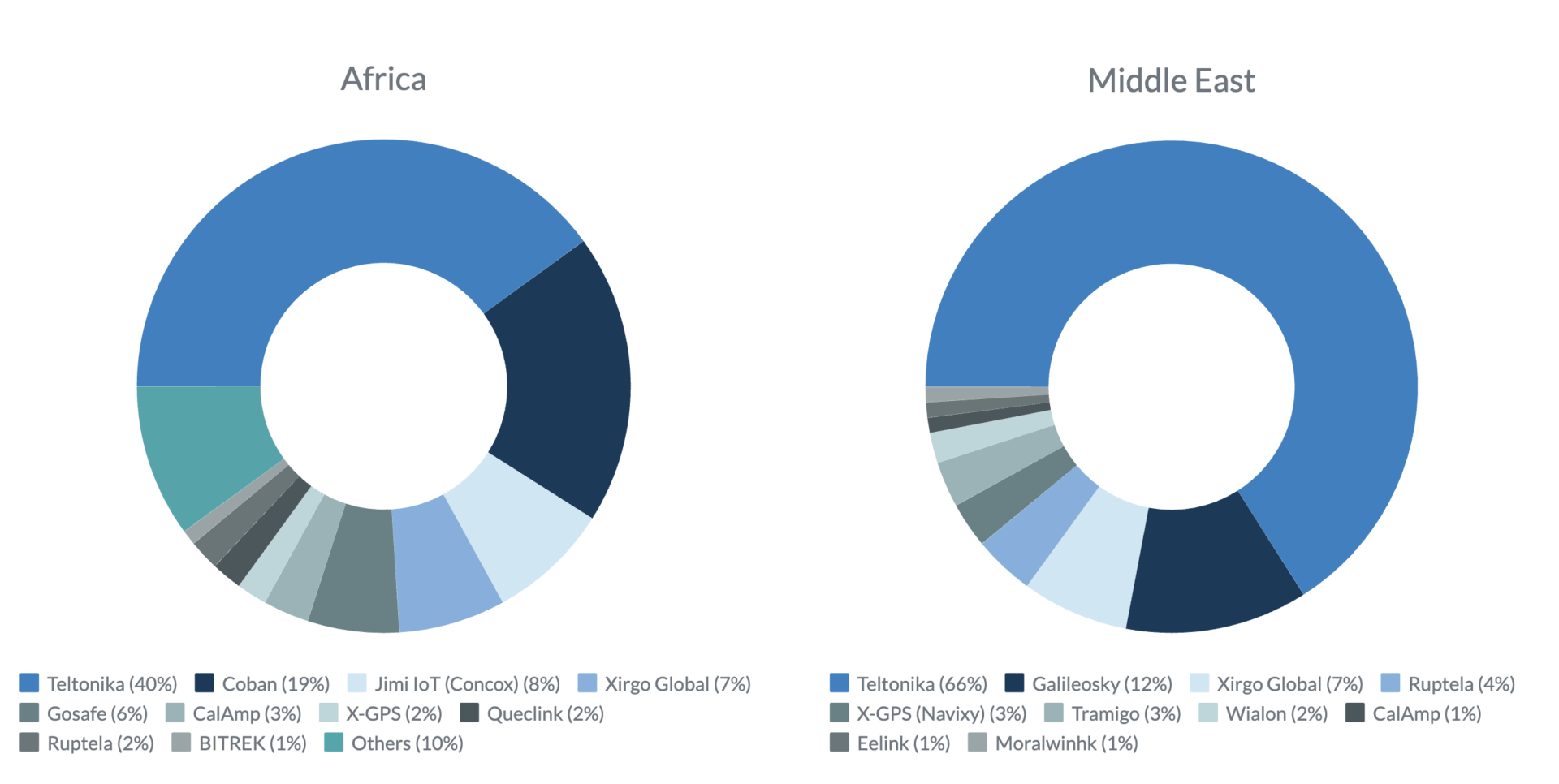 Top GPS hardware manufacturers in Europe and the CIS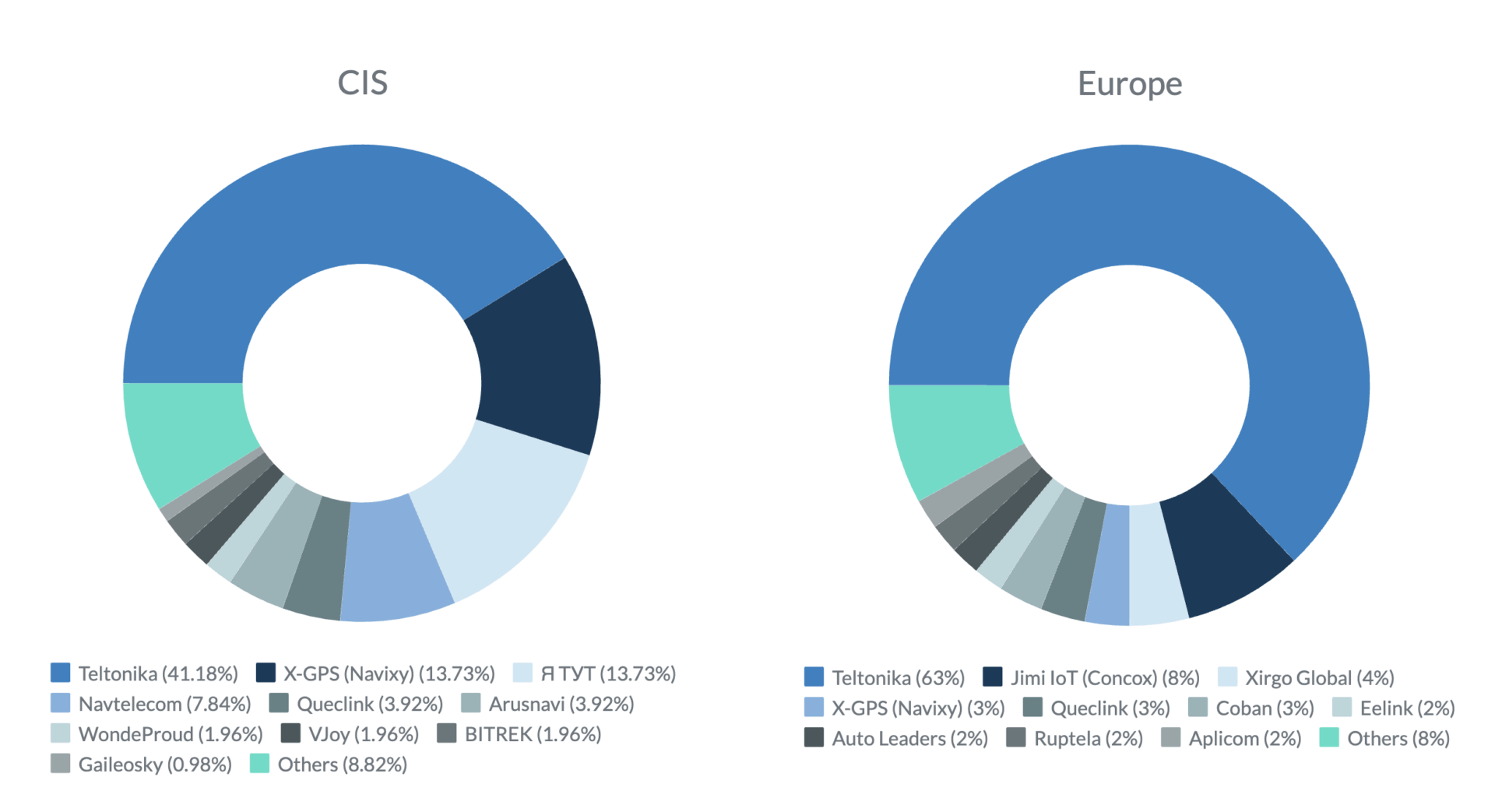 Top GPS hardware manufacturers in LATAM and North America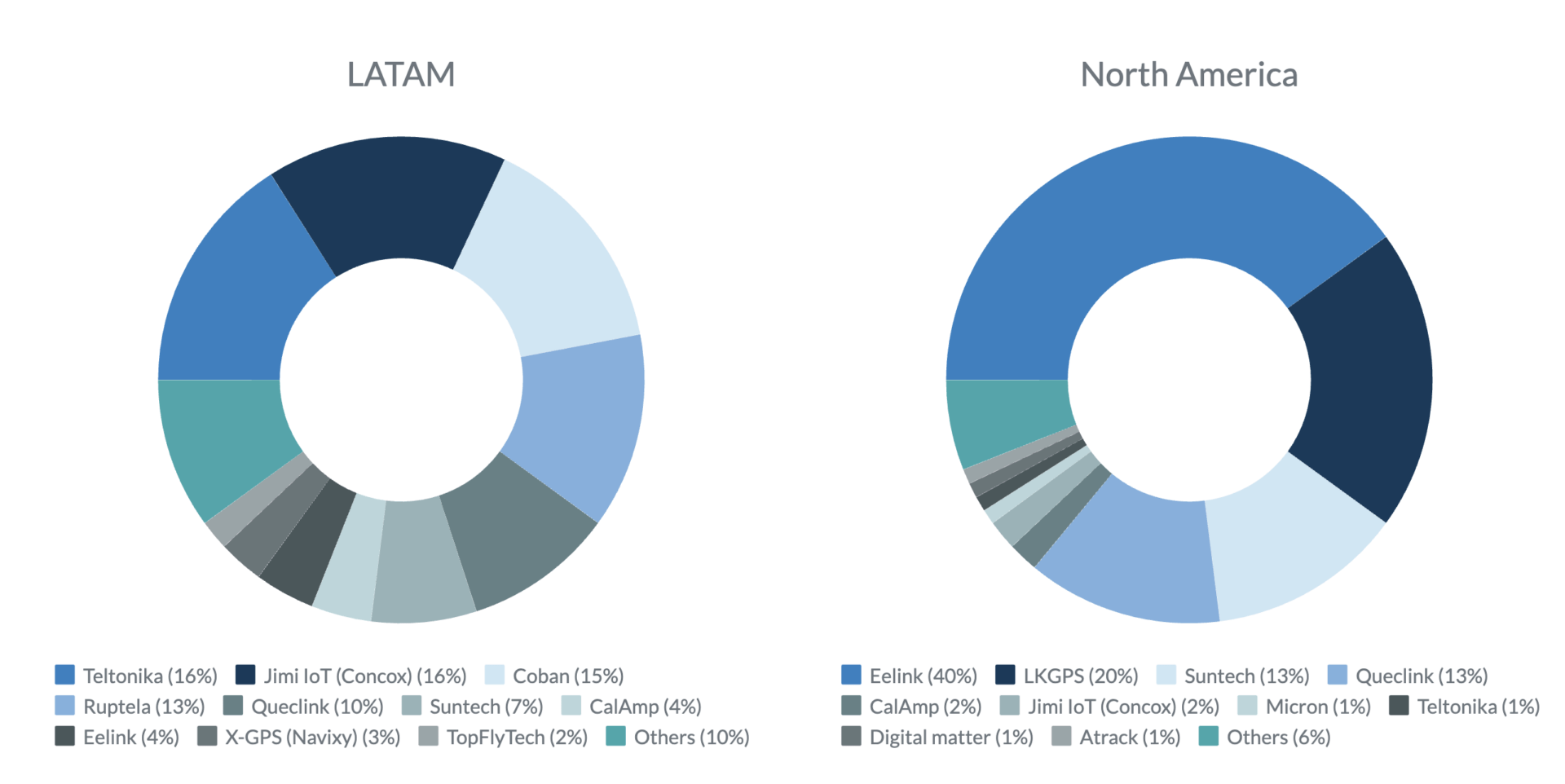 Top GPS hardware manufacturers in Asia and Australia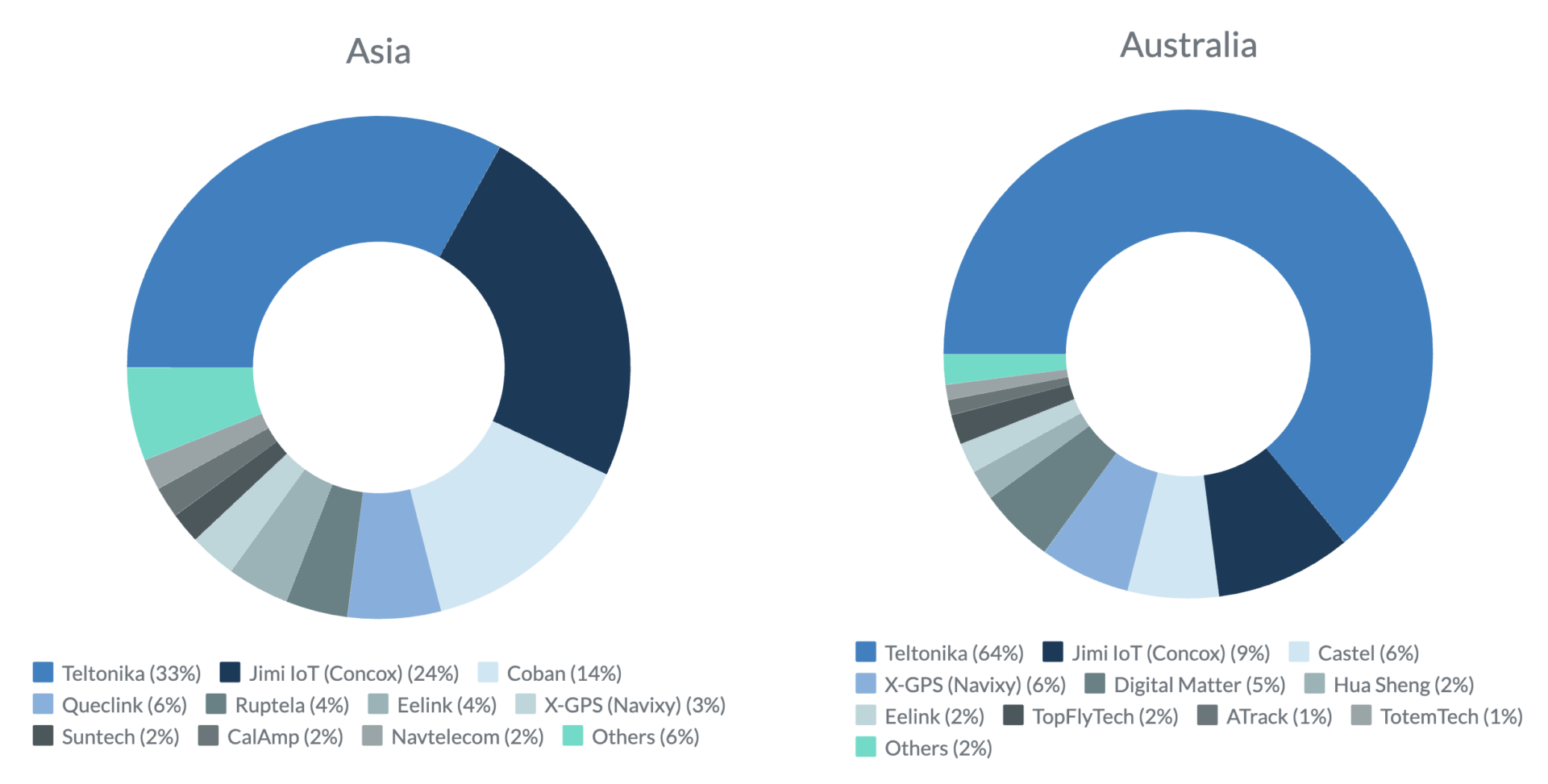 The breakdown by regions really shows how the impact of telematics has increased all around the globe. The interest to track assets in real-time and to have instant access to the data generated by GPS devices is real and we must be ready, the demand for hardware is expected to continue expanding in all regions.
These are great news for us, for our partners, for manufacturers and of course, people all around the world that are impacted by this technology.
2022: Challenges and what's in store for GPS hardware vendors
The supply chain disruptions caused by the COVID-19 pandemic have caused challenges for many companies. The one that is causing the most concern in the telematics sector is the global microchip shortage. Microchips are used in all electronic and mobile devices and a lot of GPS hardware manufacturers have been hit hard by the shortage.
In a connected world with more and more demand for real time-tracking devices, vendors have a great opportunity to grow, but with this shortage they will also have to rethink their strategies to keep up with production goals and to avoid or to try to predict delays. What do our top manufacturers think about this situation and what are their plans for 2022?
"The ongoing component shortage has affected almost every industry. Our advantage is that we have a strong and professional procurement team that can supply us with the required components or their equivalents. Moreover, we have one of the biggest R&D departments in the industry, allowing us to redesign and test our hardware in the shortest possible time.

We do everything to help our clients and supply the required devices in time while developing plans to launch several major products in 2022. Next year, we will expand the portfolio of LTE devices and we can ensure that our team will be able to deliver many more valuable projects once the shortage is tamed!" 

-Aleksandr Krupovic
Chief of Operational Marketing
"The shortage of chips in the market does have a great impact on hardware suppliers, especially the issue of extended delivery of 2G products. We will gradually develop into 4G products, and the current chip impact of 4G products is relatively small. It is understood that chip and module suppliers are gradually focusing on the development of 4G and 5G."
"Suntech's philosophy is 'search for constant innovation'. By 2022, we plan to launch new portable models with new functions and better capabilities such as embedded solar cells that will increase the performance of its internal battery. On the other hand, we continue with our efforts to implement new technologies that will allow our clients to have more options for data transmission. By 2022, we will launch some models with LoRa support.

Regarding the component shortage, it is an impact for all manufacturers and is, in fact, a global problem. But thanks to our technological framework, we have been able to cope with the crisis without effects. We have managed to continue meeting delivery deadlines in most cases. We will try to continue minimizing the impact and this will be worked directly with our clients." 

-Andrea Corredor
Commercial Director
"Being a company with considerable resources and relationships with suppliers in the local market, we believe Queclink is in ideal position to help our customers navigate them out of this electronic component shortage situation. Our outlook for 2022 is very positive, as we see a rebound in nearly all markets and all segments of our business in 2021.

For Queclink, we're expanding our international team and presence as scheduled and offering dedicated services to the local market. Also, our continuous Research & Development investment in new products and segments has been in full swing. Customers can always believe in Queclink and our stable supply of IoT hardware and solutions." 

-Alejandro Patiño
International Sales VP
There is no clear sign of how long the shortage will last, but at Navixy, we know it is more important than ever to work hand in hand with our partners and manufacturers. Buyers need to forecast their needs as far in advance as possible and provide them to their suppliers to help prevent business disruptions. Manufacturers need to have transparency and an open communication policy with their customers. Cost changes, production changes, estimated production times, and estimated delays that are likely to occur must be shared with all stakeholders.
As for us, we will continue to work hard to integrate more devices into our catalogue and to build and strengthen our relationships with our manufacturing partners.  We will also create new partnerships with vendors that are ready to face challenges as large as this shortage, and will continue to improve our current integrations for when the whole telematics and IoT ecosystem is ready to get back to normal.